Jennifer Vido: What inspired the third book in the Mountain Lodge Mysteries, SNOW PLACE FOR MURDER?
Diane Kelly: I had many inspirations for this book! Most of all, I wanted to write a winter-set book because I love playing in the snow. I enjoy downhill skiing, though my skills and daring topped out quickly and I stay on the bunny slopes with the beginners. I also like ice skating, sledding, and building snowmen. I spent a few years in Nebraska when I was young, and had so much fun playing in the snow with my siblings and the kids from the neighborhood. Secondly, my husband and I own a small vacation home in Beech Mountain, where the Mountain Lodge Mysteries series is set. I hear a lot of debate from locals in Beech Mountain about development. Some are all for growth, while others are totally against it, and all of their reasons and feelings are valid. I wanted to explore that conflict in this book. Lastly, the winter holidays mean family time, and I love when my kids come home to celebrate. I wanted to give Misty some time with her boys, who are away at college. It was fun to bring them home to her for the holidays.
Jen: What brings international resort developer Nigel Goodwin to Mountain Lodge in North Carolina?
Diane: Goodwin sees the potential for growth and tourism in the area. Currently, Beech Mountain is a sleepy mountain town that only gets crazy busy during ski season. However, from 1970-1980, the Land of Oz theme park operated on the mountain and brought many tourists to the area in the summer. With the town's easy access to the Blue Ridge Parkway and so much great hiking and natural beauty in the area, Goodwin believes tourism could thrive here all year long. He wants to cash in on that opportunity, but he ends up paying the ultimate price.
Jen: When a blizzard hits Beech Mountain, how does Misty Murphy cope with the fallout?
Diane: Her guests get stuck at the lodge, but Misty has prepared as best she can by having books, playing cards, and games on hand to entertain them. She keeps a roaring fire burning in the fireplace in the great room to keep things as warm and cozy as possible given that a murder has occurred just outside the lodge. She also serves a big southern breakfast catered by Patty, her good friend who owns the Greasy Griddle diner just across the parking lot. Fortunately, the blizzard gives Misty the opportunity to keep a close eye on her guests so she can assess their behavior and actions.
Jen: What happens when Misty's sons return on winter break?
Diane: She puts them right to work! Misty's assistant Brynn is on vacation, so the boys fill in and help Misty clean the guestrooms. The boys also stumble upon a clue or two, including the murdered man himself. Of course, as soon as they finish their work at the lodge each day, they rush off to the ski resort to snowboard. Misty wants her sons to enjoy their break from the demands of college, and she's thrilled to get time with them, despite the eerie circumstances.
Jen: Which character was the most fun to write and why?
Diane: I enjoy writing Misty. Unlike most cozy sleuths, she's middle aged, so I find it easy to write from her point of view since I'm in my mid-fifties now. She's garnered enough life experience to have a mature and insightful perspective on people and events. It's also fun that she gets to flirt and have some romance with Rocky, her hunky and capable handyman.
Jen: What are some of your favorite holiday traditions?
Diane: I love watching the Macy's parade with my family on Thanksgiving morning. We get up early and hang around in our pajamas drinking coffee or a hot toddy until it's over. When my kids were still young and lived at home, my son would build a huge "nest" of pillows and blankets, and we'd curl up in the nest to watch the parade. We also have a goofy tradition of watching Monty Python's "Life of Brian" every year at Christmas. Brian, the main character in the movie, is born in a manger next to the one Jesus is born in, and the funny film really plays up the world at that time. We also love watching "A Christmas Story" over and over. That movie was so well done and really captures the childlike wonder of Christmas.
Jen: What's on your TBR stack?
Diane: It might be a shorter list to say what's NOT in my TBR stack! Haha. Among many others, I've got a couple of books by Carl Hiaasen, Arsenic and Adobo by Mia Manansala, and Matthew Perry's Friends, Lovers, and the Big Terrible Thing: A Memoir. I tend to like funny books and funny people, but I also like books that are real and relatable. (R.I.P. Matthew Perry).
Jen: What's your current work in progress?
Diane: I'm currently working on PAWFULLY WEDDED, which will be book #10 in my Paw Enforcement series. I haven't released a book in this series in a while, and it's been so much fun to get back in touch with these characters, especially the sassy K9 Brigit! The title kind of gives away what happens in the book – Megan and Seth will finally get to walk down the aisle … or will they?
Jen: What's the best way for readers to stay connected with you?
Diane: Signing up for my newsletter is the best way for us to connect. I put in all the latest news and reminders about releases and appearances. I also hold subscriber-exclusive giveaways to thank readers for signing up. They also get a free story and a peek inside K9 Brigit's diary when they subscribe. Readers can sign up on my website.
Jen: Thanks for sharing your new release, SNOW PLACE FOR MURDER, with our readers. Happy holidays!
Diane: Thanks so much for the fun interview! Happy holidays to you, too!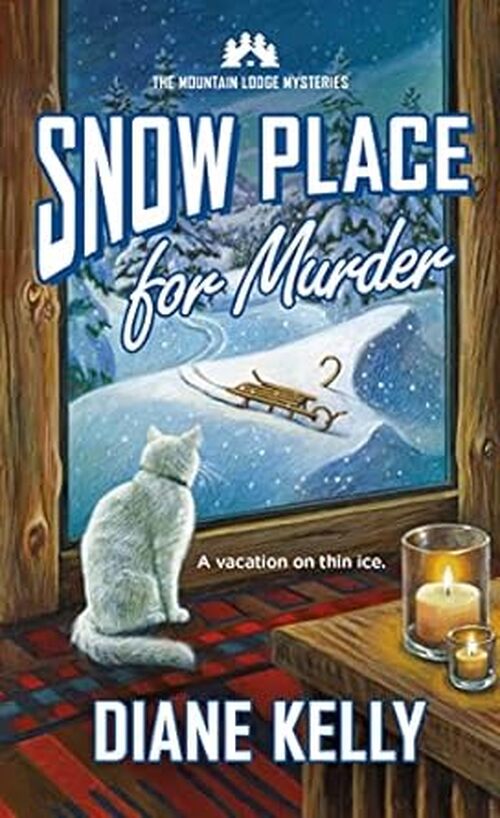 The third in the charming and engrossing Mountain Lodge mystery series by Diane Kelly, in Snow Place for Murder, the weather at the Mountaintop Lodge is truly frightful…
International resort developer Nigel Goodwin has traveled all the way from London, England to Misty Murphy's little corner of North Carolina and bought out the Mountaintop Lodge for the week prior to Christmas. Their intention? To pitch an exclusive new resort concept to wealthy American investors.
But locals are at odds over the idea, and when a group comes to the lodge to express their worries to Mr. Goodwin and the potential investors, a blizzard hits Beech Mountain. Like the weather outside, things quickly get frosty, and Misty has to call local police to intervene. Handyman Rocky Crowder plows the lodge's drive and, in an attempt to regain a jovial holiday atmosphere, smooths the snow pile into a makeshift sledding hill for the guests to enjoy.
Misty's boys have finished their exams and are "home" from college for the winter break, planning to spend most of their time snowboarding at the ski resort. While taking a few runs down Rocky's sledding hill, they discover a funny-looking, nose-shaped rock. Only it's not a rock. It's the frozen nose of Nigel Goodwin, who's found dead and buried under the mound of snow.
Who put the developer on ice and why?
Mystery Cozy | Small Town [St. Martin's Paperbacks, On Sale: October 24, 2023, Mass Market Paperback / e-Book, ISBN: 9781250816016 / eISBN: 9781250816023]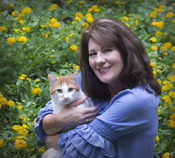 A former tax advisor and assistant state attorney general, Diane Kelly is no stranger to white-collar crime. When she realized her experiences made great fodder for novels, her fingers hit the keyboard and thus began her award-winning Death and Taxes romantic mystery series. A dog lover and Citizens Police Academy graduate, Diane also writes the hilarious K-9 cop Paw Enforcement series. Her love of vintage homes and renovation shows was a natural segue into her House Flipper mysteries, which feature a fabulous feline. Diane's other series include her Busted female motorcycle cop series, her Southern Homebrew moonshine mystery series, and her Mountain Lodge Mysteries series, which is set in the Blue Ridge Mountains not far from her home in North Carolina.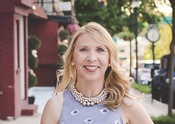 Jennifer Vido writes sweet romances set in the Lowcountry filled with southern charm and hospitality. In between chapters, she interviews authors for her bi-weekly Jen's Jewels column on FreshFiction.com. Most mornings, she teaches an arthritis-friendly water exercise class for seniors before heading to the office to serve as the executive director of a legal non-profit. A New Jersey native, she currently lives in Maryland with her husband and two rescue dogs and is the proud parent of two sons who miss her home-cooked meals. To learn more, please visit her website.
No comments posted.