Book Title: THE TWELVE DAYS OF MURDER
Character Name: Charley Sale
How would you describe your family or your childhood?
I'm from a loving family, but very ordinary. I lost my mom when I was a teenager. My dad works as a chef, often to very wealthy families, and as a child I'd often go along with him and sit in these vast kitchens marveling at how different life must be for the people who live there.
What was your greatest talent?
I always loved acting. It's why I joined the Murder Masquerade Society at college – I loved the chance to dress up, step out of my old personality and become someone different for the night. There were lavish costumes, gorgeous locations and fiendish plots and for a while it was so much fun. But that was before they all turned against me, before Karl went missing.
Significant other?
I try not to think about Matt. We've split up but I'm still sleeping on his sofa – I need money for a deposit to rent a new place, which is why I've accepted Karl's sister's offer. Karl disappeared at our last Murder Masquerade twelve years ago – now she wants to get the old Murder Masquerade gang together for one last mystery evening – she's even worked out characters for us all based on the Twelve Days of Christmas carol. It sounds like the worst possible way to spend the holidays, but Ali offered me good money to take part. She works in advertising and there's a chance she can get me cast in some commercials too.
Biggest challenge in relationships?
Before he vanished I was seeing Karl in secret and I'm still in love with him. I still look for him in all the sensible places, like missing persons forums, and absurd places too, like historical re-enactment societies and theater crowds. I know he's out there somewhere.
Where do you live?
On Matt's sofa in his London apartment, but now I'm in Scotland in a luxurious, remote hideaway. It's a beautiful place – there's mountain scenery, a festive welcome hamper, sumptuous food and roaring fires. But I'm snowed in with all the awful Murder Masqueraders, and something horrifying has happened. One of them is dead. She was playing Lady Partridge in our mystery game and was found hanging in a pear tree on Christmas morning.
Do you have any enemies?
I didn't think I did. I mean, these people have never been my biggest fans but I never thought any of them wished me harm. I'm starting to realize I was very wrong about that.
How do you feel about the place where you are now? Is there something you are particularly attached to, or particularly repelled by, in this place?
We're surrounded by dense forests but while I was looking for a way out I stumbled on a beautiful frozen stream and a waterfall, covered in icicles that crashes into a deep, dark pool. In my happier days I was a cold-water swimmer and being by the water calms me – although it's definitely too cold for a dip. This place is stunning, but it's deadly too.
Do you have children, pets, both, or neither?
No pets, no children. Nobody but Dad to miss me if I don't make it out of here.
What do you do for a living?
According to Matt I'm either a very unsuccessful actress or a very successful receptionist.
Greatest disappointment?
When I first joined the Murder Masquerade Society, I was dazzled by the Masqueraders – they were so clever, so confident, so fun to be with and I wanted to be like that. I wanted to be one of them. But that's the kind of privilege you're born with, you can't get in on merit, and they never truly accepted me. Only Karl loved me for who I really was.
Greatest source of joy?
I still light up inside when I'm acting.
What do you do to entertain yourself or have fun?
I like people-watching, spotting little tells that let you know when someone is hiding something. I might not be the best actor in the world, but I can spot when people are acting a role!
What is your greatest personal failing, in your view?
Matt used to tell me what my problem was all the time. I was too soft. I lacked focus. I had no drive. Thinking about it, putting up with Matt for too long is probably my greatest personal failing. He's right about one thing though – I need to learn to stand up for myself.
What keeps you awake at night?
Right now? Wondering if that creaking sound in the ceiling is rats or a murderer creeping through the attic.
What is the most pressing problem you have at the moment?
Not getting murdered in a grisly and festively-themed fashion.
Is there something that you need or want that you don't have? For yourself or for someone important to you?
When I first traveled here my Christmas list had some pretty big things on it – new job, new home, a bit of extra money. But now I'd just like to get out of here alive. Could you fix that for me, Santa?
Why don't you have it? What is in the way?
I'm trapped here with a group of terrible people and a killer. I don't know who it is, how they're doing it or why. I only know one thing: I have to survive.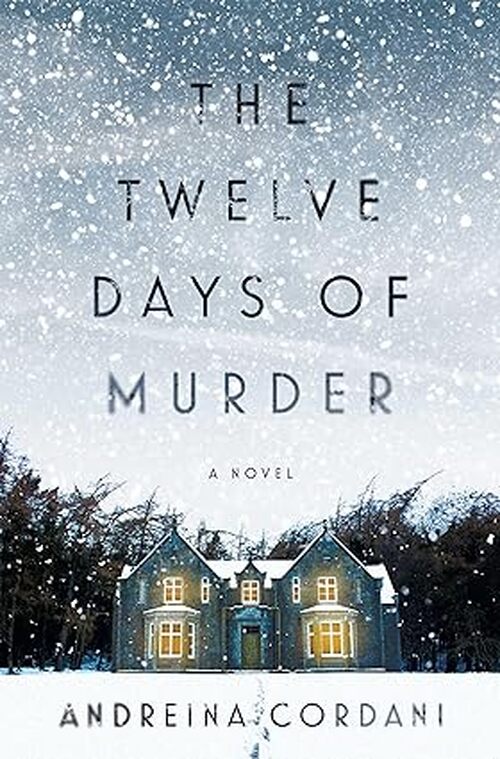 Eight friends created the exclusive Masquerade Murder Society while in college. The murders they solved were fictional—until their final masquerade, when one of the group disappeared. Twelve years later, the remaining members are invited to a reunion in the Scottish Highlands . . .
Twelve years ago, eight friends ran an exclusive group at university: The Masquerade Murder Society. The mysteries they solved may have been grisly, and brilliantly staged, but they were always fictional—until their final Christmas Masquerade, when one of the group disappeared, never to be seen again.
Now our young, privileged cast of old university friends are summoned to the depths of Scotland for a Christmas-themed masquerade party. But all are hiding something deep below the surface that could make or break their careers. Charley is a struggling actress who has always been on the periphery of this high-flying group, but has decided to reunite with her frenemies on the promise of career help if she joins the old cast for one last weekend.
When they arrive each is assigned a new identity themed around the "Twelve Days of Christmas"—they become Lady Partridge or Mr. Gold; Lord Leapworth or Doctor Swan. The game begins, and it feels just like old times. Until the next morning, when Lady Partridge is found hanging—dead—from a pear tree.
It quickly becomes clear that in this game the murder will be all too real, and the story is bringing long-hidden secrets to the surface. Will Charley's discerning eye and outsider status allow her to uncover the truth, or will she, too, fall prey to the murderer among them?
If the group hopes to win the game and survive until Christmas morning, they will need to face the truth about their history together and who they have become—and what really happened on that fateful night twelve years before.
Thriller Psychological [Pegasus Crime, On Sale: November 7, 2023, Hardcover / e-Book, ISBN: 9781639366187 / ]
Before writing The Girl Who… I was a freelance writer, book reviewer and journalist. I've interviewed some amazing people about their incredible lives. I have written for women's magazines including Cosmopolitan, Grazia, Good Housekeeping, Prima, that's life!, Stylist and Real People. I have been Books Editor for Cosmopolitan, Good Housekeeping and Reclaim. I live on the South Coast with my lovely family. I spend most of my time avoiding them to try and write.
No comments posted.