1--What is the title of your latest release?
2--What's the "elevator pitch" for your new book?
Sparks fly when former army officer turned firefighter Greg Tebo first meets transplanted Texan Kristen Werner. At first, it seems that they're a match made in heaven, until each realizes that they must let go of the past in order to move forward with their relationship.
3--How did you decide where your book was going to take place?
I used to live about thirty minutes from Woodland Park, CO. I was fascinated by this thriving town nestled near Pike's Peak.
4--Would you hang out with your protagonist in real life?
I absolutely would! I love to create characters who I would like to know.
5--What are three words that describe your protagonist?
Protagonist Greg Tebo: Heroic, Determined, Injured
6--What's something you learned while writing this book?
Since my protagonist suffers from PTSD, I had many conversations with army veterans about the long-term effects PTSD has had on their lives. Although I always felt sympathy for someone struggling with PTSD, those conversations gave me a better understanding about it.
7--Do you edit as you draft or wait until you are totally done?
I write fast, but I have to write multiple drafts of every manuscript before I feel it's good enough to submit to my editor. It can be frustrating on a deadline!
8--What's your favorite foodie indulgence?
Probably cookies. I love that I can whip up a batch of cookies in an hour or two, which is the opposite of the writing process. Unfortunately, that means we always have cookies in the house.
9--Describe your writing space/office!
I have pink walls, a dog bed, dogs, and a ton of notebooks, folders, and random papers on every surface. Unfortunately, it's a mess.
10--Who is an author you admire?
Almost too many to name, but I admire Nora Roberts because of how prolific she is, Lorraine Heath because her books always make me cry, and author Lisa Kleypas because of how kind she was to me when I waited in line to meet her many years ago. I really love to read and admire most other people's writing more than mine.
11--Is there a book that changed your life?
Alice in Wonderland. I loved the idea of a girl living in her fantasy/dreamland
12--Tell us about when you got "the call." (when you found out your book was going to be published)/Or, for indie authors, when you decided to self-publish.
My best memory is when I received The Call for my first Harlequin Romance. My agent called me at 11:00 in the morning to share a book that I'd revised 5 times over 3 years had been bought. I sat down on the stairs and cried so loud my husband thought someone had died! For this Berkley Woodland Park series, when my agent called, I was stunned. I was thrilled to have the opportunity to write this series of firefighter romances for Berkley.
13--What's your favorite genre to read?
Almost anything, but I love reading historicals and mysteries. LOL, especially Anne Perry's historical mysteries!
14--What's your favorite movie?
Casablanca
15--What is your favorite season?
Fall I love holidays and we always see our kids and their families for Thanksgiving, which makes my heart happy.
16--How do you like to celebrate your birthday?
I love when my grown kids call me first thing in the morning. I'm a huge birthday fan.
17--What's a recent tv show/movie/book/podcast you highly recommend?
I loved Only Murders in the Building - that series with Martin Short, Steve Martin, and Selena Gomez.
18--What's your favorite type of cuisine?
Anything Southern
19--What do you do when you have free time?
We adopt dogs, so I like to take them on walks. Second to that would be read a new book outside in the sun.
20--What can readers expect from you next?
I have several new Amish romances out this fall. Two of the titles are An Amish Cinderella and Her Secret Hope.
Woodland Park Firefighters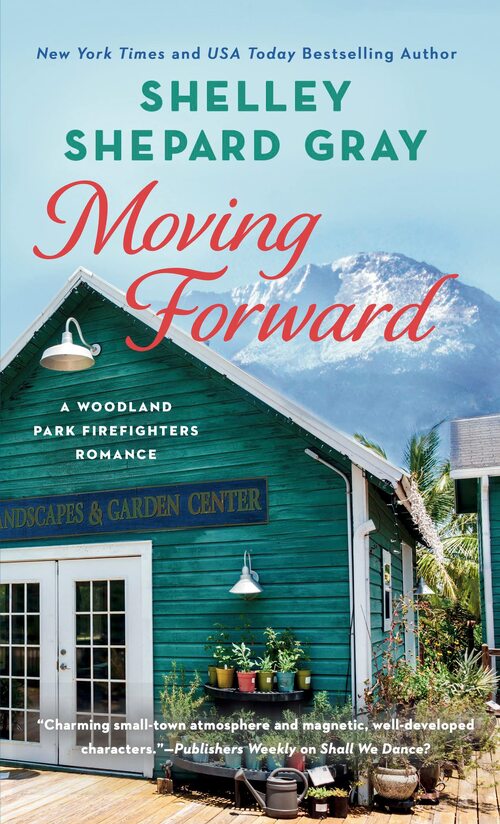 Romance blossoms in the Colorado foothills in this sweet romance by New York Times bestselling author Shelley Shepard Gray
Former Army captain Greg Tebo loves his new life in Woodland Park. In the two years since he joined the WPFD, he's gained a reputation as a fearless firefighter, and after being stationed all around the country and overseas, he can't wait to settle down with a wife and kids.
When a call comes in about a possible heart attack at the scene of a fire at the Garden Center, Greg assumes they're going to be helping an elderly customer—not the beautiful, feisty proprietor in her late twenties. Kristen Werner has been determined to pretend everything is fine. She refuses to leave the company she's carefully nurtured and move home to her loving but meddling family in Houston. Since her devastating diagnosis caused her fiancé to dump her, she's given up on love and thrown herself into cultivating her blooming business instead—even if the hard work further weakens her heart.
Greg is drawn to Kristen's vibrant, independent spirit and hopes romance will flower. But she's had enough trouble with her heart to last a lifetime, and can't trust Greg not to break it—especially if he finds out she can never give him the houseful of children he longs for....
Romance Small Town [Berkley, On Sale: August 22, 2023, Mass Market Paperback / e-Book, ISBN: 9780593438107 / eISBN: 9780593438114]
Uplifting Inspirational Romance
Shelley Shepard Gray is a New York Times and USA Today bestselling author, a finalist for the American Christian Fiction Writers prestigious Carol Award, and a two-time HOLT Medallion winner. She lives in southern Ohio, where she writes full-time, bakes too much, and can often be found walking her dachshunds on her town's bike trail.
No comments posted.