Book Title: ESME CAHILL FAILS SPECTACULARLY
Character Name: Esme Cahill
How would you describe your family or your childhood?
My mother, Robyn, was an unwed, teenage mother with a reckless streak she never outgrew. She couldn't keep a job for long, so we were always moving. She had a revolving door of boyfriends too, some better than others.
One of them, Zip, taught me how to read before disappearing, taking money from Robyn's purse but leaving me with my escape - books. It wasn't all bad, but chaotic is an apt description of my early childhood, chaotic and unstable. That changed after Robyn was arrested for drug distribution and George and Adele, the wonderful grandparents I'd never known existed, took me in and raised me at the lakeside resort they owned, not far from Asheville, North Carolina.
It felt like heaven, a refuge. For the first time, I got to be a child. But, as it turned out, I wasn't very good at childhood. It always made me feel too much at the mercy of others. When an injured animal is given time to heal, there comes a day when refuge feels like suffocation. That's why, even though I loved my grandparents, I left the lake and moved to New York at nineteen.
What was your greatest talent?
Ha! At nineteen, I would have said writing. But after two hundred and sixty-eight rejections (Yes, you read that right – two hundred and sixty-eight! Who'd have guessed I had such an infinite capacity for enduring humiliation?) I realized that might not be true and started looking for a job, any job.
Lucky for me, at least for a while, I landed an entry level position in publishing, worked my way up through the ranks, and became a successful editor.
Since my ignominious firing from that job, you might have questions about how successful I really was. At the moment, I am failing spectacularly on multiple levels. But in spite of all that, I do have a talent for editing, for helping people bring their stories vibrantly to life. It's my superpower.
Significant other?
If only.
Okay, I was married for four confusing and mostly passionless years. Before you even ask – No, I did not know my husband was gay, not until the day we were going to an open house for my dream apartment, and he grabbed my sleeve and said, "Esme, there's something I need to tell you…"
In case you weren't aware, "there's something I need to tell you," is never a preamble to good news. Never.
Biggest challenge in relationships?
Well, given the above, I'd say picking up on the signals tops the list.
Where do you live?
I did live in New York. But after losing my job, marriage, and apartment, I've come home to North Carolina and moved back into my grandparents' resort.
As soon as I can find another job in publishing, I'll go back to the city. But it's probably a good thing that I came back to the lake when I did. Things aren't going well.
Do you have any enemies?
I don't think so. But then again, picking up on the signals is obviously not my strong suit. So…maybe?
How do you feel about the place where you are now? Is there something you are particularly attached to, or particularly repelled by, in this place?
I feel…conflicted.
There are some tough memories associated with this place, and some tough relationships. Robyn moved back to the lake after her release from prison, and our relationship is as fraught as ever. And one of the relationships I'm finding toughest is the one that's absent.
Adele, my late grandmother, left such a void. Here at the lake, I'm confronted by that void, and the feeling that I might have failed her too. She called me at the office one day and asked me to come home, said that there were things she needed to tell me face-to-face. I would have but there wasn't time. She died five days later.
But there are good memories here too. The longer I'm here, the more those memories are starting to come back to me. Also, it's incredibly beautiful here. Asheville isn't called Land of the Sky for no reason.
Do you have children, pets, both, or neither?
No pets and no kids. But I would love to have a family someday.
What do you do for a living?
I was an editor. Now, I'm collecting unemployment and trying to prevent my grandparents' resort from sliding into physical and financial ruin, and hoping desperately that this is a very temporary side hustle.
Greatest disappointment?
Oh, man, that would take a book. Actually, it is a book. The whole "fails spectacularly" thing? You should probably just read it.
Greatest source of joy?
A few months ago, I'd have said working and checking stuff off my to-do list. Since I returned to North Carolina, I've added getting out into nature to the inventory. The mountains and lakes are breathtakingly beautiful. Still, I'll always be the girl who loves a good spreadsheet and adds tasks I've already completed to my to-do list, just for the thrill of crossing them off.
What do you do to entertain yourself or have fun?
Hiking in the woods is my go-to activity now. And I've been doing a lot of fly fishing too.
I hadn't picked up a rod in years but it's the kind of thing that comes back pretty quickly. It's a lot of fun, especially when George and I go fishing together. George is a character. When I'm with him, it's always a good time.
What is your greatest personal failing, in your view?
If I could figure that out, I probably wouldn't be failing quite so spectacularly, would I?
What keeps you awake at night?
Worries about my family. And money. The two are kind of intertwined. Also, trying to figure out why Adele was so insistent that I come home.
She wasn't the kind of person to make demands, or even declarations. Adele never spoke unless it was important, unless there was something that truly needed to be said. So why did she want me to come home? What did she need to say to me? Whatever it was, I'm getting the feeling that she's still trying to say it.
Look, I know this sounds crazy, like some kind of imaginary woo-woo. But since I've come home, I think I've seen her, more than once. Not the Adele that I knew growing up, but the young Adele, the girl who moved from Baltimore to Asheville during the war.
She never really talked about that time and, being a kid, I never really asked. Now I wish I had. Because the longer I'm here, the more I realize that she's got something to tell me. But with nothing to go on but a few bizarre visions of an apparition in a 1940's suit of powder blue, how am I supposed to figure it out?
What is the most pressing problem you have at the moment?
George is starting to show signs of…Well, let's call it memory loss. Robyn has a fit if anyone mentions "the D-word." So obviously, I'm worried about him.
He has good days and bad days. Don't we all? Mostly, he's the same old George – top notch fisherman, sometime pool shark, storyteller and raconteur, the innkeeper everybody loves. But if that changes and George needs…more help, how are we going to pay for it?
I'm without a job and the physically and financially shaky resort is George's only real asset. That's why getting the lodge back onto a solid financial footing—and keeping Robyn from selling George's home and business out from under him—is my first priority right now.
Is there something that you need or want that you don't have? For yourself or for someone important to you?
The list of what I want for myself, my family, and the future is long. So very, very long.
More than anything, I just want to get my life back on track, to put failure behind me and simply be good at something again. If I could manage to do that, I know I could make things right again, for everyone.
Why don't you have it? What is in the way?
Once again, it's a long list. But a lot of it comes down to self-doubt.
For a while there, it felt like things were going exactly the way I'd planned, that my entire life was on track and on schedule. Now, it feels like I've taken an enormous detour, only to end up right back where I began. How did it happen? And how can I get back on track?
Adele always said that detours can be the best part of the journey, and that life has a way of steering you to the path you're meant to take, whether you're meant to take it or not. I hope she's right but, at the moment, I have doubts.
Lots and lots of doubts.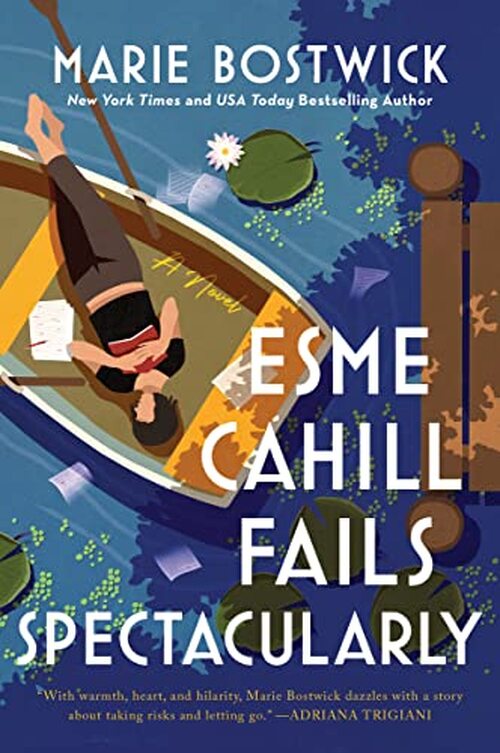 From the author of The Restoration of Celia Fairchild, comes a novel about the meaning of family and the places we call home. If you love "southern summer" fiction authors like Mary Alice Monroe and Kristy Woodson Harvey you'll love this delicious novel about family, friendship, and finding your true path in life.
Esme Cahill thinks she has failed spectacularly: fired from her New York City publishing job, divorced from her husband, and possessing little more than a broken-down car and a pile of unfinished manuscripts, she drives home to Asheville at the request of her late grandmother, Adele, who had begged her, just before she died, to return to the place she grew up.
There she discovers the once-charming lakeside retreat run by her family is sliding toward financial ruin, so with the help of her grandfather, George; estranged mother, Robyn; and a travelling chef Dawes (maker of the world's best grilled cheese sandwich) they set to work. In the attic, Esme unearths a trove of museum-worthy art quilts, sewn by Adele. Piecing together the inspiration behind them, Esme discovers a forgotten chapter in her family history and her grandmother's untold story, that of a gifted artist who never received her due.
This is an always-emotional, sometimes humorous, very human novel of what it means to be family—the ties that bind us together and the unintentional hurts that can rend us apart. And, along the way, Esme learns that failure can be the first step toward the life you're meant to find.
Women's Fiction Contemporary [William Morrow Paperbacks, On Sale: May 30, 2023, Paperback / e-Book, ISBN: 9780062997319 / eISBN: 9780062997326]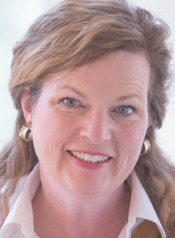 When not curled up with a good book, Marie Bostwick can usually be found in her office, trying to write one.
A New York Times and USA Today bestselling author of eighteen uplifting works of historical and contemporary fiction, Marie's books are beloved by readers across the globe.
Drawing on her lifelong love of quilting and her unshakable belief in the power of sisterhood, Marie's popular Cobbled Court Quilt series has been embraced by quilters and non-sewers alike. Her standalone books have also found a passionate following among lovers of women's fiction. Marie's novel, The Second Sister" was adapted into the 2018 Hallmark Hall of Fame feature film "Christmas Everlasting", starring Patti LaBelle. Marie's most recent novel, Hope on the Inside, was published in March 2019 and was chosen as a Reader's Digest "Select Editions" book.
Marie's latest endeavor is Fiercely Marie, a lifestyle blog that encourages women to live every minute and love every moment. She is currently working on her next novel, "The Restoration of Celia Fairchild", which will be published by William Morrow in the spring of 2021.
Marie lives in Oregon with her husband and a beautiful but moderately spoiled Cavalier King Charles Spaniel.
No comments posted.