Jennifer Vido: What's the inspiration behind your latest release, BETWEEN TWO STRANGERS?
Kate White: I get germs for book ideas from all sorts of places - news headlines, snippets of overheard conversation, memories, and so forth. But with BETWEEN TWO STRANGERS, the germ originated from a really crazy experience I had.
After my mother died, the brother of mine who was her executor learned from the bank that a fairly substantial check from her small estate was sent to a woman whose name we didn't recognize. My brothers and I were stunned. Who was this person? Did our mother have a secret we never knew about?
After a family discussion, one of my other brothers recalled that the last name of this woman was the former married name of a much-married relative of ours. When approached, she admitted she'd received the check and had assumed my mother simply wanted to leave her something, which was a stretch for sure. Further exploration revealed that the whole thing was a terrible bank error. A new check was issued to my brothers and me, and though the bank had the right to ask for the money back from this woman, they never did.
Wow, what a stressful few weeks we had. But later that experience inspired me to start asking, "What if?" about the experience, a method many authors use when generating ideas. I asked myself, "What if we hadn't gotten the money back?" "What if my mother really did have a secret?" And finally, "What if I was left a huge amount of money by a stranger?" From there, I was off and running.
Jen: How does a phone call from a lawyer change Skyler Moore's life?
Kate: Skyler, a graphic designer and aspiring collage artist living in Manhattan's East Village, learns from the lawyer that she has been left an inheritance. She doesn't recognize the name of the man who died, so at first she thinks it's a scam, then simply a mistake. But when she gets to the lawyer's office, she realizes the benefactor is man she had a one-night stand with twelve years before. The even bigger surprise is that she's the beneficiary of a three and a half million-dollar trust. And she has no idea why. She spent one night with this man, Christopher Whaley, only knew him by his nickname "C.J.," and never had any contact with him afterwards.
Jen: How does the mystery man's widow react to the news?
Kate: Oh man, she is NOT happy. She lets Skyler know that she's coming after the trust, and it looks like she might even try to prove Skyler extorted the money from her husband. Skyler realizes that the only way she can fully protect herself and her right to the money is to figure out the reason the man left her this huge amount. What message was he sending her?
Jen: Which character in the novel was your favorite to write and why?
Kate: I loved writing about the protagonist, Skyler. She's a talented, interesting woman whose life was upended by a tragedy involving her younger half-sister, and she hasn't been able to fully catch her breath since then. And once she finds out about the trust, it becomes clear that unseen forces are working against her. But she's strong and resourceful and she comes to realize that if she digs hard enough for the truth, she might be able to outsmart whoever is out to get her and go after what will put her life back on track.
Jen: What do you hope readers take away from this story?
Kate: I hope they will find Skyler's situation compelling and will also be intrigued with how she figures out the truth—why this man she hardly knew left her a fortune. She's an artist, a visual person, and so she starts making a collage about the night she spent with C.J., hoping that something about that night will provide a clue.
Jen: What's on your TBR stack?
Kate: I love to mix it up so usually I have three books going at once: a literary novel, a non-fiction book, and a crime novel. As for literary, I just finished a beautifully written, haunting novel called The Go-Between by L.P Hartley, published in 1953. Like so many great literary novels, there's a mystery at the center of it. For non-fiction I'm reading Tina Brown's The Diana Chronicles. I don't really have any interest in reading more about Diana, but Brown's recent The Palace Papers was so smart and clever, as was her memoir, The Vanity Fair Diaries, I wanted more by her. As for a mystery, I'm about to start the new William Landay, All That Is Mine I Carry with Me. His book, Defending Jacob, is one of my favorite suspense novels.
Jen: What's your current work in progress?
Kate: I'm. just finishing my 2024 suspense novel about a woman trying to prove that a man she more or less left at the altar didn't die by suicide but instead was murdered.
Jen: What's the best way for readers to stay connected with you?
Kate: Readers can read more about me on katewhite.com. They can also follow me on Facebook and Instagram, where I try to respond to everyone.
Jen: Thank you for stopping by to chat about Between Two Strangers - best of luck with your addictive new release.
Kate: Thanks so much, Jen. And best of luck with your own writing.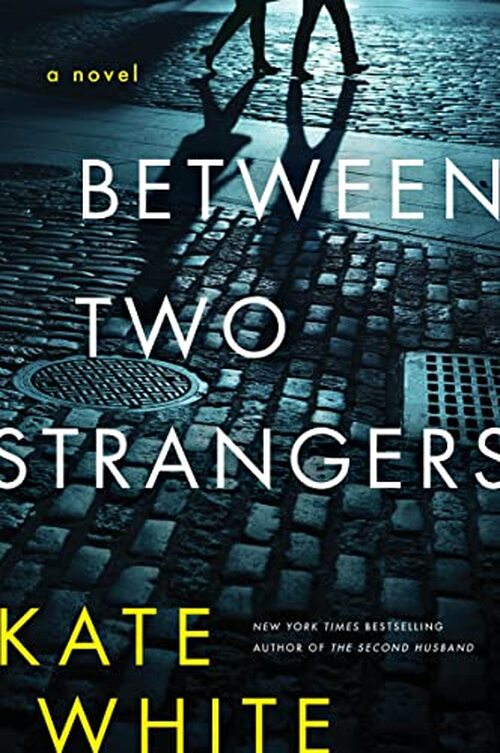 A woman receives a bewildering inheritance that may have something to do with her past in this twisty and addictive psychological thriller from the New York Times bestselling author Entertainment Weekly calls "impossible to outwit."
Struggling artist Skyler Moore is flabbergasted when she receives a suspicious phone call from a lawyer she's never met regarding a "private matter." As soon as she arrives at the law firm's office, she learns she's the recipient of a large inheritance, a life-changing sum that will allow her to realize her long-held dream of becoming a mother. But who was her benefactor, Christopher Whaley? The late man's name means nothing to Skyler, and she has no idea why he would leave her such an enormous bequest.
Looking into his background, Skyler finally realizes they met once at a hotel bar and shared a one-night stand. But they never exchanged numbers, or even last names, and that was over a decade ago. She wonders if the inheritance is meant to be a message of some kind, but can't imagine what it might be.
Chris' family is confused and suspicious too, and his widow accuses Skyler of having an affair with her late husband, then threatens revenge. In order to protect herself, Skyler has to understand the reason the money was left to her. But as she digs for the truth, it becomes clear that Chris Whaley might have taken other secrets to the grave, ones that could have terrifying consequences for her . . .
Thriller Psychological [Harper Paperbacks, On Sale: May 16, 2023, Paperback / e-Book, ISBN: 9780063247369 / ]
Kate White is the New York Times bestselling author of the Bailey Weggins mysteries and suspense novels. For fourteen years she was the editor in chief of Cosmopolitan magazine, and though she loved the job (and the Cosmo beauty closet!), she decided to leave in late 2013 to concentrate full time on being an author.
Her books have received starred reviews from a variety of publications and she has been covered everyplace from The Today Show to The New York Times. Her first Bailey Weggins mystery, If Looks Could Kill, was named as the premier Reading with Rippa selection and soon shot to number one on Amazon. She is published in 13 countries around the world.
Kate is also the editor of the Mystery Writers of America cookbook.
Like many mystery writers, Kate fell in love with the genre after reading her first Nancy Drew book, The Secret of Redgate Farm, and she still admires those cliffhanger endings that "Carolyn Keene" created.
She is married and the mother of two children, and once had her daughter stalk her through the woods so she could better describe the sounds of someone being followed.
Kate is also the author of several very popular career books, including I Shouldn't Be Telling You This: How to Ask for the Money, Snag the Promotion, and Create the Career You Deserve, and Why Good Girls Don't Get Ahead but Gutsy Girls Do.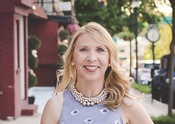 Jennifer Vido writes sweet romances set in the Lowcountry filled with southern charm and hospitality. In between chapters, she interviews authors for her bi-weekly Jen's Jewels column on FreshFiction.com. Most mornings, she teaches an arthritis-friendly water exercise class for seniors before heading to the office to serve as the executive director of a legal non-profit. A New Jersey native, she currently lives in Maryland with her husband and two rescue dogs and is the proud parent of two sons who miss her home-cooked meals. To learn more, please visit her website.
No comments posted.