1--What is the title of your latest release?
THE SECRET TO HAPPINESS, book 2 in the Cape Cod Creamery series.
2--What's the "elevator pitch" for your new book?
Fired from her dream job after making a huge mistake, Callie Dixon lands at her aunt's Cape Cod ice cream shop, hoping that in time, she'll bounce back. But she made that mistake for a reason that time won't help. When her cousin drags her to a class on happiness, the instructor - curiously gloomy and demanding - has a way of turning her feelings upside down.
3--How did you decide where your book was going to take place?
My editor made that call! She wanted a book about ice cream, and she wanted Cape Cod.
4--Would you hang out with your protagonist in real life?
Definitely. When you hang out with Callie Dixon, you start thinking you can do anything! She has that kind of positive effect on others. Callie is inspired by my niece, Hilary, who is one-of-a-kind! My sister called her "Hurricane Hilary." Everyone adores her.
5--What are three words that describe your protagonist?
Vivacious, optimistic, enthusiastic.
6--What's something you learned while writing this book?
I studied quite a bit about brain science, and how thought life effects one's sense of well-being.
7--Do you edit as you draft or wait until you are totally done?
Both! I'm trying to change that, though, and hold off on editing until the first draft (such a drafty draft!) is done. It seems to make a difference.
8--What's your favorite foodie indulgence?
Coffee. Love, love, love it.
9--Describe your writing space/office!
A tiny laundry room that is shared with two big yellow labs.
10--Who is an author you admire?
Catherine Marshall - for her non-fiction books, all of which I re-read a least once a year.
11--Is there a book that changed your life?
The Helper by Catherine Marshall. A book that expands your faith.
12--Tell us about when you got "the call." (when you found out your book was going to be published)/Or, for indie authors, when you decided to self-publish.
My first book with Revell was a non-fiction book, Amish Peace: Simple Wisdom for a Complicated World. My agent introduced me to Andrea Doering and we had a wonderful discussion about the book's concept. We had an immediate connection that has never left!
13--What's your favorite genre to read?
Historical fiction.
14--What's your favorite movie?
To Kill a Mockingbird. (I'm rather fond of Gregory Peck.)
15--What is your favorite season?
Spring, for so many reasons. Like…just yesterday, I started seedlings in my greenhouse. I'm always so hopeful!
16--How do you like to celebrate your birthday?
I don't! I'm embarrassed by that kind of attention, so I don't publicize my bday at all.
17--What's a recent tv show/movie/book/podcast you highly recommend?
Each day, I walk my dogs and listen to Discover the Word (RBC). Very thoughtful program that studies the Bible from a new angle. I always learn so much (and I still have so much to learn!).
18--What's your favorite type of cuisine?
Chinese. Recently, I had a dinner party of Chinese food. I had everything prepped so my friends could learn how to make spring rolls. So much fun!
19--What do you do when you have free time?
Tennis, gardening, cooking, Bible study, baking sourdough bread, knitting (beginner!), and I'm just starting to learn to paint with watercolors.
20--What can readers expect from you next?
Coming after "The Secret to Happiness" is "Lost and Found," a story about a young Amish woman who disappears. The cover was just given final approval and I couldn't be more pleased. It invites you into the story.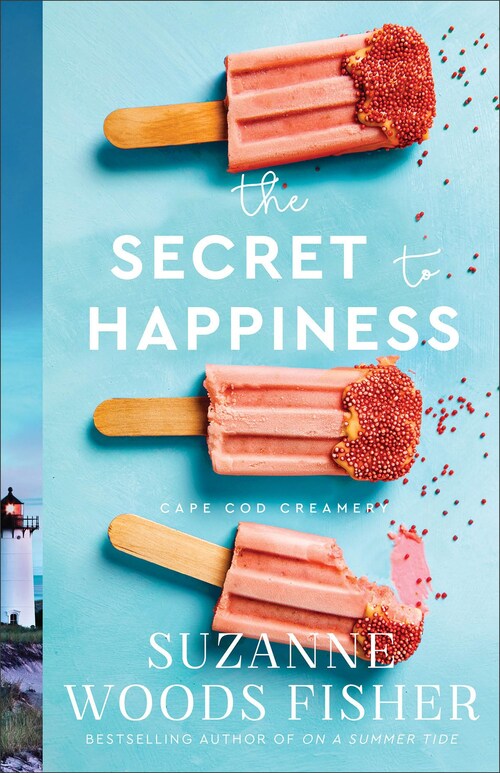 Escape to Cape Cod - where you just might find the secret to happiness
Callie Dixon had the world by its tail . . . until it all slipped away. Fired from her dream job after making a colossalmistake, she's escaped to her aunt's home on Cape Cod for time to bounce back. Except it isn't a home, it's an ice cream shop. And time isn't going to help, because Callie's bounce has up and left. There's a reason she made that mistake at work and she's struggling to come to terms with it.
Things go from bad to worse when Callie's cousin Dawn drags her to a community class about the secret to happiness. Happiness is the last thing Callie wants to think about right now, but instructor Bruno Bianco--a curiously gloomy fellow--is relentless. He has a way of turning Callie's thoughts upside down. Her feelings, too.
Could Bruno be right when he says that hitting rock bottom is the very best place to be? If so, how is that supposed to help her find exactly what--or who--has been missing all along?
Romance Contemporary [Revell, On Sale: May 2, 2023, Paperback / e-Book, ISBN: 9780800739485 / eISBN: 9781493441310]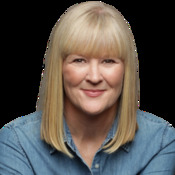 With over 1.5 million copies sold, Suzanne Woods Fisher is a bestselling author of over 30 books, ranging from novels to children's books to non-fiction. She is a Christy Award finalist, a winner of Carol and Selah awards, and a two-time finalist for ECPA Book of the Year. She writes stories that take you to places you've never visited—one with characters that seem like old friends. But most of all, her books give you something to think about long after you've finished reading it. Suzanne lives with her very big family in northern California.
No comments posted.