1--What is the title of your latest release?
2--What's the "elevator pitch" for your new book?
A woman who went to prison for her messy con artist family makes them promise to go legit, but when she gets out she realizes they've kept scamming and now it's up her to make them give up their grifter ways…but they have other ideas.
3--How did you decide where your book was going to take place?
I needed somewhere with stunning vistas that made people think of money. Water and yachting said "money" to me. I watched a house-buying show set in Rhode Island and decided it had the perfect mix of wealth and ocean views to work.
4--Would you hang out with your protagonist in real life?
I would! She comes from a dysfunctional, uncontrollable, emotionally stunted family of people who lie and deceive for a living. Think about the stories she'd have. It would be so entertaining.
5--What are three words that describe your protagonist?
Practical. Determined. Unmoored.
6--What's something you learned while writing this book?
The book is lighter in tone, but it does touch on the idea of family roles like "the dependable one" or "the smart one" – those roles we're quietly assigned and the ones we take on, which made me think about my own boundaries, and those are always good things to reassess.
7--Do you edit as you draft or wait until you are totally done?
I edit as I draft. I wish I could write then circle back in a second draft, but I can't. I need to polish as I go. It helps me with continuity and characterization.
8--What's your favorite foodie indulgence?
The answer to all food questions is french fries.
9--Describe your writing space/office!
I write in a bedroom we converted into an office. It has a couch I can't sit on because I'll fall asleep, bookcases filled with my favorite reads, a desk with two monitors, and a whiteboard. The desk holds my notebook, assorted cat toys, and at least one cup of tea.
10--Who is an author you admire?
There are so many authors who give their time and are supportive. It's hard to pick. I'd say Jodi Picoult. I don't know her, but she's wildly successful and I've watched her support other authors on social media, from debuts who have book signings where no one shows up to cheering for another author's release day. It's a tough business. Sometimes you need another author who understands to step in and say, "you're not alone."
11--Is there a book that changed your life?
The Bride by Julie Garwood. It was the first romance I ever read, and it literally changed my life because I was a divorce attorney who got hooked on romance, then started trying to write one, and now write for a living.
12--Tell us about when you got "the call." (when you found out your book was going to be published)/Or, for indie authors, when you decided to self-publish.
I got my writing stat with an assist by Lori Foster. She ran a contest off her website and picked finalists. She gave those finalists to her then-editor, Kate Duffy. I was a finalist, which meant I was lucky to get immediate feedback and ongoing access to Kate. Eighteen months after the contest, and after trying two more book ideas that got rejected, I got the call that Kate and Kensington wanted to publish my first novella in an anthology with Lori Foster and Erin McCarthy called When Good Things Happen to Bad Boys. That was 2006.
13--What's your favorite genre to read?
I love romance and thrillers. When those are combined in some sort of romantic suspense, I am a happy reader.
14--What's your favorite movie?
This is hard! My favorite changes over time and recently I've been a bigger television series fan than movie watcher, but I can rewatch the Mission Impossible movies over and over, especially the last three.
15--What is your favorite season?
I love fall. About fifteen years ago we moved from the D.C. area to California, and I still miss fall.
16--How do you like to celebrate your birthday?
I'm a very lowkey birthday person. We usually celebrate with dinner out. My birthday is September 30th, so some years we're able to combine my birthday celebration with a nice trip somewhere.
17--What's a recent tv show/movie/book/podcast you highly recommend?
I just finished watching the first season of Shrinking. It's about a father of a teen girl who's struggling in the aftermath of his wife's death in a car accident. It sounds super angsty, but it's not. It's funny and poignant and moving and a little wrong…and it has Harrison Ford in it. I highly recommend it.
18--What's your favorite type of cuisine?
I could eat Chinese food every single day.
19--What do you do when you have free time?
Answer: Being self-employed generally means that I'm bad with the concept of "free time" but I love to read outside and go to dinner with friends. I also love to travel.
20--What can readers expect from you next?
After Moorewood Family Rules, my dysfunctional family of con artists, I'll switch genres. I also write thrillers as Darby Kane. The next one, The Engagement Party (not as fun as it sounds!) comes out December 5th. It's a "locked room" thriller where a group of friends at a party on an island off Maine are forced to reexamine a murder in their past.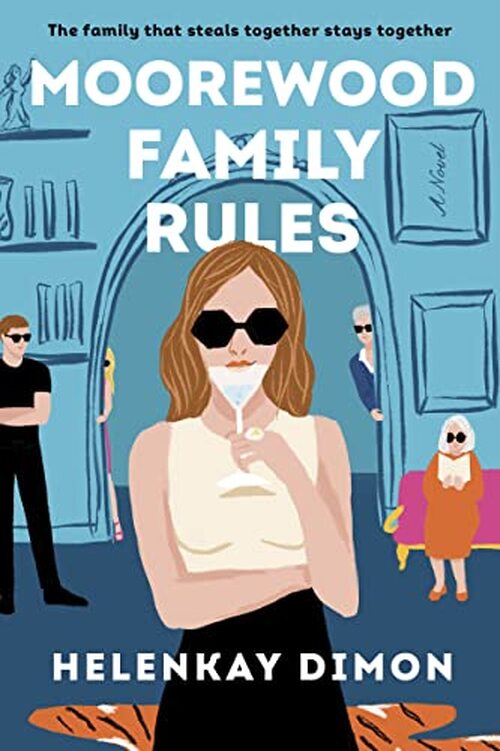 Knives Out and Ocean's 8 meets The Nest in this hilariously twisty novel by award-winning author HelenKay Dimon, about a woman who returns home from prison to her dysfunctional con artist family and tries to get them to go legit.
One day a con man met an heiress, wooed her, married her, had two kids…and kept on conning. Jillian Moorewood is the oldest child from that meet-cute-gone-wrong marriage. The stable one. The sensible and dependable one. The one who protects and fixes. The one who went to prison to save their sorry butts. Now, thirty-nine months later, she's out and she's more than a little pissed.
Finally home she finds the scheming clan in full family fleecing mode. They all claim they didn't really agree to Jillian's previous go-legit-or-else ultimatum before she went away. They viewed it as a "suggestion" then ignored it. So, business as usual. But Jillian is done with the lies and fakery. She demands the whole messed-up crew clean up its act, and this time she's not kidding—she has the leverage to make it happen.
Problem is, her life is in shambles, but with the help of a great aunt (crooked but loveable), a bodyguard (who is a nice surprise after three years in prison), and a few allies (all working undercover), Jillian starts to put her life back together. She kicks out a few mooching relatives living under her roof, sets limits on everyone's access to the money, ducks from their various attacks, and sees if that bodyguard is maybe interested in sticking around for a while. For the first time, she's Jillian Moorewood, her own woman, and she's ready to figure out who she is.
Women's Fiction | Romance [Avon, On Sale: April 25, 2023, Paperback / e-Book, ISBN: 9780063240520 / eISBN: 9780063240537]
Award-winning author of romance and romantic suspense
HelenKay Dimon is a former divorce attorney turned full-time romance author. Odd transition, right? She has sold over thirty novels, novellas and shorts to numerous publishers, including Kensington, Harlequin and Penguin, Samhain, Carina Press, and HarperCollins. Her nationally bestselling and award-winning books have been showcased in numerous venues and her books have twice been named "Red-Hot Reads" and excerpted in Cosmopolitan magazine. But the best part of the job is never having to wear pantyhose.
No comments posted.