P is for punny. My title is a fun play on words.
R is for rehab. In this book, carpenter Whitney Whitaker and her cousin Buck rehab on old houseboat.
I is for imagination. Whitney and Buck have to use their imaginations to visualize the decrepit boat as it could be once it's fixed up.
M is for marriage. Buck is engaged to Whitney's best friend Colette, and their nuptials are planned to take place right after the boat rehab is complete.
E is for exciting. Lots of exciting stuff happens in this story!
R is for reconnoitering. In this story, there's someone who seems to be keeping a watchful eye on the area.
A is for anticipation. You'll be dying to know who killed Grant Hardisty and why!
N is for nautical. This book has a nautical theme.
D is for design. Whitney enjoys coming up with the design elements for their flip projects.
P is for purrs. Sawdust, Whitney's sweet buff-colored cat, provides lots of purring!
U is for underwater. That's where the victim and his boat end up!
N is for nighttime. That's when some suspicious things happen in this story.
I is for insufficient. It's tough for investigators when there's insufficient evidence to arrest or hold a suspect.
S is for slip. The Skinny Dipper makes its home in a slip on Old Hickory Lake.
H is for houseboat, of course! This plot is centered around the rehab of a houseboat.
M is for mother. Whitney's mother is always worried about her daughter's involvement in murder investigations.
E is for entangled. Victim Grant Hardisty was entangled in all sorts of bad relationships.
N is for navigation. Sailors navigated by the stars, and Whitney loves watching the stars at the dark lake at night.
T is for twinkle. There's a special twinkling star in this book.
House-Flipper Mystery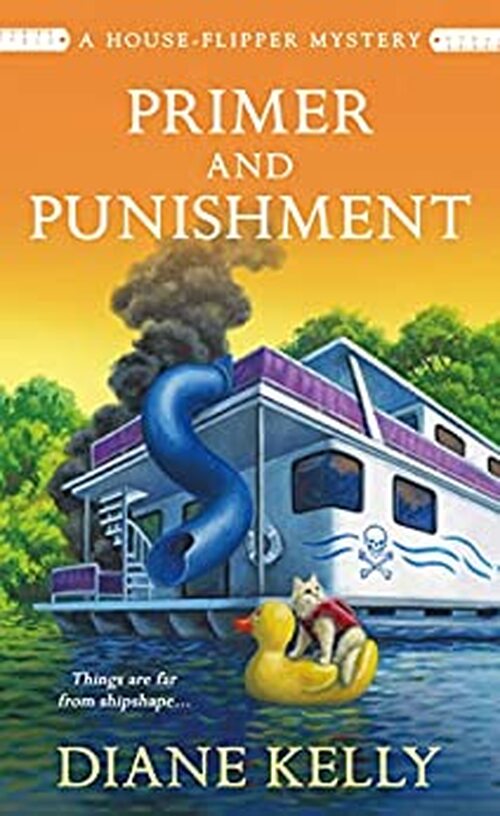 Primer and Punishment marks the fifth in the delightful cozy mystery series from Diane Kelly set in Nashville, Tennessee. Whitney Whitaker has a knack for nailing down murderers . . . but this time she might just come unmoored.
Carpenter Whitney Whitaker and her cousin Buck are looking once again to rehab and resell a house, only this particular house is made of fiberglass, floats, and has been dubbed the Skinny Dipper. The old houseboat sure could use some work, but the unusual project has Whitney bubbling with excitement.
The charming and handsome Grant Hardisty lives on the cabin cruiser in the adjacent slip, but the cousins soon learn he's left a half dozen angry ex-wives in his wake and made enemies of all sorts of unsavory folks. The man is clearly caught in an increasingly dangerous current with no life preserver in sight.
Whitney and Buck are spraying primer on their houseboat when—KABOOM!—Grant's boat blows sky high with the man himself inside. Detective Collin Flynn has no shortage of suspects, but the waters become muddied when several of them confess to the crime. Is one of those who confessed truly guilty, or are they taking a dive for someone else? When anonymous threats are made against the cousins, Whitney must quickly determine who killed their neighbor at the lake, or she and Buck might also be sunk.
Mystery Cozy | Mystery Woman Sleuth [St. Martin's Paperbacks, On Sale: February 21, 2023, Paperback / e-Book, ISBN: 9781250816061 / ]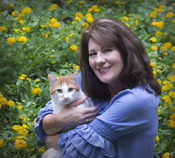 A former tax advisor, Diane Kelly inadvertently worked with white-collar criminals on multiple occasions. Not surprisingly, Diane decided self-employment would be a good idea. Her fingers hit the keyboard and thus began her Death and Taxes romantic mystery series. A graduate of her hometown's Citizen Police Academy, Diane Kelly also writes the hilarious K-9 cop Paw Enforcement series and the new House Flipper cozy mystery series.
Diane's books have been awarded the prestigious Romance Writers of America Golden Heart® Award and a Reviewers Choice Award.
1 comment posted.