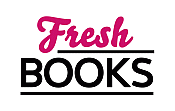 Sweet Reads in February
Sue-Ellen Welfonder | Author-Reader Match: KNIGHT IN HER BED

January 25, 2023
Instead of trying to find your perfect match in a dating app, we bring you the "Author-Reader Match" where we introduce you to authors you may fall in love with. It's our great pleasure to present Sue-Ellen Welfonder!
Writes:
Hello, Everyone! (said with a smile and a wave) Whenever I'm asked what I write, I'm tempted to say escapist fiction. Real life can be hard and so my aim is to give readers a story that sweeps them into another time and place, an escape from their cares. The more standard answer is that I'm mostly known for writing Scottish medieval romance such as KNIGHT IN HER BED, a tale of sizzling passion, danger, and forbidden love between a captured laird and a lady who must choose between clan loyalty and her heart.
About:
Let's see... with pen in hand, I'm a USA Today bestselling author of twenty-plus years, writing in multi-genres from historical romance to contemporary and paranormal romance. Some readers may know me as Allie Mackay, a pen name used for Scottish time-travel and ghost romances. Setting the pen aside, I'm a former airline stewardess, now happy homebody. I believe that you can never have enough books, and that yoga is a cure for everything. Once a dedicated night owl, I trained myself to be a lark and now cycle out every morning to see the sunrise. My greatest passions are animals, nature, and anything old and quirky. I live on Florida's southwest coast with my husband and my muse, Snuggles the writer cat.
What I'm looking for in my ideal reader match:
My dream reader is someone who loves...
Hot Highlander heroes, daring heroines, and highly sensual stories
Heart, humor, and soul
Legend, lore, and magic
Devorgilla, a meddlesome crone who wears red-plaid shoelaces and will turn me into a toad if I don't mention her.
Critter characters
Happy endings that squeeze your heart
What to expect if we're compatible:
Stories that make you feel as if you are there
You'll come to believe that Devorgilla is real (she is)
My cat, Snuggles, will steal your heart and you'll watch my FB Author Page for his appearances
If you read enough of my books, you'll learn my secrets ... such as loving rain, cold, and mist, being allergic to Daylight Saving Time, that I love trees, wish that I could rescue every needy animal on the planet, and really do believe in magic
An occasional nod to the unforgettable Alan Rickman (yes, I still miss him)
Highland Knights #1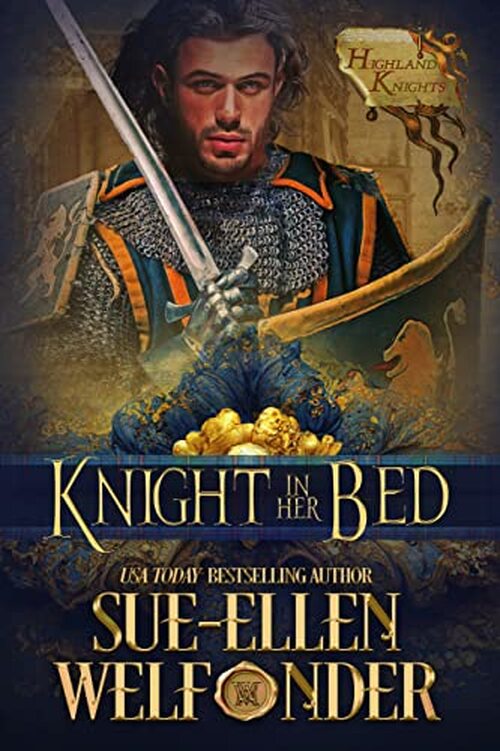 A warrior in chains,
A lady in charge,
And a seduction too hot to handle…
Laird Donall MacLean never expects to land in a dungeon when he makes a goodwill journey to the ancestral holding of his clan's sworn enemies, the MacInnesses. The two Highland families might bear the scars of a centuries-old feud, but they've enjoyed a truce in recent years and so when a MacInnes woman is murdered, he gladly offers help – only to find himself accused of the deed. Though he knows he is innocent, his beautiful captor doubts his every word, even as she ignites a blazing passion he can't resist.
Lady Isolde MacInnes understands why her clan wants vengeance. As chieftain, she's heard all the arguments meant to prove her sister was killed by MacLeans. So when the darkly handsome MacLean laird falls into her hands, why does she ignore her council's advice to quickly execute him, and embark instead on a shocking peace plan of her own - one that involves sweet, decadent seduction and even seems to work – until a new and deadly danger surfaces, forcing Isolde to choose between clan loyalty and her heart.
Romance Historical [Oliver-Heber Books, On Sale: September 11, 2022, e-Book, / ]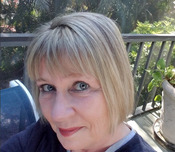 SUE-ELLEN WELFONDER is a dedicated medievalist of Scottish descent who spent fifteen years living abroad, and still makes annual research trips to Great Britain. She is an active member of the Romance Writers of America and her own clan, the MacFie Society of North America. Upon visiting the Eilean Donan Castle in the Scottish Highlands, she was inspired to write DEVIL IN A KILT, which is her first novel. She is married and lives with her husband, Manfred, and their Jack Russell Terrier, Em, in Florida.
Comments
3 comments posted.
Re: Sue-Ellen Welfonder | Author-Reader Match: KNIGHT IN HER BED

Morning, Everyone! Many thanks to Fresh Fiction for inviting me to be here today. It's great to be here. For now, here's a friendly wave to all readers.
(Sue-Ellen Welfonder 10:12am January 25)
Thanks to everyone who looked in here today. Likewise, many thanks to the Fresh Fiction team for inviting me to visit you. It was fun and I was so happy to be here.
(Sue-Ellen Welfonder 7:12pm January 25)
Creative Biolabs is one of the world's leading providers of
single-cell technologies, including single-cell DNA
sequencing (scDNA-seq), single-cell RNA-sequencing (scRNA-
seq), single-cell methylation sequencing (scMethy-seq),
single-cell proteomic analysis etc. With a wealth of
experience and expertise in the field of single cell
analysis, we offer comprehensive single-cell omics solutions
and technical services to our customers. These comprehensive
services are designed to be one-stop and we can give the
results you need to advance your biological and biomedical
research. Single Cell Omics for CD1c+
https://singlecell.creative-biolabs.com/single-cell-omics-
solutions-for-dendritic-cells-dcs.htm
(Aaron Swift 5:20pm January 28)
Registered users may leave comments.
Log in or register now!