1--What is the title of your latest release?
2--What's the "elevator pitch" for your new book?
A shy virtual assistant who's in love with her hunky best friend joins Tinder to learn how to seduce him.
3--How did you decide where your book was going to take place?
It's a companion to another series, so the location was already New York City.
4--Would you hang out with your heroine in real life?
Absolutely!
5--What are three words that describe your hero?
Protective, passionate, intelligent…with a side of kink!
6--What's something you learned while writing this book?
I learned about a very interesting contraption for BDSM play. I won't say any more since I don't want to give it away!
7--Do you edit as you draft or wait until you are totally done?
I wait until I'm done. If I tried to get it all perfect the first time, I'd never finish.
8--What's your favorite foodie indulgence?
Ben and Jerry's ice cream.
9--Describe your writing space/office!
I have a desk and computer with two screens plus a laptop and lots of bookshelves. I light a candle for ambience.
10--Who is an author you admire?
So many! But the big three are Nora Roberts, Diana Gabaldon, and Lisa Kleypas.
11--Is there a book that changed your life?
A lot of books have changed my life! But if I have to choose one, I'll go with As a Man Thinketh by James Allen. It's a quick read and is basically about the power of positive thought. It helped me through some tough times.
12--Tell us about when you got "the call." (when you found out your book was going to be published)
My very first contract was with a small press called The Wild Rose Press. It was for a spicy short story called Seduced in Seoul, which was published in 2008. So it wasn't a call, it was an email, but I was elated!
13--What's your favorite genre to read?
I love them all! Right now, I'm reading thrillers.
14--What's your favorite movie?
The Sound of Music
15--What is your favorite season?
Fall.
16--How do you like to celebrate your birthday?
With a massage and facial and then a dinner out.
17--What's a recent tv show/movie/book/podcast you highly recommend?
The Wrong Woman by Leanne Kale Sparks. Leanne is a friend of mine and this is her first thriller. I devoured it!
18--What's your favorite type of cuisine?
All of them! Seriously. Italian, Japanese, French… they're all amazing. I'm a total foodie.
19--What do you do when you have free time?
What free time? Lol. I like to walk, read, and hang out with my dogs.
20--What can readers expect from you next?
Bloom, the standalone sequel to Blush, releases in August 2023, but before that, look for Opal (Gems of Wolfe Island) in February, Chance (Steel Brothers) in March, Phoenix (Wolfes of Manhattan) in April, and Fortune (Steel Brothers) in June! Plus...I have a new series debuting in July, 2023 beginning with Savage Sin!
What he wants from you will make you…Blush
Amanda Thomas is hopelessly in love with Jackson Paris, but he will never see her as anything more than his sweet and innocent bestie. After being virgin-adjacent for too long, Mandy is officially ready to move on. She wants to learn about hot, dirty sex, so she joins an online dating app where the enigmatic Mr. Dark promises to fulfill all of her wicked fantasies...
Jackson Paris has been keeping secrets from his stunning, too-innocent best friend—like forbidden sexual proclivities and his membership at the exclusive Black Rose Underground club. But Mandy has decided she needs an education—the filthy kind. As Mr. Dark, Jackson can safely give her a taste of what she wants—and deter her from pursuing more—without revealing his identity.
But in the dim, provocative atmosphere of Black Rose Underground, there are no secrets. Here, every wicked appetite is satisfied. And for the first time, Mandy will discover who her best friend really is...just in time to shock him with a secret of her own.
Romance Billionaire | Young Adult Romance [Entangled: Amara, On Sale: January 24, 2023, Trade Paperback / e-Book, ISBN: 9781649372154 / eISBN: 9781649372277]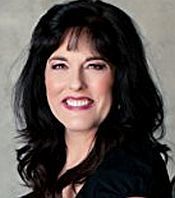 #1 New York Times and #1 USA Today bestselling author Helen Hardt's passion for the written word began with the books her mother read to her at bedtime. She wrote her first story at age six and hasn't stopped since. In addition to being an award-winning author of contemporary and historical romance and erotica, she's a mother, an attorney, a black belt in Taekwondo, a grammar geek, an appreciator of fine red wine, and a lover of Ben and Jerry's ice cream. She writes from her home in Colorado, where she lives with her family.
1 comment posted.