Bouthier had been busy setting up in the hotel room all morn­ing so when there was some unexpected downtime, he de­cided to try to squeeze in a quick workout.
The hotel gym was downstairs off the lobby and even before he fully pulled open its glass door, he saw without surprise that it was tiny and complete shit.
The only good thing about it was that its sole occupant, some pudgy thirty-something insurance-salesman-type on the exer­cise bike, immediately put on the brakes and began gathering up his stuff the split second Bouthier peeled off his shirt.
It wasn't surprising. Six foot and hard bodied with dark pitbull-like eyes, doorway-filling shoulders and a slab of a face that looked like it had been squared into shape with a bricklayer's crack hammer, Bouthier rarely found social distancing to be too much of a problem.
"Before," he said as he tracked the soft bubble butt's hasty exit in the wall mirror.
"After," he said with a gruesome smile as he popped a rock-hard front f lex.
He looked around. Without anything real to lift, he decided to do some CrossFit. Burpees, renegade rows, jumping lunges then some dumbbell thrusters with the pathetic 50s.
When the Bluetooth in his ear chirped, he was just done stretching and was bending over about to do his first burpee.
"Heads up. This just in. It is the plane after all," his partner, Llewellyn, said.
"Now you tell me. On my way," Bouthier said with a sigh.
As he came back out into the lobby, the front door of the hotel swung open and in came some grinning Alaskan hillbilly family with a bunch of kids.
There were five kids in all, Bouthier quickly counted. Three girls and two boys, the oldest boy maybe ten. All of them were blond haired and smiling and the dipshit lot of them, even the thirty-something parents, were color coordinated in Walmart blue T-shirts that said Congrats Grammy! on the front of them.
Well, kiss my Alaskan grits, Bouthier thought as he watched the backwoods von Trapps head for the cheap hotel's ballroom. This is funner than when we done gave that Sarah Palin a ride in the turnip truck. Don't y'all just love going-into-town day?
As he headed on a collision course with them, Bouthier's dark predator eyes were fastened onto the smallest child lingering at the rear. He was a daydream-eyed, tow-headed boy of perhaps five, the plastic string of a huge shiny Mylar balloon clutched fervently in his pudgy little mitt.
Time for some of his own fun? Bouthier suddenly thought with a raise of an eyebrow.
He quickly glanced over at the check-in desk and saw that the clerk was missing.
23
Why, yes, he thought, reaching into his back pocket as he picked up his pace. Why, yes, it was.
Arriving in the middle of the lobby at the same time as the cute-as-a-button cluster, Bouthier waited a beat, and just as the five-year-old crossed in front of him, he snicker-snacked open the razor-sharp karambit blade he always carried with a card trick f lick.
Bouthier was ten feet past the desk with the blade resheathed when the child began howling.
He glanced back casually over his shoulder.
And had to bite his lip to keep from cracking up.
Because the redneck kid's balloon was missing in action now. Up, up, and away it had gone, hopelessly lost somewhere in the lobby's double-height ceiling.
"Mommy, my balloon! Nooooo! Nooooo!" the inconsolable rug rat wailed to his mother, kneeling now beside him.
"But why did you let it go, Tyler? I told you to hold it tight," she said.
"But it broke! Why did it break?" Tyler bemoaned as he pa­thetically showed her the now limp short end of the balloon string that Bouthier had just parted as clean as a whistle.
"Because shiny balloons are only for winners, that's why," Bouthier said quietly, unable to stif le the giggles as he finally turned and stepped into the waiting elevator.
"Losers like you, Tyler," Bouthier said as the door closed, "only get the string."
The cheap room Bouthier carded into up on three was about as spacious as the bed of a pickup.
But they weren't there on their honeymoon now, were they? Bouthier thought as he kick-slammed the beat-up door behind him.
It actually couldn't have been better because its window pro­vided a clear line of sight to the Juneau arrivals gate.
Llewellyn was bent over the spotting scope by the window, and Bouthier shook his head at his partner's room-filling back. Even taking a knee, his boy Llewellyn was one massive goon.
"Target acquired?" he said.
"Clear as day. He's out on the sidewalk getting a taxi."
"Nevin and Grabowski are on him already?" Bouthier said, referring to their other team members.
"Like maggots on a rotting corpse," Llewellyn said. "They just pulled up at the curb behind his taxi."
"And the target's kid is there, too?"
"The kid, too," Llewellyn said, standing up to his full gar­gantuan six-foot-six-inch height. "See for yourself."
It was true, Bouthier thought, as he put one of his dark doll's eyes to the scope.
There he was in the f lesh, the intrepid Michael Gannon, long-in-the-tooth navy SEAL, and his happy progeny.
Gannon was midsize, maybe five foot ten. Good width in the shoulders. Lean faced. He was fit-looking enough. Not like Bouthier himself, of course. But who was?
Bouthier's eyes narrowed as he thumbed at the zoom.
"Mr. Gannon, you need to lay off the mashed pertaters," he said with a pretty good Irish brogue. "Because faith and begorra that Irish gut of yours is starting to lean a little more toward keg than six-pack, isn't it?"
"Looks like everything's right on schedule after all," Llewellyn said, chuckling behind him.
Bouthier nodded. They already knew all about Gannon's hunting trip itinerary. The printout of it from Control was sitting in a glossy folder on the hotel desk beside him. Along with sev­eral marked-off topographical maps of the Glacier Bay territory.
He buttoned the zoom back a smidge as the SEAL's kid handed him one of the rif le cases. Then Bouthier suddenly found himself frowning.
Was all this truly adding up? he wondered. From the star­tling reports they had gotten, especially the world-class-level confirmed kill count, he was really expecting someone more formidable looking.
The target in his scope certainly didn't give off the demeanor of a killing machine. Fair-haired and bright-eyed with an easy grin, he could have been a youth sports coach, an upbeat day­time game show host, a helpful friendly small-town mailman.
But then again, appearances really didn't always tell the story, did they? Bouthier thought. Take Mike Tyson for instance. He was only five foot ten. Thick and stocky. Built like a gun safe,
like he was bolted into the f loor. Then one blurring, bobbing-and-weaving second after the bell rang, he was somehow stand­ing in the middle of his much larger opponent's kitchen, ripping down all the cabinets and tearing the door off the fridge.
Or take plastic explosives for another example, Bouthier thought as he watched the stocky SEAL pile the rest of the bags and cases into the taxi's trunk.
One second it was a harmless blob of kindergarten Play-Doh, wasn't it? Then an eyeblink later, they were scraping your sweet­breads off the ceiling with a putty knife.
Nodding at this self-served food for thought, Bouthier was about to turn the camera off when he spotted something and quickly zoomed back in close on Gannon's neck.
"There you go. Now that's more like it," he said with a grin as he scanned the healed-over hickie-like welt just above Gan­non's clavicle.
He'd seen such marks before. In his own mirror. It was the burn mark that sometimes got left when the hot tumbling brass shell casings of a rapidly fired automatic weapon got caught in your shirt collar.
Bouthier's stony face creased into a full smile as he watched Gannon settle back into his taxi.
This actually might be fun after all, Bouthier thought as the cab pulled away.
He'd never been on a SEAL hunt before.
Excerpted from HARD TO BREAK by Michael Ledwidge, Copyright © 2023 by Michael Ledwidge. Published by arrangement with Hanover Square Press, an imprint of HarperCollins Publishers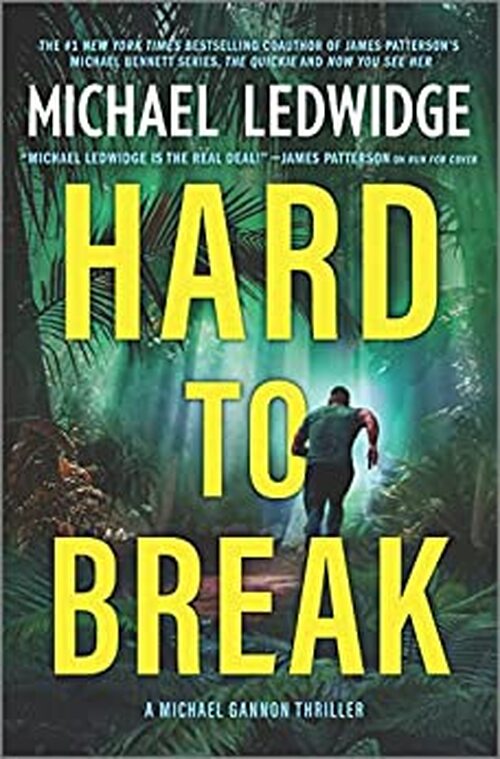 A Michael Gannon Thriller
Mike Gannon always wanted to go to Alaska. That's why when a bucket-list grizzly bear trip to the Klondike comes up, he's on it with both feet. But as he arrives up in the northern wilds, he discovers other hunters are there. And they're not looking for grizzly.
Soon Mike finds himself alone and captured on a corporate plane heading southbound for an incredibly lethal encounter that is about to blow his mind before it tries to blow him away.
Mike's enemies are in the driver's seat until they realize they overlooked one simple thing.
Some men are easy to handle, but there are other men who are…hard to break.
Thriller Terrorism [Hanover Square Press, On Sale: January 10, 2023, Hardcover / e-Book, ISBN: 9781335449337 / eISBN: 9780369733009]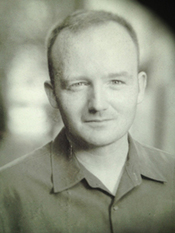 Michael Ledwidge is the son of Irish parents and was born and raised in the Bronx. A graduate of Manhattan College, he is married and has two children. As the co-author of a series of some of James Patterson's most profitable books to date, Ledwidge has risen from an admired but, it's fair to say, mostly unread author, to co-writing some of the most widely read books in the world. He's made real money doing it, too, enough to change his life completely.
1 comment posted.