1--What is the title of your latest release?
2--What's the "elevator pitch" for your new book?
When a severed hand washes ashore in the wealthy enclave of Palm Beach, Florida, the lives of two women—a lonely writer obsessed with the unsolved murder of her mother's best friend and a frantic wife whose husband has disappeared with their children—collide as the world shutters in the pandemic lockdown of 2020.
3--How did you decide where your book was going to take place?
I happened to be in Palm Beach when the pandemic hit in March 2020. So as the world was closing down around me—around all of us—I decided to do two things: one was to finally research the real-life murder of my mother's best friend, and two, was to write a book about it and set it exactly where I was sheltering in place.
4--Would you hang out with your protagonist in real life?
Now that is a fine question! People always ask me if my protagonists are me. The answer is they are and they aren't. Like the actress I used to be, I always use bits of myself in each character. But would I hang out with them? Hmmm…
5--What are three words that describe your protagonist?
The Writer is cerebral and obsessive, but—at the same time—tenderly devoted to her aging dog. The Wife is oversexed and overwrought, but—at the same time—a deeply devoted mother. So there is a yin and yang to each of them with their ability to love being their most redeeming features.
6--What's something you learned while writing this book?
I learned so much about the actual murder of my mother's best friend in this process. I have known about the case my entire life, but now there are troves information available on the internet and through archival records. When I finally sat down to do the research, it changed my understanding of what happened that dark December night in 1948.
7--Do you edit as you draft or wait until you are totally done?
I edit as I go along and then I edit some more at the end. What is that great meme that circulates on social media? Something like, "God grant me the perseverance of a typo that survives 40 rounds of edits!"
8--What's your favorite foodie indulgence?
I will answer this on two levels. On the most basic level, a perfect first cup of coffee in the morning is a mini-rhapsody that gives me something to look forward to every day. Other indulgences might be truffle popcorn, Toll House cookies, risotto Milanese.
9--Describe your writing space/office!
I have the good fortune to write in a conservatory that is off the living room of my house. We have a big round table out there where we used to have wonderful dinners. Alas, I have commandeered that table as my writing surface and leave it covered with piles of papers. So dinners are literally "off the table" these days.
10--Who is an author you admire?
There are SO many authors whose work I love that it a thrill to discover new books and return to old favorites all the time. That said, right now, I am spending a lot of time reading Alice McDermott and Joyce Carol Oates. Their writing pierces my hearts.
11--Is there a book that changed your life?
Pursuit of Love by Nancy Mitford is a seminal book for me. And it is a book I return every few years. It really is my comfort book. In it, Mitford creates a raucous, funny, fractious family—based on her own—in the period between the two world wars. When I feel myself overwhelmed by my own problems, I often pick up this book and instantly feel submerged in a world that is falling apart on one level and filled with love and laughter on another. Just like life.
12--Tell us about when you got "the call." (when you found out your book was going to be published)/Or, for indie authors, when you decided to self-publish.
I can see it clearly! It was June of 2018, and I was with my daughter, Alexandra, who was getting married within a few weeks. We were at my house when I got word that there was an offer to publish my first novel, Finding Mrs. Ford. Everything just felt filled with promise—her impending marriage, my first book deal—and it was such a uniquely sweet and joyful moment in time.
13--What's your favorite genre to read?
I LOVE reading fiction of all stripes. I find that the deepest truths about who we are as human beings are often revealed through the prism of fiction. Fiction gets to the essence of truth without the encumbrance of the minutiae of facts.
14--What's your favorite movie?
Fanny and Alexander by Ingmar Bergman is a movie I watch every Christmas. This makes my family a little crazy because great swaths of this film are very dark. Plus, it is LONG! But I find it to be the most comforting allegory of human life. It starts when everything is beautiful and intact in a large, boisterous, and artistic Swedish family. A crisis occurs and the entire family is plunged down a very dark road. But it is all okay in the end. This is the most ridiculously reductive synopsis of a classic great film, but I leave you with the concept of it being an allegory of the journey of our lives.
15--What is your favorite season?
Fall! I can't shake that "back to school" excitement no matter how many years it has been.
16--How do you like to celebrate your birthday?
I like to begin each birthday with a quiet moment of gratitude that I'm alive! I mean, it's NOT a given. From there, a special meal with family and close friends is heavenly. Since my birthday is in May, it would always involve taking a nice walk and picking lilies of the valley.
17--What's a recent tv show/movie/book/podcast you highly recommend?
I'll go with The Crown. I enjoy historical fiction and the rabbit holes it sends me down. In fact, just this morning I was googling, "Who is Penny in The Crown?"
18--What's your favorite type of cuisine?
Absolute favorite would be French bistro fare…roast chicken and mussels and fries and a sublime chocolate mousse.
19--What do you do when you have free time?
I read quite a bit, I adore going to the movies in an actual cinema (especially old cinemas like The Avon in Stamford, CT), I love to take long walks, and I really enjoy spending time with friends and family.
20--What can readers expect from you next?
I am about 100 pages into a book I've been working on for the past several months. It all came out of an email that dropped into my box from someone I did not remember but who got me thinking! I won't reveal any more than that. Since I am about to go on book tour with Reef Road, I suspect it will be put aside for a little while.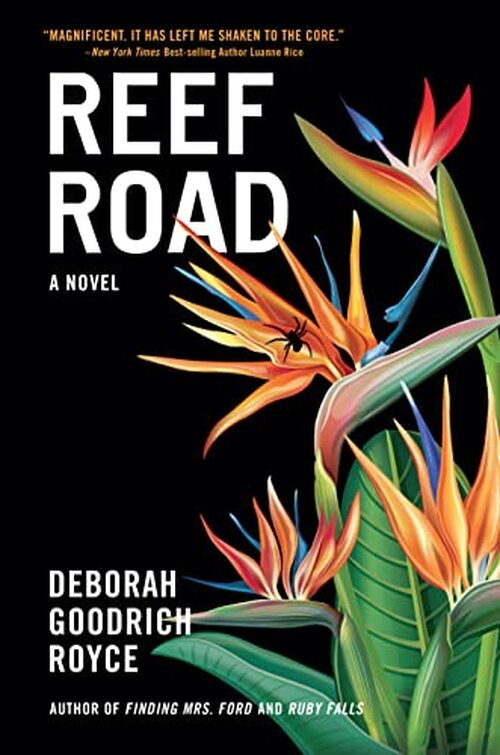 When a severed hand washes ashore in the wealthy enclave of Palm Beach, Florida, the lives of two women—a lonely writer obsessed with the unsolved murder of her mother's best friend and a panicked wife whose husband has disappeared with their children—collide as the world shutters in the pandemic lockdown of 2020.
"Reef Road is magnificent. It feels utterly real, a novel of deeply personal context. It swerves between truth and lies—the lies that lead to an even deeper—and more devastating—truth. Though pure fiction, it reads as compellingly as a mixture of memoir and exposé. It has left me shaken to the core. Deborah Goodrich Royce writes with brilliant understanding of the mystery and occasional grace of trauma." —Luanne Rice, New York Times bestselling author
A young woman's life seems perfect until her family goes missing. A writer lives alone with her dog and collects arcane murder statistics. What each of them stands to lose as they sneak around the do-not-enter tape blocking Reef Road beach is exposed by the steady tightening of the cincture encircling them.
In a nod to the true crime that inspired it, Deborah Goodrich Royce's Reef Road probes unhealed generational scars in a wrenching and original work of fiction. It is both stunning and sexy and, like a bystander surprised by a curtain left open, you won't be able to look away.
Thriller Psychological [Post Hill Press, On Sale: January 10, 2023, Hardcover / e-Book, ISBN: 9781637584965 / eISBN: 9781637584972]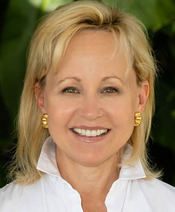 Deborah Goodrich Royce launched her acting career in 1982 in the lead role of Silver Kane (sister of the legendary Erica Kane) on ABC's All My Children. She went on to star in dozens of feature films, television series, and TV movies.
In the '90s, Deborah was the story editor at Miramax Films, overseeing readers, manuscript acquisitions, and script development; editing such notable screenplays as Emma by Doug McGrath. Deborah and a writing partner won a grant from the Massachusetts Arts Council in 2002 to develop and workshop their screenplay, Susan Taft Has Run Amok.
With her husband, Chuck, Deborah restored the 1939 Avon Theatre in Stamford, CT. Under her leadership, the Avon hosts an ongoing series of speakers, most recently, Marcus Zusak, Richard Gere and Chloe Sevigny. Deborah serves on the national council of the American Film Institute, the executive board of the Greenwich International Film Festival, the international council of the Preservation Society of Newport, and the governing boards of New York Botanical Garden, the Greenwich Historical Society, and the PRASAD Project.
Deborah and Chuck have a tribe of children, stepchildren, grandchildren and animals.
1 comment posted.