Instead of trying to find your perfect match in a dating app, we bring you the "Author-Reader Match" where we introduce you to authors you may fall in love with. It's our great pleasure to present Kevin G. Chapman!
Writes:
I'm a mystery/thriller author, but all my stories involve relationships and some romance. My new novel, Dead Winner, is all about the romance – but there's still a mystery with some thrills involved. Dead Winner is about a man, Rory, who has always regretted not telling Monica the way he felt about her. Instead, his best friend, Tom, asked her out and ended up marrying her. Eight years later, Rory, now a successful trust & estates lawyer, finds himself in a position way outside his comfort zone. Monica needs him to be her protector, her criminal defense lawyer, and her private investigator. Along the way, their relationship heats up well beyond attorney and client. Rory must solve the mystery, protect the woman of his dreams, and be the hero he always imagined himself to be inside the video games he frequently plays. The question is, does he have what it takes to be a real-life hero?
About:
I'm a mature outdoorsman who loves baseball, golf, playing tournament poker, and writing mystery, thriller, and romance novels. I have three grown children and live in Central New Jersey with my beautiful wife of 39 years. My favorite movie is The Maltese Falcon – I always thought I could be Sam Spade. At least I get to write characters like him in my novels. My favorite book is Stranger in a Strange Land by Robert Heinlein. As world-building goes, it doesn't get any better.
My ideal reader for DEAD WINNER is somebody who:
Roots for the underdog, even when they don't expect him to win.
Loves being surprised by the twists of a mystery.
Believes in true love, but doesn't expect it to conquer all.
Enjoys classic movies like The Maltese Falcon and Body Heat.
If we're compatible, then:
You will want to read my five-book Mike Stoneman Thriller series and follow the relationships between my hard-boiled homicide detective, Mike Stoneman, and his younger, Black partner, Jason Dickson. You'll wonder whether Mike and his love interest, medical examiner Michelle McNeill will be able to make a go at middle-aged love, and whether Jason and his girlfriend, Rachel, are fire and water, or salt and pepper.
You'll download my free short stories and enjoy the free peeks at my audiobooks on my website.
You will want to become a member of my Whiteboard Squad, where you'll get early access to special features, deleted scenes, inside scoops, and the option to be a beta reader for my new books under construction.
You will share selfies of yourself holding one of my books so I can post them on my group Facebook page (The Mike Stoneman Thriller Group).
You will let me use your name for a character in a future novel.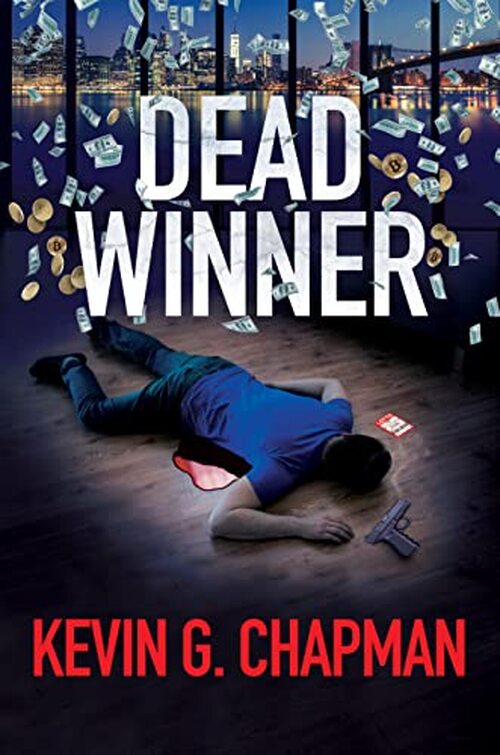 A new stand-alone novel from Kindle Book Award- and CLUE Award-winning author Kevin G. Chapman
Be careful what you wish for . . .
Rory McEntyre is a lonely trusts & estates attorney who plays the hero inside video games. Then, his old flame, Monica, walks into his office with a $60 million winning lottery ticket and a world of trouble.
Monica's husband, Tom, is dead, apparently from a self-inflicted gunshot. A homicide detective considers Monica a suspect, so Rory must be her criminal lawyer. Thugs from Tom's shady business think Monica has incriminating evidence Tom stole from the company, so Rory must be her protector. Most importantly, Rory must be Monica's private detective, because the winning lottery ticket is missing. As Monica and Rory search for the ticket, their relationship heats up well beyond attorney and client. Rory has the chance to win the girl of his dreams, but does he have what it takes to be a real hero? And is Monica everything he wants to believe she is? If he's not careful, Rory could end up like Tom – a Dead Winner.
Thriller [First Legacy Publishing LLC, On Sale: November 21, 2022, e-Book, ISBN: 9781958339077 / ]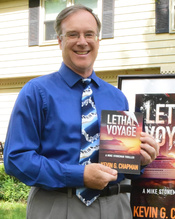 Kevin G. Chapman is, by day, a buttoned-down corporate labor & employment lawyer who works for a major US media company. He frequently speaks at Continuing Legal Education seminars, has taught legal writing to law students, and is the past chairperson of the Labor & Employment division of the global Association of Corporate Counsel. When the work day is done, however, Kevin lives a much more exciting fictional life of crime and romance as the author of the award-winning Mike Stoneman Thriller series (and other novels, short stories, and screenplays). When not busy writing, he enjoys playing tournament poker and cheering on his beloved New York Mets.
Kevin's latest novel, Dead Winner, is a stand-alone mystery/thriller/romance set in New York City. Now available in paperback and hardcover, the Kindle edition is now on pre-order with a distribution date of November 22, 2022. Kevin also recently published a short story called The Car, the Dog & the Girl, which is a humorous thriller about a wannabe gangster and his misadventure on what should have been a simple job.
The awards are still coming in for Kevin's five-book Mike Stoneman Thriller series. This crime-thriller series of police procedurals includes the WINNER of the 2021 Kindle Book Award (Book #3, Lethal Voyage) and the WINNER of the CLUE Award for best police procedural of the year (book #4, Fatal Infraction). Find all the Mike Stoneman Thrillers on Amazon.
Kevin has also written several short stories, including Fool Me Twice, the winner of the New Jersey Corporate Counsel Association's 2012 Legal Fiction Writing Competition, which was the genesis of the character Mike Stoneman, the protagonist in Righteous Assassin. Fool Me Twice is available as a stand-alone short story free on Amazon (and most other ebook retail sites), or you can get it free from Kevin's website.
Kevin is a resident of Central New Jersey and is a graduate of Columbia College ('83) and Boston University School of Law ('86). Kevin loves talking fiction with readers or talking law, politics, or baseball.
1 comment posted.