1--What is the title of your latest release?
2--What's the "elevator pitch" for your new book?
Opposites become allies to fool their matchmaking friends in this swoony reimagining of Shakespeare's beloved comedy, Much Ado About Nothing.
3--How did you decide where your book was going to take place?
I knew the energy of a vibrant, big city, sort of a NYC analogue, was the world for this artsy, creative, entrepreneurial group of people who make up the series' primary and secondary characters. In setting the book in an unspecified city, I allowed myself scope to create an atmosphere and places that suit the story world, rather than be restricted to a real-life city's geography and logistics.
4--Would you hang out with your heroine in real life?
Absolutely. Bea and I both love cozy nights in and the occasional fun night out with our core group of friends. I could see having an order-in food and hang out night while I wrote and she drew, and I could also see us going bowling with the friend group and having a blast.
5--What are three words that describe your hero?
Thoughtful, witty, generous.
6--What's something you learned while writing this book?
I learned to lean into the joy and not distrust it. These two were a joy to write. They're good to each other (once they clear up their vicious initial dislike and misunderstanding), and they communicate honestly; they're vulnerable with each other. That brought me so much joy to write, but sometimes I distrusted it; I'd start to panic that their story wouldn't be perceived as conflictual enough. But as I developed their "us against the world" camaraderie that came with fake dating, it clicked for me and I trusted it: their conflict came from outside, from the lies the world had told them about themselves, the moments they'd been betrayed by others, the ways even the people who loved them best were trying to help them but hurt them instead. I let myself lean into the joy of the goodness that they give each other as they dealt with that outside adversity, and I'm so glad I did, because I think it makes for a story with satisfying conflict and complexity and yet a wonderfully safe, affirming experience of seeing two people try to be careful and kind and good to each other as they fall in love.
7--Do you edit as you draft or wait until you are totally done?
I do a bit of both. I tend to edit lightly as I go, because every time I sit down to write, I'll go back a few chapters to re-orient myself and get back into the story world. I'll correct typos, cut out material I now know is extraneous, and wordsmith a little as I go. Then once I'm done drafting, I'll also go back with the perspective of how the final story shaped up and do multiple rounds of editing, bearing those developments in mind.
8--What's your favorite foodie indulgence?
These days, between how busy I am with work and being a parent, I often eat very simply and practically for energy and efficiency. A foodie indulgence for me is getting to sit down to a nice meal whether at home or at a relaxing restaurant, slowing down enough to taste and savor my meal!
9--Describe your writing space/office!
My writing space is wherever I need it to be! Sometimes in my room, sometimes in the main living area. I like to move settings if I don't feel energized or inspired where I am. Something about moving to a part of the house with more light or less noise sometimes is all I need to get into a writing groove. I have a standing desk on wheels that I move around the house. I have a lap desk for when I want to sit on the sofa and be near my kids while they play or watch a movie. I just always have my big noise-canceling headphones on, playing music, so I can focus on my writing world.
10--Who is an author you admire?
I admire so many authors in several genres, it's impossible to pick one. Tessa Dare, Talia Hibbert, Helen Hoang, Sarah Hogle, and Alison Cochrun are just a few whose craft and brilliant balance of emotional depth and humor in their storytelling has profoundly inspired me.
11--Is there a book that changed your life?
Karen Cushman wrote several historical fiction children's and middle grade books about young girls who were generally in a bit of a pickle with their lives, struggling socially, in their families and friendships, often alone and wrestling with themselves and how to make their way in the world—Catherine Called Birdy and The Midwife's Apprentice come to mind. I identified with that. They just made me feel seen in a way I hadn't felt seen in fiction before, and that stuck with me. It's always what I'm trying to do when I write—give my readers the experience of feeling seen and understood. More recently, The Kiss Quotient. Helen Hoang's book and her lead character, Stella, who has ASD, was how I first realized I was likely on the autism spectrum. It was such an affirming, compassionate first introduction to this identity, seeing a woman figure out and embrace both her strengths and struggles, seeing a man loving her for all of who she was. It wasn't some stereotyped, belittling representation of what life can be like while autistic—it was nuanced and gentle and raw and beautiful, and I will never be able to adequately express how significant that was. I carry that experience with me and as an author feel a deep responsibility and privilege to write identities and experiences that some may recognize in themselves for the first time in my books, hoping they will feel the same kind of care and safety that I encountered when recognizing parts of myself in the character of Stella.
12--Tell us about when you got "the call." (when you found out your book was going to be published)
It was just over a year ago, and I was at home with my kids, I think they were bouncing around on our trampoline. Samantha, my agent, forwarded me an email containing the offer from Kristine with a bunch of "celebration" emojis. I think I immediately emailed her back something inarticulate but discernably happy, and then we had a phone call and sort of mutually scream-yelled in celebration. The details are fuzzy beyond that, because it really was surreal, something I'd been hoping for so badly but trying not to let myself get too hopeful for, and I couldn't believe it was happening. I still pinch myself it's happened and feel so grateful I've had Samantha to celebrate it with me and encourage me along the way.
13--What's your favorite genre to read?
Romance is my favorite. There's so much variety in the genre, and I love knowing I can encounter something so new in so many ways while being able to trust it will take good care of its characters and me, the reader.
14--What's your favorite movie?
This is tough because I haven't been big into movies since college which is - mumble-mumble - years ago. Something about how busy I got and how drawn into reading, it sort of drew me away from films. I tend to pick up a book rather than watch movies in any free time I have. But an old favorite is Sense and Sensibility, starring Emma Thompson and Kate Winslet. The acting, the soundtrack, the cinematography, the way the story drew out all the heartache and that Austenian undercurrent of (very merited) female frustration with society's imposed limitations, and that pervasive, wry wit—I just adore it all and regularly rewatch it. Maybe a close second, and another Emma Thompson movie, is Stranger than Fiction—it's such an odd, tender film that so deeply cuts to the heart of writing and character and love and loneliness. I still think about it regularly.
15--What is your favorite season?
Fall! Hands down. I love the weather—warm sun, cool breezes, green grass, golden leaves; this transition from savoring summer's abundance to drawing in and soaking up those fleeting moments of warmth and sunlight and time outside before winter makes us draw inward. Fall is a season of changes and letting go before settling in and sitting with ourselves for a few months. It's always challenging to me but also always rewarding.
16--How do you like to celebrate your birthday?
Quietly. I don't like fanfare or being focused on. My birthday is right on the edge of fall, so I like to spend it outside, usually on a friend's porch, soaking up the weather, eating a nice meal, maybe playing a few group games, and definitely enjoying a good whiskey.
17--What's a recent tv show/movie/book/podcast you highly recommend?
Recommended TV show—Ted Lasso! I'm a soccer player and so I knew I'd love it, but add on a brilliantly nuanced ensemble cast, classic dry British humor juxtaposed against Ted's deep good-guy earnestness, not to mention the in-depth, positive representation of mental health struggles and being in therapy, I adored it. As I've said, I don't watch much film or TV, but I love and will always watch Ted Lasso for however long they film it. For a book—You're a Mean One, Matthew Prince, by Timothy Janovsky (out October 4, 2023). It is truly the perfect holiday rom-com. If you loved Schitt's Creek and Red, White & Royal Blue (and who doesn't?), you'll love this! Spoiled celebrity forced to mingle in a small town and falls for a gruff lumberjack-type local, festive holiday shenanigans, a beautifully affirming queer love story, compassionate mental health rep, enemies to lovers and only one bunk bed tropey goodness. I could go on forever. I was lucky enough to read it months ago and I just can't stop thinking about it!
18--What's your favorite type of cuisine?
I really don't have one favorite. I love all sorts of foods and trying new things, though it's always a bit complicated by my dietary restrictions thanks to Celiac disease. On any given day though, if you ask me what I'd want, it's probably authentic tacos with lots of hot sauce.
19--What do you do when you have free time?
I spend quality time with my family and a small group of friends. When my body and schedule allow it, I go for runs and play on a women's soccer league. I read outside and within my genre. I'll sit down at the piano and play and sing songs I love just for the fun of it. Sometimes I just like to go through walks in nature and soak up the quiet as I let my mind wander.
20--What can readers expect from you next?
Next up is the sixth book in my Bergman Brothers series, a large family saga romance series that I independently publish (think Bridgerton but modern—seven siblings each finding their way in life and falling in love, one book per sibling) coming early 2023. And then later in 2023, my second book with Berkley, which follows one of Bea's sisters!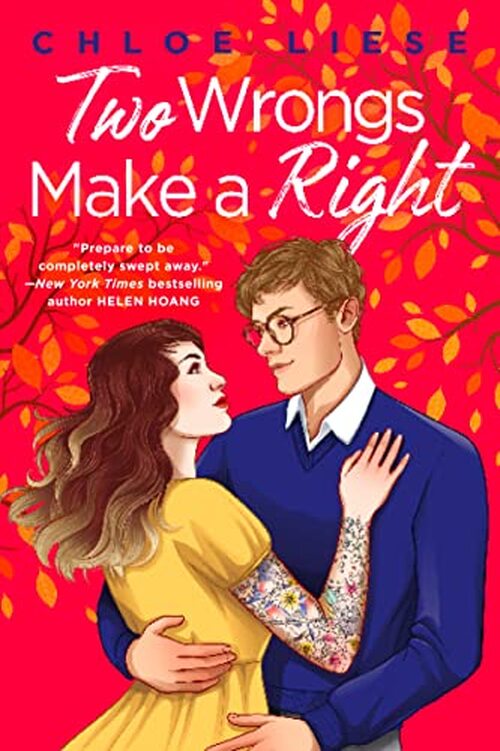 Jamie Westenberg and Bea Wilmot have nothing in common except a meet-disaster and the mutual understanding that they couldn't be more wrong for each other. But when the people closest to them play Cupid and trick them into going on a date, Jamie and Bea realize they have something else in common after all—an undeniable need for revenge.
Soon their plan is in place: Fake date obnoxiously and convince the meddlers they're madly in love. Then, break up spectacularly and dash their hopes, putting an end to the matchmaking madness once and for all.
To convince everyone that they've fallen for each other, Jamie and Bea will have to nail the performance of their lives. But as their final act nears and playing lovers becomes easier than not, they begin to wonder, what if Cupid's arrow wasn't so off the mark? And what if two wrongs do make a right?
Women's Fiction Contemporary | Romance Comedy [Berkley, On Sale: November 22, 2022, Trade Paperback / e-Book, ISBN: 9780593441503 / eISBN: 9780593441510]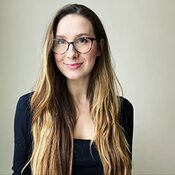 Chloe writes romances reflecting her belief that everyone deserves a love story. Her stories pack a punch of heat, heart, and humor, and often feature characters who are neurodivergent like herself. When not dreaming up her next book, Chloe spends her time wandering in nature, playing soccer, and most happily at home with her family and mischievous cats.
2 comments posted.