1--What is the title of your latest release?
F.A.R.M. SYSTEM. A 208-page, full-color graphic novel
2--What's the "elevator pitch" for your new book?
If super-heroes were out there, in our world, they'd have a Minor League system like baseball - a system where they're signed on and represented by Agents to train them, get them the best Marketers, Costume Designers, and Sensitivity Seminars to prepare them for the "Big Leagues." And get them the best contracts/money!
Of course, just like most minor leaguer baseball players, most of the F.AR.M. System recruits flounder in the system, never getting "the call." Either because of their power set, lack of marketability, or unstable psychological tests. But sometimes, sometimes even the undesirable prospects land deals with teams of, shall we say, a less reputable ilk!
3--How did you decide where your book was going to take place?
Physically take place? In some remote, rural farm field/training facility that was formerly owned by a minor league baseball team. It was a perfect facility and safe setting to train these very powerful young, inexperienced prospects. Away from populated areas in case something goes wrong and away from "temptations." The agent that operates the F.A.R.M. SYSTEM facility is very shrewd.
4--Would you hang out with your protagonist in real life?
Hell yes! I'd love to hang out and have a few beers with most of the characters in my book. Bounce ideas off of each other, cook up some ideas on how to better market ourselves. The parallels between what my characters (protagonists) are going through, and what many of us "normal" people go through (including myself) are quite relatable. Unless you've already "reached the pinnacle" in your chosen profession you should be able to relate to the frustrations of what these recruits are facing.
5--What are three words that describe your protagonist?
In Book 1 my main protagonist is an over-the-hill prospect named The Gymnast. Three words that best describe him would be: Determined. Brave. Proud.
6--What's something you learned while writing this book?
Aside from the fact that doing everything myself (writing, drawing, inking, coloring) is a helluva lot of work? I learned that you should NEVER give up on chasing your dream. And I never have. This book, writing these characters, just reaffirmed this. At the age of 54, I'm more determined than ever to continue working and succeeding in the medium and career path that I love - Making comics!!!
7--Do you edit as you draft or wait until you are totally done?
Both. I draft a loose outline with all my stories. I basically know the general idea; I have a beginning "setup," an idea of the "middle story" and a few possible "ends." I also have a good solid amount of established "story segments" with characters that I know are really interesting. These segments are usually locked in, and the rest of the story gets built around them. I'm always coming up with little notions like, "Wouldn't it be cool if a stretching hero was going nuts from all the stretching of his mind and used his pinky finger to expand and blow some dude's head up"?! Yep, that's a cool idea! So I write it out in detail. That's a segment in the book!
Then I start to thumbnail the entire story out. As I thumbnail/write it the story tends to "write itself" going in all kinds of new directions, with the characters really finding their voices and their paths. It's a very organic process that I enjoy. Sometimes the direction the story goes surprises myself and often change former plans I thought I had. The ending of the new book, for example, had to be changed. Not much, and the message remained the same, but I did have to change it pretty drastically to make sense. It was a bit vexing initially – challenging - but in a good way! And the book was far better for it.
8--What's your favorite foodie indulgence?
Lasagna. Home-made though. Not the frozen crap. If there was ever a food challenge, I could easily eat a whole pan of lasagna. 2-3 pounds easily.
9--Describe your writing space/office!
It's nice. I have a bedroom space with my custom-made art desk (made by Cartoon Carpentry), my computer desk/printer to my left, the closet has a stack of flat files to hold all my work and is filled with all my art supplies and reference books, a nice window for light and a view of the neighborhood, great tunes playing all day and my walls are peppered with art that I've done over the years to inspire me.
10--Who is an author you admire?
Too many to list, but here are a few I have really enjoyed - Stephen King, Elmore Leonard, Walter Mosley, Terry Pratchett.
In comics: Peter David (and novels!), Kurt Busiek, Warren Ellis, James Robinson, Ed Brubaker, Seth, Guy Delisle, Dan Clowes, my fellow Top Shelf writers - Again, way too many to list.
Thank you for not asking who my favorite artist is?! My head might explode.
11--Is there a book that changed your life?
City of Thieves by David Benioff! Remarkable! I highly recommend this book.
12--Tell us about when you got "the call." (when you found out your book was going to be published)/Or, for indie authors, when you decided to self-publish.
"The Call" for me was when Top Shelf (Chris Staros) read my pitch for my first book with them, Three Fingers. I was so nervous after I sent it, but he called me after just a day and said, and I quote, "You are an excellent f'ing writer." I was so ecstatic and relieved. Most of us Artists are riddled with self-doubt, and that call from Chris made my day, month, year! It was a powerful feeling of validation.
13--What's your favorite genre to read?
Aside from comics - I love suspense thrillers/horror.
14--What's your favorite movie?
Damn! Almost impossible to answer, again! Sooo many favorites. I always fall back on a few gems when I'm asked this question. Shawshank Redemption; Lord of the Rings; Memento; Iron Man
15--What is your favorite season?
Summer. Being a Wisconsinite it is most definitely Summer.
16--How do you like to celebrate your birthday?
Quietly. Sleeping in as long as I like, hit the couch for a while, shower, have a great lunch out, hit the local comic bookstore, afternoon movie at the theater, great supper, read my new comics, and then, hopefully, some smooching with the missus!
17--What's a recent tv show/movie/book/podcast you highly recommend?
I am really enjoying The Sandman right now on Netflix. A very solid adaptation of the comic. Lifelong Star Trek fan so I enjoyed Star Trek: Strange New Worlds, although there were a couple of turd episodes. Anson Mount is a treasure!!!
18--What's your favorite type of cuisine?
Right now? Indian. Love it! Not the crazy hot spicy stuff though. My stomach can't handle spicy anymore. I always say "Mild" when they ask how I like the heat. Butter Chicken, Korma, Chettinad - Delicious!!!
Why? Are you taking me out for dinner after the interview?
19--What do you do when you have free time?
HA! "Free time"?!
I love my comic books, of course. I play softball, go bowling, dining out is always a treat, getting together with friends, and going to the movies. Mostly though, I just chill these days with my wife and daughter enjoying a good meal. Then I sort and read my comic books. What a great hobby we comic book geeks have.
20--What can readers expect from you next?
A second F.A.R.M. SYSTEM graphic novel is already scripted, and I've started the art. I'm hoping it will be out in a year and a half from now - Early to mid-2024 seems likely.
I also have an Illustrated Novel called, MERCY, in the can. Just wondering if I pursue a publisher or self-publish/Kickstarter it. It's a fun "Monster Mystery Thriller" chock full of humor and suspense and a whole lot of familiar horror characters.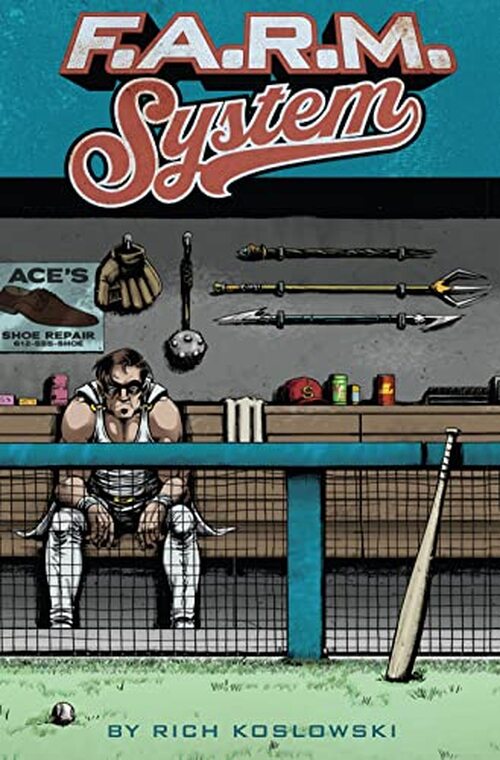 They're superstrong, but are they powerful enough for the big leagues? If superheroes were real, they'd be a lot like pro athletes. In this quirky graphic novel, go behind the scenes with all the heroes waiting for their big breaks. For every hero who saves the galaxy and makes the front page, there are a dozen staffers working behind the scenes and a hundred up-and-comers hoping to take his place. F.A.R.M. System is your ticket to the hidden world of superpowered individuals hoping to "make the Big Leagues." In the Farm System, having an incredible and unique power is only the first step. Guided by an army of agents, managers, and experts, recruits must undergo rigorous psychological evaluations, harassment and sensitivity seminars, marketing and endorsement workshops, and costume design meetings, all to boost their chances of recruitment into an A-list superhero team. Some recruits make "the Bigs." Some have fleeting moments of glory, then lose it all. Some take "Blue Cowl" gigs as superpowered bodyguards for famous actors or powerful CEOs. Some flounder in the System for years, never getting "the call." And some find success by joining teams of a less reputable ilk.
Graphic Novel [Top Shelf Productions, On Sale: November 8, 2022, Paperback / e-Book, ISBN: 9781603095150 / ]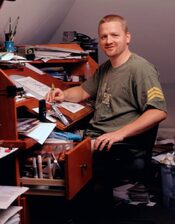 Rich Koslowski is a published author and an illustrator of children's books. Published credits of Rich Koslowski include Milo's Friends in the Dark and Milo's Trip to the Museum With Grandpa.
1 comment posted.