As a true crime fan, I'm familiar with this case, what drew you to this story?
As a fan of Truman Capote, I was mostly familiar with his in-depth research for In Cold Blood. But I learned several years ago that he had a fascination with other crimes, especially high-society crimes. This one drew him in because it took place in his milieu, the glitzy, glamorous world of New York, and Ann Woodward could have been one of his "swans", if not for the fact that he could not stand her. I was surprised by how much he could not tolerate her, and by how similar the two actually were. By how hard the two had worked to pursue similar goals – the achievement of a better life within New York's society, wanting to be surrounded by a "better" class of friends, trying to erase their pasts in order to build a new persona.
How much research went into writing DELIBERATE CRUELTY, and what was the process like?
Quite a bit of research goes into such a book. While Truman Capote is an author who has been studied and deeply researched, the life of Ann Woodward is less well-known, and the gist of the crime itself, while known to aficionados of true crime, can be jumbled up in innuendoes and falsehoods. So, it was important to get the details of their lives and the murder that was committed. Unfortunately, this turned out to be the very start of the pandemic. While I wrote and sold the proposal stage of Deliberate Cruelty in the fall of 2019 and had done quite a bit of research by then, I was not finished yet. I had to do a lot during a time when most people were working remotely, which made things a little more difficult as far as actually traveling to a particular spot to find what I needed. Thankfully, archivists and librarians are incredibly resourceful people, and they made my job much easier when I could not be on their premises.
As you tell this story, was it difficult to remain neutral, or did you voice your take on the events and the way things were resolved?
I tried to remain as neutral as possible and present the events, evidence, and individuals as they appeared. I want readers to make up their own minds about what happened, although I have my own ideas about the possibilities. The way I presented everything, I tried very hard to show why certain individuals had such a difficult time with this murder, why it was impossible for them to see Ann Woodward as a murderer, or not; and why, even years later, the truth was still difficult for many to see, and to wrap their heads around.
What surprised you the most as you were researching this story?
The story took place in the 1950s, however, it is still very relevant, and resonant today. It could have happened today. It is riddled with murder, gossip, chit-chat, and, going even deeper, the desire to belong, to leave your old life behind and start anew somewhere else; people always have the suspicion that somewhere else, life will be better, more glamorous, more interesting, full of fun friends and hearty conversation, only to find themselves disappointed. It was not really a surprise, but more of this unending realization that the more we try to change, the more things really stay the same. Our inner yearnings don't change through the decades – we all want to be liked and made part of a circle, like in high school.
Was it difficult to decide how much info to include on the time and place, miscellaneous people on the periphery of this story, and how much to leave out? As somebody who enjoys true crime and history, I love footnotes, and the more background info, the better.
It was very difficult to try and figure out what to leave behind, who was important, who added something special to the story, and so on. I am also someone who enjoys footnotes, people's backgrounds, and even details on the weather! But I know that not everyone does, and I realized that as a writer, I could add everyone who simply made a slight appearance in the story. I tried to include those who mattered most to the main characters, such as Ann Woodward's mother, and Truman Capote's mother – they showed how similar they were, how their backgrounds were built throughout the years, and how their desires came to be. I also tried to include their most important friends, or those they considered their most important friends and their lovers; and, of course, those who were involved in Billy Woodward's murder. That is not to say that a few did not make the cut, and for that, I am sorry. They are left for another time, and another story, perhaps.
Looking over some of your other books, it looks like you write about a diverse group of women and their stories. In your book, THE WILDERNESS OF RUIN, you write about a male child killer. What made this a compelling subject for you to write about?
At the time, when I came across this particular story, I was finishing up The Lady and her Monsters. However, something was compelling about The Wilderness of Ruin. It took place not far from where I was living; the neighborhood was also very familiar to me, as my mother was at the time working in a building not far from where Jesse Pomeroy had lived, and I sometimes met her for lunch; I was fascinated with the dark history of Boston, and this story seemed especially dark. And Pomeroy was someone no one really knew too much about, nor someone people wanted to write a lot about. I understand why; he was not the most likable protagonist. Nevertheless, I wanted to understand, if I could, what had turned this child into one of the first child killers in the country. The question of good and evil is something I have been intrigued with for years, whether it is nature or nurture, and this seemed like a good example of a story to spend time on.
Other authors I've interviewed have told me that the kinds of books they enjoy reading are different from the kind of books they enjoy writing. What do you like to read? Favorite books? Favorite author?
I do read some true crime, but I also read a lot of history. I enjoy the works of Laura Hillenbrand and Erik Larson and recently finished The Splendid and the Vile. On the fictional side, I just read Colson Whitehead's The Nickel Boys – I know, I'm a little late on this book – and also recently purchased his Harlem Shuffle, which I look forward to reading, at some point.
What are you currently working on?
I am delving into some new research for what I hope will be a new book. This is also a little dark and historical, but a bit too early to share. One never knows if there is enough for a book; it may turn out to be just a curiosity and nothing more, or it may turn out to keep me busy for the next five years, which would be fantastic!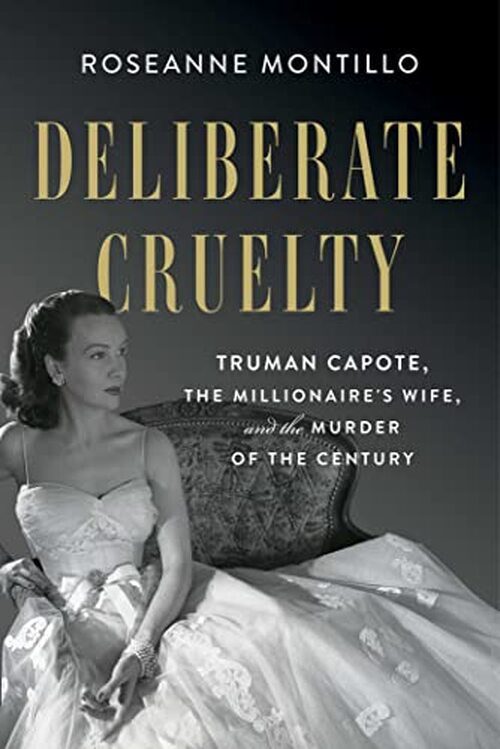 Truman Capote, the Millionaire's Wife, and the Murder of the Century
This scintillating and glittery look at the darkly intertwined fates of infamous socialite Ann Woodward and literary icon Truman Capote sweeps us to the upper echelons of Manhattan's high society—where even the richest cannot escape murder and infamy.
When Ann Woodward shot her husband, banking heir Billy Woodward, in the middle of the night in 1955, her life changed forever. Though she claimed she thought he was a prowler, few believed the woman who had risen from charismatic showgirl to popular socialite. Everyone had something to say about the scorching scandal afflicting one of the most rich and famous families of New York City, but no one was more obsessed with the tale than Truman Capote.
Acclaimed for his bestselling nonfiction book In Cold Blood, Capote was looking for new material and followed the scandal from beginning to end. Like Ann, he too had ascended from nobody to toast of the town, but he always felt like an outsider, even among the exclusive coterie of high society women who adored him. He decided the story of Ann's turbulent marriage would be the basis of his masterpiece—a novel about the dysfunction and sordid secrets revealed to him by his high society "swans"—never thinking that it would eventually lead to Ann's suicide and his own scandalous downfall.
Page-turning and deliciously fascinating, Deliberate Cruelty is a haunting cross between true crime and literary history that is perfect for fans of Furious Hours, Empty Mansions, and Midnight in the Garden of Good and Evil.
Non-Fiction Biography [Atria Books, On Sale: November 1, 2022, Hardcover / e-Book, ISBN: 9781982153731 / eISBN: 9781982153755]
Roseanne Montillo is an accomplished research librarian who earned her MFA from Emerson College and has taught creative writing at Emerson and the Tufts Extension School. In addition to Deliberate Cruelty, she has published four previous works of narrative nonfiction to critical acclaim - Fire on the Track, The Wilderness of Ruin, Atomic Women, and The Lady and Her Monsters.
No comments posted.