Forgotten Brotherhood Book 5
"I won't hurt you." Raine had awoken him from the Deep Sleep, something that should have been impossible.
"You." She gasped for air. "You're real."
"I thought we established that." The darkness soothed him, but her heartbeat was getting faster, not slower. Frowning, he leaned forward until he was a hairbreadth from her face.
"Don't eat me," she yelled. Then she popped him in the jaw with her fist. It bounced harmlessly off his scales. She yelped again, shaking her fingers and cradling them to her chest.
Even in her fear, she fought.
"Where's my stupid flashlight?" She patted her hand on the ground beside her. He caught the edge of the light with the tip of one claw and gently rolled it toward her. "Ah-ha." She grabbed it and shook it. "There are new batteries in you. Work, damn it." She smacked the device several times against her thigh and the light reappeared.
She swiveled and shone it straight in his face. He reared back and blinked several times. "Don't like that, do you?" She continued to point it at his face. "Stay back."
Did she really think the puny light would stop him? Not wanting her to damage herself further, he settled back on his haunches. "Now what?"
"What?" His question seemed to confuse her.
"What do you plan to do now? Do you think your light will protect you?" She really was a fascinating creature. She pushed to her feet and edged toward the path leading to the entrance.
"I'm getting out of here." Her hand was shaking, the light bouncing all around the space. She grabbed her pack and sleeping bag in her free hand and inched toward her goal.
"The entrance is still blocked."
"I know that, but you can't fit through the tunnel." Her lips turned down and several lines wrinkled her forehead. "How did you get in here to begin with?"
"I walked." No reason not to be truthful.
"You walked. Of course you did." He turned slightly, angling his big body to see her better. "You probably commanded Mack to bring me here. Is he your Renfield?"
"My what?"
"Renfield, you know, Dracula's servant from the Bram Stoker book. Dracula was a vampire and was vulnerable during the day, so he had a human help him get what he wanted. Eventually drove the man crazy. Or maybe Mack is more like Harker. He was tricked into helping Dracula. I can't remember. I read the book a long time ago."
He was practically dizzy trying to keep up with her. "I'm no bloodsucker, and I don't need a Renfield." The very idea was distasteful.
"You're a stone dragon. Excuse me, drakon. Or you were. What am I supposed to be? The virgin sacrifice? According to legend, that's what they did."
She wasn't wrong. When dragons had arrived, the tribes of the earth offered up their most beautiful maidens. Only the dragons hadn't eaten them, they'd seduced and procreated with them. His heart ached at the memory of his mother who'd been one such woman.
"You've been cheated. I'm no virgin. Not that I'm super experienced or anything, but I dated a guy for a year in college and had a couple short-term relationships. So, yeah, no virgin here." She pointed at her chest, a triumphant smile on her face.
Lucius frowned and lowered his head. The idea of her having sex with another man was…distasteful. Good gods, was he jealous? Of this mouthy, dirty creature?
Yes, yes he was. He closed his eyes for a moment and prayed for deliverance. "Maybe I won't care that you're not a virgin."
Now she was frowning again. There was no guile to her, her expression open and honest for all to see. No wonder she'd been taken advantage of and lured here. Obviously, she needed someone to look out for her. Not him, but someone.
"You can't eat me." She'd dropped her belongings and put her hands on her hips, the light now directed toward a side wall.
"Why not?" This was the most absurd conversation he'd ever had. The most interesting, too. She was a constant surprise.
"I'll give you indigestion." She punctuated it with a decisive nod. "My muscles are stringy. Not much meat. You'd likely choke on a thigh bone."
"I could roast you up and I wouldn't notice." Why was he pushing her?
She wagged her finger at him. "That's a terrible idea."
He made a playful snap toward the extended digit. Raine yelled, yanked her hand back, and scrambled for the exit. Her fear saddened him. It was also a reminder that others would see him as a monster, no matter what.
Heaving a sigh, he lay back down and rested his head on the cool ground. This was why he'd gone to sleep in the first place. There was no sound of digging, but Raine was still nearby. Where else would she be? An hour passed. Then another.
Though she tried her best to be stealthy, the slight scrunching sound of her boots, along with her breathing, alerted him to her presence. "Ah, Mr. Drakon, are you okay?"
He turned his head away. Better not to interact with her anymore. That didn't stop his ears from twitching to follow her movements as she crept closer.
Was she for real? "You need a keeper," he told her, not bothering to look at her.
"I've heard that." On a sigh, she sat down beside him. The silence lengthened. How long would she last without speaking? He counted the seconds and made it all the way to five minutes. "Thing is, I could use your help."
And there it was. "Your kind always wants something—protection in battle, power, my treasure, my very blood." And that last one was something he should have kept to himself.
"You have a treasure? That's true? Wait, forget that. It's not important. I'm not in a battle. I don't need power. And blood? I'm sorry, but no."
Unable to feign disinterest any longer, he turned toward her and opened his eyes. She wiggled her fingers at him in a wave. "If you don't want protection, power, or treasure, what do you want?"
"It occurred to me you could probably tunnel out of this place if you wanted to." Her hopeful expression made him morose. She wanted his help to leave him.
"I could."
Seconds ticked by. "Well." She waved toward the tunnel. "What are you waiting for?"
"I'm quite content here."
"How can you be happy stuck in here? And how did you become a lump of stone when you're alive? How did that happen? Is that natural? Did someone put a spell on you? Did I break it?" The hopeful tone made him want to smile. "If so, then you owe me, buddy."
"Lucius. My name is Lucius. And I chose to turn to stone."
"Why would you do that? You're a drakon. You can probably do all kinds of cool stuff."
His chest puffed out slightly. "I can."
"Then why are you in a cave in the middle of nowhere!" Her voice rose until she was yelling at the end. "Sorry." She rubbed her grubby hand over her forehead, smearing even more dirt there. "I just don't get it."
"The world is not kind to those who are different." He clamped his mouth shut. He'd already said too much, but it was so easy to talk with her.
"No, it's not." Her voice had softened.
"Do not pity me, woman."
She snorted. "I don't pity you. You're a damn drakon, more powerful than I'll ever be. You've seen things I'll never see. How long have you been alive? How long were you locked in stone?"
His muscles were beginning to twitch with the need to move. There'd be no going back to sleep for him. Ready or not, he was back in the world of man.
Excerpt from ANCIENT DESIRE published by arrangement with Entangled Publishing. Copyright © 2022 by N.J. Walters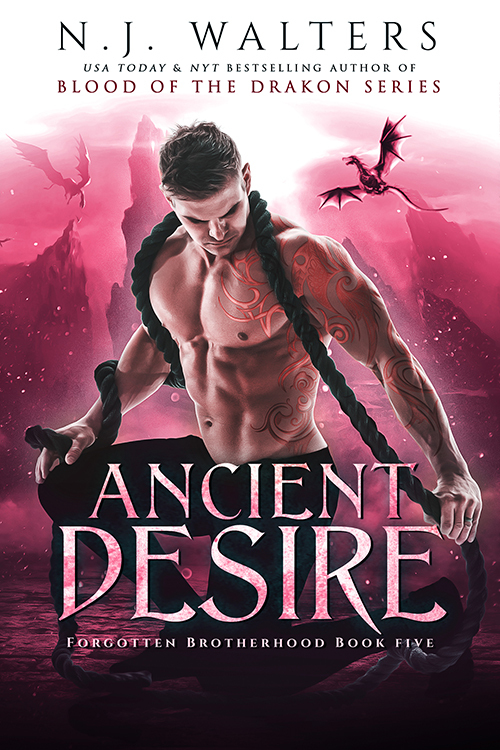 Nothing was supposed to wake half dragon, half human Lucius from his Deep Sleep. Nothing. And yet something, or rather someone has. The unexpectedly attractive human not only touched him. She kissed him. Now Lucius is awake, and more powerful than he has ever been in his 4,000 years of existence. And once he finds out who led her to his cave, he'll deal with his 300 years of hunger…
College professor Raine Carson spent her life obsessed with myths and legends. And now she's woken one up. Only, Lucius is nothing like anything she's ever seen or read about in her history books. Because this man is part sexy badass and part terrifying…monster. Yet she wants him with a hunger like nothing she's ever felt before.
Lucius used to be part of the Forgotten Brotherhood—a ruthless group of paranormal assassins. Now he's unsure if his former Brothers are their allies…or enemies. All he knows is that someone is hunting him, and Raine is just as tangled up in this mess as he is. And he'll protect her—even if it means unleashing his Dragon and all of its power.
Romance Paranormal [Entangled: Amara, On Sale: August 15, 2022, e-Book, ISBN: 9781649374035 / eISBN: 9781649374035]
She woke the drakon and stole his heart.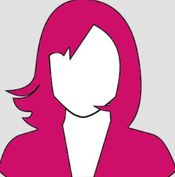 N.J. Walters is a New York Times and USA Today bestselling author who has always been a voracious reader, and now she spends her days writing novels of her own. Vampires, werewolves, dragons, time-travelers, seductive handymen, and next-door neighbors with smoldering good looks—all vie for her attention. It's a tough life, but someone's got to live it.
No comments posted.