One of my favorite parts of writing fiction is dreaming up the world my characters inhabit. I'll often send them on adventures far and wide, whether it's a bachelorette party in Las Vegas or a solo trip to Hong Kong. This gives them an opportunity to explore new terrain, take bold risks, and in so doing, learn a little (or a lot) about themselves.
It also gives me an opportunity to do one of my favorite activities: research travel destinations. Sometimes I think if I wasn't a writer, then I'd be a travel agent. I love learning about new-to-me locales and planning itineraries down to the hour. (I'm particularly fond of cruise travel, so much so that I recently started my own blog about it, Cruise Obsessed.) So naturally, it thrills me to act as a travel agent for my characters.
My new book, Smart Girl Summer, features the most exciting virtual trip I've ever planned: a cruise across the Mediterranean. But not just any cruise. The main character, Abby Atkinson, sets sail on the superyacht of her billionaire boss, Richard Vale. She spends her summer as a traveling math tutor for Richard's tween daughter, Bijou, but she also uses her time abroad to work through some personal issues – namely, the fact that she's not sure she'll ever finish her PhD. Traveling helps her to put things in perspective. And a burgeoning romance with her boss doesn't hurt, either.
I had so much fun planning Abby's six-week Mediterranean tour. There's so much to see and to do in that region, and Abby has a whirlwind adventure. Here are just a few of the incredible experiences she has on her trip.
Sampling tapas in Barcelona
Barcelona is a cultural epicenter renowned for its beautiful art and architecture. From the green space of Park Güell to the coiling spires of the Basilica de la Sagrada Familia, its streets are infused with the Modernist influence of Antoni Gaudi. And there's no better way to soak in the atmosphere of this Spanish city than by pulling up a chair at a sidewalk café and lingering over some tapas and red wine. Abby spends an evening in the buzzing Plaça Reial, indulging in garlicky shrimp, fried potatoes, and a glass of tempranillo.
Jumping off cliffs in Mallorca
Situated off the coast of mainland Spain, Mallorca is an island with a rich history and a stunning landscape. The southern coast is lined with beaches and palm trees, while the northern coast is rugged and mountainous. It is here that Abby faces her fear of heights with a daring jump off the cliffs of Cala Varques. With Richard by her side, she launches herself into the crystal waters of the Mediterranean, proving to herself that she has nothing to be afraid of. Afterward, she celebrates by basking in the sun on the secluded beach.
Seeing the lavender fields in Provence
No Mediterranean tour is complete without a trip to the French Riviera. Richard's yacht docks in the coastal city of Saint-Tropez, but Abby spends a lot of time exploring the surrounding areas. She goes windsurfing in Hyères and completes a ropes course in a forest in Cannes. She also takes a day trip to Provence, where the rolling fields of brightly colored lavender take her breath away. In summer, these purple flowers are in full bloom and the air is sweetly scented. It's the perfectly romantic backdrop for her budding relationship with Richard.
Floating down the River Seine in Paris
If you're scratching your head at this one, you're right to be skeptical: Paris is not on the Mediterranean coast of France. It's much farther north, closer to London that it is to the sea, but Smart Girl Summer has some surprises in store for Abby. Like a sunset cruise down the River Seine with postcard-perfect views of the Notre-Dame Cathedral and the Musée d'Orsay. And of course, the iconic Eiffel Tower. C'est romantique, non?
Conquering Mount Solaro in Capri
Capri is a tiny island off the coast of Italy – so small that you can walk from the north coast to the south coast in about a half-hour – but the views here are big. One of the best places to take in the majestic Mediterranean scenery is at the top of Mount Solaro. It's the highest point on the island, accessible by a chairlift that whisks Abby right to the summit. After she's done savoring all that beauty, she stops by a gelateria in town for some homemade Italian sweetness.
Can't get enough Mediterranean content? Check out this free informative brochure I created, The Smart Girls' Guide to Sailing the Mediterranean. Then pick up Smart Girl Summer.
And if you ever want to talk about your own travel plans, shoot me an email.
From Kristin Rockaway comes a fun, insightful romance about what can happen when life gets off track but you're willing to go along for the ride.
This summer's not going as Abby Atkinson planned. A thieving PhD advisor, a screeching halt to her grad program, and zero job offers have left her high and dry. Nothing a little eat, pray, love across the Mediterranean can't fix, right?
Or eat, pray, tutor, more like. Her dissertation might be dead, but she can still teach. She'll just have to do it for six weeks on a superyacht with a billionaire and his daughter.
A playboy billionaire, according to the tabloids—but Abby's not so sure. As big as his bank account is, his heart's that much bigger, especially when it comes to his daughter. Their strained relationship could use some mending, though, and Abby can help. She was hired to teach junior high math, but she'll make room in her lesson plans.
Falling for her boss wasn't part of the plan either, but…
Maybe it's time she let her heart, not her head, teach her something new.
Women's Fiction [Amazon Publishing, On Sale: August 23, 2022, Paperback / e-Book, ISBN: 9781542026307 / ]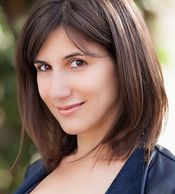 KRISTIN ROCKAWAY is a native New Yorker with an insatiable case of wanderlust. After working in the IT industry for far too many years, she traded the city for the surf and chased her dreams out to Southern California, where she spends her days happily writing stories instead of software.
When she's not writing, she enjoys spending time with her husband and son, and planning her next big vacation.
No comments posted.