1--What is the title of your latest release?
2--What's the "elevator pitch" for your new book?
Gabe Hebert's homicide-detective father's "suicide" was really murder—he'd gotten too close to a case someone powerful wanted covered up. Gabe hires Molly Sutton of Broussard Investigations to find his father's killer, but they must first find his father's secret witness.
3--How did you decide where your book was going to take place?
I set each series in a different city. Most of my books are set in the northeast or Midwest (Chicago, Philly, Minneapolis, Baltimore, Cincinnati). I'd just finished a series set in Sacramento, CA, and thought "I want to go back to the South." I do have a few books set in the south – NC and a fictional town in GA, near Atlanta, but I wrote those more than 10 years ago, so it was time for a return. I was in New Orleans for BookLovers Convention in 2019 (we had SUCH a great time!) and I thought, "This city would be perfect for my next book!" Plus, we were looking forward to research trips, mainly to sample the food, LOL. The trips didn't happen because covid hit, but I've been to New Orleans several times. I had my memories and added some new research with locals—friends and family of people I knew. I hope readers get a sense of the vibrancy and delight that is New Orleans! (And the heat. Mercy, it's hot there.)
4--Would you hang out with your heroine in real life?
Oh yes. Molly is calm and unruffled at work, but she cares deeply for her family and friends. Plus, she loves chocolate cake and horses. I love chocolate cake and horses. We would be BFFs in real life.
5--What are three words that describe your hero?
Earnest, yummy, determined
6--What's something you learned while writing this book?
I learned that following Hurricane Betsy in 1965, locals around New Orleans began storing axes and hatchets in their attics. Betsy caused severe flooding and some people drowned in their attics because they couldn't get out. During Katrina, many people chopped their way out of their attics to escape to the rooftops where they waited for escape. Living in coastal FL, we get hurricanes often, so the thought of chopping my way through my roof to escape floodwaters was particularly terrifying.
7--Do you edit as you draft or wait until you are totally done?
Both. I edit as I go during the first half of the book. By the second half, I've got the foundation pretty well laid and any big changes that need to happen go onto a "Stuff to Fix" list that I tackle when I've finished the first draft.
8--What's your favorite foodie indulgence?
Ice cream. Specifically black-raspberry chip ice cream from Graeter's in Cincinnati. I've discovered them in grocery stores in FL and this is both bane and boon, LOL.
9--Describe your writing space/office!
It's a condo on the beach on Florida's Gulf Coast. I love it there. It's so peaceful and there are no distractions. I can immerse myself in the story.
10--Who is an author you admire?
Christine Feehan. The ideas that come out of her head are always fabulous. They're also different, one book to the next. I never get bored.
11--Is there a book that changed your life?
Not really. There are authors I've met in real life who've changed me. I'm blessed to call them my friends.
12--Tell us about when you got "the call." (when you found out your book was going to be published)
It was December 2001. I was on my way from my office to a business dinner in Charlotte, NC. I remember answering my cell phone and my agent saying, "We got an offer." I was so excited, my heart beating a million miles an hour, but I said calmly, "Oh, this is good. We should take it." And then I hung up and squealed. It was good I was alone, LOL, because I was LOUD. I then called my husband and then my BFF, who was so excited that she missed her exit off the interstate. I had to go to that business dinner and be professional when all I wanted to do was stand on the table and yell, "I SOLD MY BOOK!" Of course I didn't do that, but when I was done with the meeting, I called everyone I knew. It's still a memory that makes me smile.
13--What's your favorite genre to read?
Paranormal romance. I'm a big fan of vampires.
14--What's your favorite movie?
Talladega Nights: The Ballad of Ricky Bobby. It makes me laugh, even when I'm having an awful day.
15--What is your favorite season?
Any season where it's under sixty degrees Fahrenheit. Summer in San Francisco or fall in the Midwest.
16--How do you like to celebrate your birthday?
Quietly with family, friends, and chocolate cake.
17--What's a recent tv show/movie/book/podcast you highly recommend?
What We Do In The Shadows makes me laugh every time. The vampires are so ridiculously stupid. I love them.
18--What's your favorite type of cuisine?
Southern, not spicy.
19--What do you do when you have free time?
I listen to audiobooks, knit/crochet, go on drives with my husband.
20--What can readers expect from you next?
After QUARTER TO MIDNIGHT (this series will have three more books), I'm launching a new series, set in sunny San Diego! It's a little different than my current books in that the series will follow the same hero and heroine throughout. COLD BLOODED LIAR releases in March 2023 and will be followed by BENEATH DARK WATERS, the second New Orleans novel, later in 2023. The New Orleans books will each focus on a different member of Broussard Investigations. So I'll have two books a year which is exciting!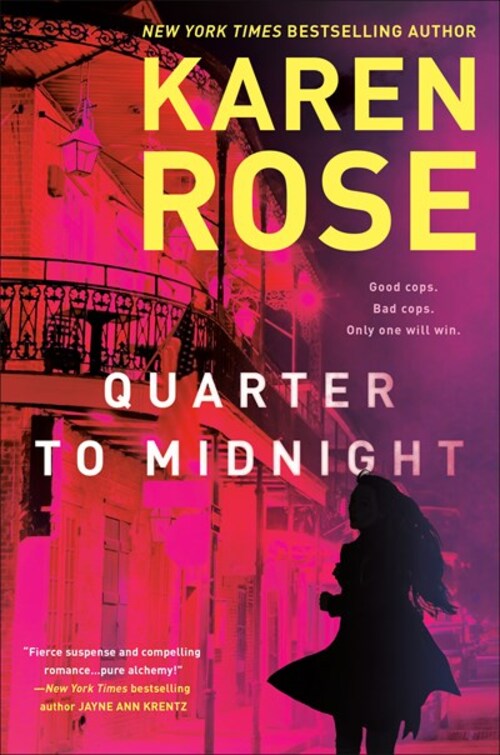 After completing her tours with the Marines in Iraq, Molly Sutton knew she could take down any bad guy she met. But when her law enforcement agency in North Carolina turned against her, she joined up with her former CO Burke Broussard, who left New Orleans PD to set up a private investigative service for people who couldn't find justice elsewhere.
Gabe Hebert saw the toll that working for the NOPD took on his dad and decided instead to make a name for himself as one of the best young chefs in the French Quarter. But when his father's death is ruled a suicide after a deliberately botched investigation by his former captain, Gabe knows his dad stumbled onto a truth that someone wants silenced.
Gabe goes to his father's best friend, Burke, for help. Burke assigns the toughest member of his team, Molly, to the case. Molly can't believe she's being asked to work with the smoking hot chef whose chocolate cake is not the only thing that makes her mouth water. Sparks fly as they follow the leads Gabe's dad left them, unraveling a web of crimes, corruption, and murder that runs all the way to the top.
Romance Suspense | Thriller Police Procedural [Berkley, On Sale: August 2, 2022, Hardcover / e-Book, ISBN: 9780593336298 / eISBN: 9780593336311]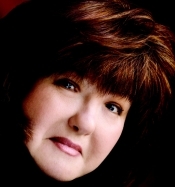 Internationally bestselling, RITA-award winning, author Karen Rose was born and raised in the Maryland suburbs of Washington, DC. She met her husband, Martin, on a blind date when they were seventeen and after they both graduated from the University of Maryland, (Karen with a degree in Chemical Engineering) they moved to Cincinnati, Ohio. Karen worked as an engineer for a large consumer goods company, earning two patents, but as Karen says, "scenes were roiling in my head and I couldn't concentrate on my job so I started writing them down. I started out writing for fun, and soon found I was hooked."
No comments posted.