What inspired you to write this THE DEADLY SHALLOWS? Since it includes a mass shooting, was that in part inspired by real life events?
I didn't base The Deadly Shallows on a specific tragedy, but the mass shootings our country has endured over the last two decades certainly inspired the horrific event Noah and Brooke face. Watching the emotional aftermath of the tragedy ripple through their lives and the lives of those present was really difficult to write. Researching was heart breaking but seeing how Noah and Brooke not just survive but, in a way, overcome its effects on them was inspiring.
How would you describe CGIS Agent Noah Rowley to readers?
Noah is the head special agent of CGIS Wilmington. He takes his leadership role gravely, knowing a mistake on his part can lead to tragedy for his team. Couple that intensity with his devotion for his family, friends, and the woman he falls hard for, and you see the heart of Noah Rowley.
How would you describe the dynamic between Noah and Coast Guard flight medic Brooke Kesler? Do you tell the story using alternating perspectives?
I do write alternating perspectives. I find it helps me get to the heart of both the main characters better than writing just one. I also tend towards writing couples that clash in the beginning, but Noah and Brooke are different. They don't clash, they mesh. Unfortunately, Noah's carrying a truth that he has yet to reveal, and he believes it will destroy any chance of happiness for him and Brooke. While Brooke loves Noah to an extent she doesn't want to admit, she holds that in for fear of rejection. They've been spending more and more time together, but just when they start to get close, he pulls away. She can't risk her heart on a man who can't commit. They both must decide if their love is worth breaking down these barriers, or if their fears are going to hold them captive.
What is it about romantic suspense that you enjoy most as a writer?
I love the combination of romance and suspense, watching the two intermingle and drive one another. Pushing the characters to the extreme, where both their lives and love are on the line. I adore the intensity inherent in the weaving of the two.
If you could only pick one of your books, other than this one, to a romance reader unfamiliar with your work, which one would you pick? And why?
Oooh. That's a difficult question. I hope as a writer my storytelling has improved over the years, so I debated on choosing a more recent novel. However, I think I'd still recommend they start with my debut novel, Submerged. It starts the family saga of the McKennas, and being the first characters I created, they will always have a soft spot in my heart.
Other authors I've interviewed have told me that the kinds of books they enjoy reading are different from the kind of books they enjoy writing. What do you like to read? Favorite books? Favorite author?
Great question. I read a wide variety of genres, including romantic suspense, mysteries, historical romance, and classics. My favorite books include "A" is for Alibi by Sue Grafton, Pride and Prejudice by Jane Austen, Murder on the Orient Express by Agatha Christie, Predator by Terri Blackstock, and the entire O'Malley series by Dee Henderson. My favorite authors are the ones listed above along with Jefferey Deaver, Lee Child, Karen Witemeyer, Lauren Willig, and Veronica Roth.
What are you currently working on?
I'm currently working on two projects. One is still a secret. The other is the first book in a new four-book series, Jeopardy Falls. It follows the lives of MacLeod siblings, whose parents were illusionists on the surface and cons underneath. Three of the four MacLeod siblings are trying to right the wrongs of their past, while the fourth is following in her parents' footsteps. Book One, yet untitled, will be out next year.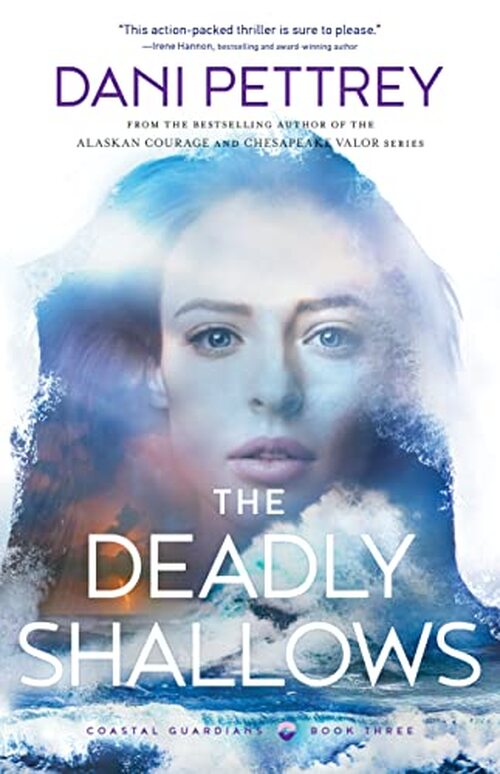 A deadly attack.
A stolen weapon capable of immense destruction.
A painful secret that threatens to tear two hearts apart.
CGIS Agent Noah Rowley is rocked to the core when several of his valued team members come under fire on his Coast Guard base. He and his remaining team race to the scene and end the attack, but not before innocent lives are lost. Furious and grief-stricken, he vows to do whatever is needed to bring the mastermind behind the attack to justice.
Stunned by the ambush, Coast Guard flight medic Brooke Kesler evacuates in a helicopter carrying the only surviving gunman. The gravely wounded man whispers mysterious information to Brooke that immediately paints a target on her back.
As Brooke and Noah race to uncover answers, emotions between them ignite. Noah struggles to protect Brooke at all costs and to conceal the secret that prevents him from becoming what he longs to be--the right man for her.
Everything is at stake as a horrifying truth emerges. . . .
The attack wasn't the end game. It was only the beginning.
Romance Suspense [Bethany House, On Sale: July 5, 2022, Hardcover / e-Book, ISBN: 9780764233456 / ]
Praised by New York Times best-selling author Dee Henderson as "a name to look for in romantic suspense," Dani Pettrey has written eight novels, which have sold more than 300,000 copies. Dani combines the page-turning adrenaline of a thriller with the chemistry and happy-ever-after of a romance novel. Her novels stand out for their "wicked pace, snappy dialogue, and likable characters" (Publishers Weekly), "gripping storyline[s]," (RT Book Reviews), and "sizzling undercurrent of romance" (USA Today).
Dani's adventure-focused Alaskan Courage series climbed the CBA best-seller lists, with Submerged staying in the top twenty for five consecutive months. The five-book series also won multiple awards, including the Daphne du Maurier Award, two HOLT Medallions, and Christian Retailing's Best Award, among others. She turns her attention to crime and law enforcement in her home state of Maryland in her new Chesapeake Courage series, starting with Cold Shot, which Library Journal called, "a harrowing and thrilling ride." For more information about her novels, visit her website.
1 comment posted.