Hey y'all! I'm Aliyah Burke and I'm thrilled to be here today. I write romance and cozy mysteries. Romance wise, I dabble in contemporary, historical, and paranormal. This is my first rom com with Entangled and is the first in a series. Tinkering With Love is about a woman, Dawson Shay, who gives up the life she knows to move across the country for a job that isn't hers any longer when she gets there. Determined to hate the man who took it from her, she finds out it's not that easy. Tully Faulkner is going to pull out all the stops to get Dawson to like him and what better place to do it than their teambuilding event where she can't avoid him. Add in some wildlife, friends, nights under the northern lights, a bloody nose, and a goat to name a few and we have a romp to get to their Happily Ever After.
T is for Teambuilding.
I is for Individuality.
N is for Never giving up.
K is for Kisses. So many kisses.
E is for Enjoyment.
R is for Repair.
I is for Inked skin.
N is for Nature.
G is for Geocaching.
W is for Wildlife.
I is for Infinite.
T is for Trusting.
H is for Hockey.
L is for Laughter.
O is for Obnoxious friends.
V is for Vulnerable.
E is for Endless.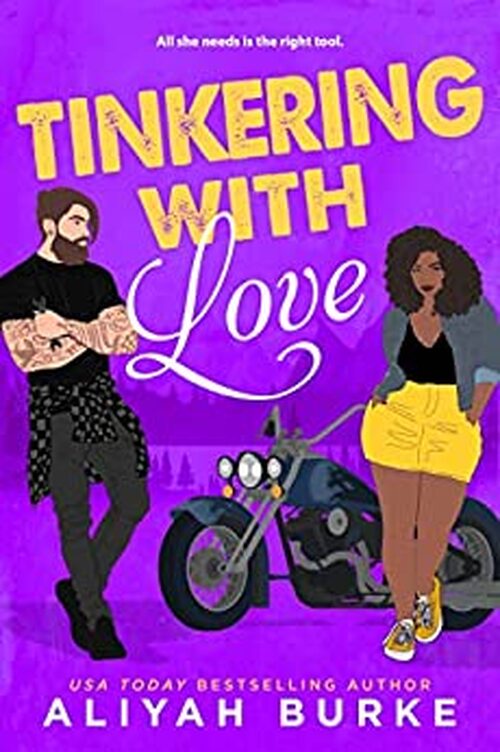 Dawson Shay could never be accused of being a bubbly ray of sunshine. Like, not ever. But her outlook on life has only gotten worse since she moved across the country for her dream job rebuilding motorcycles…only to lose the job to someone else. Now her run of bad luck includes a wilderness retreat with the entire company—including the asshat who stole her job. Fortunately, Tully Faulkner's bearded, tattooed hotness is pretty much the perfect distraction.
Except, Tully isn't just Mr. Hometown Hero, he's also said asshat who stole her job. And if he thinks he can win her over with his ability to charm the pants off everybody else, he's got another thing coming. But Dawson can't avoid him forever… or the seriously hot sparks between them. Somewhere between the breathtaking northern lights and teaming up to win their company's scavenger hunt, Dawson starts to think that Tully's magic touch might be just what she's been missing.
But even sexy gearheads have their secrets. And Dawson's about to discover that falling for the too-perfect-to-be-true Tully might just backfire on her completely…
Romance Contemporary [Entangled: Amara, On Sale: June 20, 2022, e-Book, / eISBN: 9798836760267]
Aliyah Burke is a USA Today Bestselling Author who's an avid reader and never far from pen and paper (or the computer). She is happily married to a career military man. They are owned by three Borzoi. She spends her days at the day job, writing, and working with her dogs.
1 comment posted.