Your new "Electra McDonnell" mystery series is set in the 1940s. Is that a favorite time period for you? I know you've had mysteries set in the 1930s before. Is there another time period you'd be interested in having as a setting for your mysteries?
The 1940s is such a fascinating time period. There was, obviously, so much going on globally, and there were so many significant factors at play, on both small and large scales. Ordinary people did extraordinary things in the face of insurmountable odds, and that aspect of life during World War II has so much potential for storytelling. As for other time periods I'd enjoy as settings, I do love a good Victorian murder mystery, and the Roaring Twenties has a lot of potential for mystery as well. Who knows? Maybe one day I'll venture to those eras!
Your female protagonist and sleuth, Electra McDonnell, seems like a complex character. Do you prefer writing more complex and complicated characters rather than ones who are very rigid or immovable?
Electra—or Ellie, as she's known—is a really fun character to write because there's the contrast of her being a thief and safecracker with the very noble and heroic side of her nature that wants to aid the British war effort. She's full of contradictions and often feels torn by them. Major Ramsey, her military intelligence handler, is more rigid, but he's also enjoyable to write in his way. He's more predictable to a certain extent, but he's also multilayered and has his share of surprises!
Your series features spying and the danger that naturally arises from that. Have you always been fascinated by stories about spies and intelligence gathering?
Spy stories are fascinating to me because of both the skill and the personality traits required for that type of work. Spies have to be clever, adaptable, and quick-thinking. I'm particularly drawn to the stories of regular people who became spies in wartime to aid their countries' causes. The element of everyday people thrown into dangerous, potentially history-altering events and having to outwit the enemy is inherently compelling.
When you're writing a mystery, do you work out the guilty party and solution at the beginning, or does that resolve itself as you're writing the story?
I don't write my books from beginning to end. Instead, I write a variety of scenes I know I want to include and then piece them all together. So, generally, the guilty party and solution come to me as the story unfolds. Sometimes I decide on the culprit at the last minute!
How big a role, if any, does Electra's family play in her sleuthing activities?
Electra's family is very important to her. Orphaned at a young age under tragic circumstances, she's been raised by her Uncle Mick and a housekeeper, Nacy, along with her two male cousins who are now away fighting. Uncle Mick has taught Ellie his trade as a locksmith as well as the less-noble art of safecracking, but he and Nacy also offer a warm, loving home environment and support Ellie in her endeavors. She's very centered in her family.
I have to ask, because I'm a romance fan, is there any hint of romance in this series?
There is definitely a bit of romance in the series! Ellie finds herself drawn to her handler, Major Ramsey, despite their differences and the constant friction between them. She also has a complex relationship with Felix Lacey, a childhood friend and close confidant, who knows the secrets of her past and has worked with her in her criminal life. So there's a pull on her from two directions, both in terms of romance and in the type of life she'd like to lead when the war is over.
Do you enjoy reading the same type of books that you write? Favorite books or authors?
I really enjoy reading a little bit of everything! I'm a librarian, so I'm constantly bringing home books that catch my eye. One of my favorite authors of World War II books is Ben Macintyre, who tells incredible true stories of heroism and derring-do that read like spy thrillers. His book Agent Zigzag, about a real-life petty criminal turned double agent for the British, was an inspiration for Ellie's story.
What are you currently working on?
I'm currently working on Electra McDonnell's next adventure!
How can readers find out more about your books?
Readers can check out my website, www.ashley-weaver.com, or follow me on Facebook, Twitter, or Instagram. I love to hear from readers!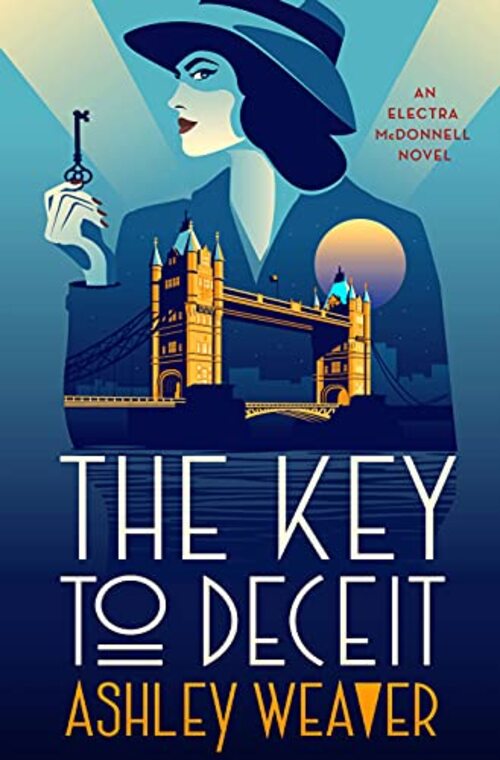 The second in the Electra McDonnell series from Edgar-nominated author Ashley Weaver, The Key to Deceit, is a delightful World War II mystery filled with spies, murder, romance, and wit.
London, 1940. After years of stealing from the rich and giving to the poor—well, to themselves, anyway—Ellie McDonnell and her family have turned over a new leaf as they help the government's war effort. It's true that the straight-laced Major Ramsey didn't give them much choice, but still, Ellie must admit she doesn't miss breaking and entering as much as she might have thought. What she does miss is the challenge of unlocking an impossible code and the adrenaline rush that comes from being somewhere she shouldn't.
So when Major Ramsey turns up unannounced with another job, she can't say no. A woman's body has been found floating in the Thames, with a bracelet locked onto her wrist, and a cameo locket attached to it. It's clear this woman was involved in espionage, but whose side was she on? Who was she reporting to? And who wanted her dead?
Mystery Historical | Mystery Woman Sleuth [Minotaur Books, On Sale: May 10, 2022, Hardcover / e-Book, ISBN: 9781250780508 / eISBN: 9781250780515]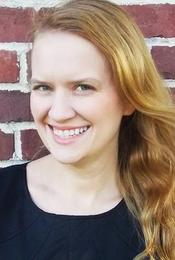 ASHLEY WEAVER is the Technical Services Coordinator for the Allen Parish Libraries in Louisiana. Weaver has worked in libraries since she was 14; she was a page and then a clerk before obtaining her MLIS from Louisiana State University. She lives in Oakdale, Louisiana.
1 comment posted.