Summers in Florida are hot! There are two kinds of Floridians in the summer- the kind who spend the days lathered in coconut smelling suntan lotion lounging on the beach and then the kind like me who seek out only places where the AC is set to frigid. As my husband has pointed out when I've stayed outside too long in the sun and heat, I'm a shade tree rather than a sunflower. Staying cool in Florida takes a bit of imagination and I've got some tips featuring cozy mysteries to help keep you cool on these hot days!
Tip #1: Ice cream is always the answer but even more so when you want to stay cool in the heat. We have two yummy places to choose from, starting first with Crewse Creamery in A GAME OF CONES by Abby Collette. Bronwyn Crewse is in a bit of a battle with her aunt who has just arrived in town over some of the flavors, so make sure you check out her cherry amaretto chocolate chip ice cream or her delicious tea and shortbread ice cream. Meri Allen's Udderly Delicious shop featured in MINT CHOCOLATE MURDER is managed by Riley Rhodes, who has some more delectable surprises for us to sample. We've got cherry vanilla with Luxardo cherries poached in bourbon and cinnamon, rhubarb crumble, and a special Halloween flavor they are experimenting with appropriately called Bloody Mess (pistachio, blackberry jam, and marshmallows galore, for those curious on the ingredients).
Tip # 2: Stop in and sample various flavors of tea from different shops. After all, we must quench our thirst somehow in this heat and tea is an excellent choice for this! Jennifer Chow's DEATH BY BUBBLE TEA features several different teas, but I must admit my favorite is the grapefruit green tea with regular boba served in a glass light bulb. I'm not one to put many food pictures on Instagram, but this one definitely belongs on there! If you're looking for more of a traditional tearoom, then Vicki Delany's Tea by the Sea in MURDER IN A TEACUP may be more your style. While visiting Tea by the Sea, taste her curried egg salad sandwiches and shortbread cookies. Lastly, for a traditional tearoom but with some intriguing twists, try Laura Child's Indigo Tea Shop in A DARK AND STORMY TEA. Not only does she serve Crab Rolls with Aioli, but you can participate in one of their various specialty tea events, such as the Murder Mystery Tea where actors perform a script during the teatime or the Great Gatbsy Tea they are currently planning.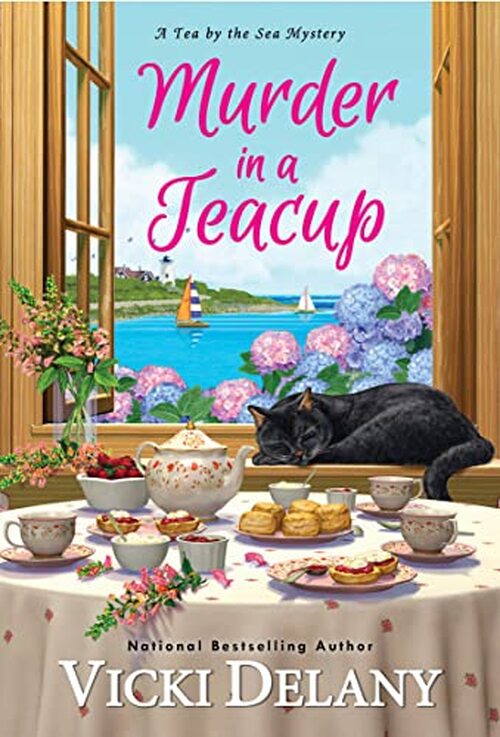 Tip #3: Head to the bookstore! Not only do we need more books (and yes, we always need more books!), but the inside will keep us cool while shop to our heart's content. TO THE TOME OF MURDER by Lauren Elliott features the charming Beyond the Page Books and Curios shop where the window is always artfully decorated. This time around, we see various recipe books and American writers to whet our taste. The proprietor, Addie Grayborne, is looking to open a bookmobile store in her future, as we see in A MARGIN FOR MURDER. Kitt Crowe's store, Sweet Fiction, is featured in A POISONOUS PAGE, which is in delightfully named town, Confection. I love visiting Confection with all the cutesy names, such as Cookie Crumbles and Taffy Toys. For a bit of international travel, lets head over to Carlene O'Connor's MURDER IN AN IRISH BOOKSHOP where Turn the Page bookstore is just opening and already has an event featuring Irish writers scheduled. Local residents are wanting a few more pleasure reads added to the stacks, but the store has a heavy focus on literary reads and Irish writers for now.
Tip #4: Head to a local yarn/craft store or join a knitting or quilting group. Nancy Warren's Cardinal Woolsey's Knitting Shop is showcased in STITCHES AND WITCHES. Not only does the local proprietor not know how to knit, but she has a hidden basement filled with vampires who can knit, including her own grandmother who was the original proprietor. Definitely an interesting place to visit! Meanwhile, Emmie Caldwell offers up the Crandalsburg Craft Fair in STITCHED IN CRIME. The Ninth Street Knitters are regular vendors at the craft fair but are disturbed with the death of a crocheter. The other wares at the craft fair are a true delight to visit, making it a must visit for all crafters. Peggy Ehrhart's Knit and Knibbles group is a fun knitting group, featured in DEATH OF A KNIT WIT, while Mary Marks' KNOT READY FOR MURDER has a group of quilting friends who meet regularly (and lots of quilting tips are shared in each book).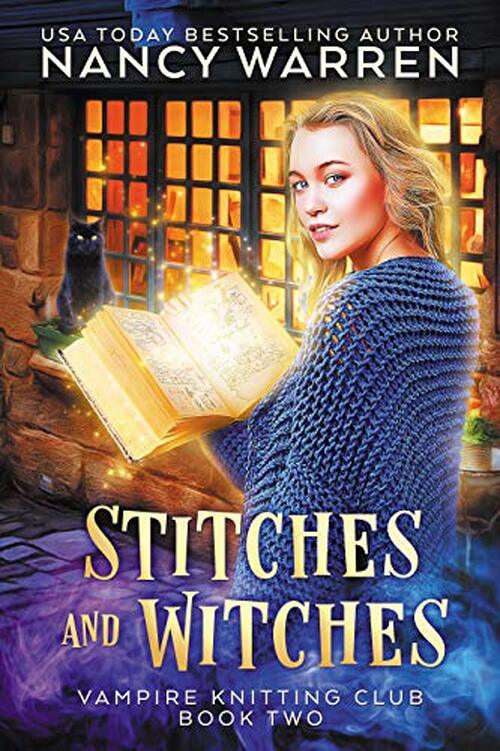 Tip #5: Travel somewhere cold- like Alaska. Before anyone thinks I'm being facetious, I have scheduled two cruises to Alaska for the summer, both unfortunately canceled thanks to Covid restrictions. BEAR WITNESS by Lark O. Jensen is set in the Alaskan wilderness and offers up a lot of cold weather animal sightings. Alternatively, we can visit the Reindeer Games Christmas Tree Farm in Jaqueline Frost's SLASHING THROUGH THE SNOW. After all, what better way to think cool thoughts and plan for Christmas in July than a visit to Mistletoe, Maine?
What are some of the ways you beat the heat through cozy mysteries? Any tips I need to add to the list?
Debbie Wiley is a senior reviewer at Fresh Fiction. You can find more of her articles and reviews here.
No comments posted.