Describe the setting that LETTERS TO SINGAPORE takes place for me.
LETTERS TO SINGAPORE takes place in Calgary, Canada and Singapore. The protagonist Simran is a new international student at the University of Calgary. Bewildered and alone, she arrives in Calgary (the West) from Singapore (the East). Simran sends letters that go back and forth to 4 women in Singapore. She learns about surviving in a new city, new country and new "everything," so place becomes a metaphor for transformation and reinvention for Simran.
Does this story draw on personal experience at all? What inspired you to write this book?
I was inspired to write this novel when I was accepted into a four-month writing program by the Writers' Guild of Alberta and Alexandra's Writers' Centre in 2019. I was excited and inspired, especially when I found out that my mentor was the marvelous Aritha van Herk. Thrilled and nervous, I finished this novel in 100 days. There are some parts of the novel that draw on personal experiences – one is the skiing adventure. Other parts are the strokes of creative fiction that I enjoyed incorporating as I delved into developing the stories. I enjoyed engaging in the intricacies of novel writing as a new writer.
Simran grew up in Singapore but goes to college in Canada. What are the changes that Simran goes through over the course of this book? Do we see her settled and knowing what direction she wants to take in life by the end of the book?
Simran goes through a rollercoaster of epiphanies in the course of the book. She has to reconcile her eastern values with her newfound western ones. She is inexperienced in all matters of love and life and being on her own as a new immigrant in a new country is exciting, painful, difficult, and hopeful, all at the same time. Simran struggles with and against the idea of patriarchal, societal, and cultural expectations. What is the price of freedom and what do women deserve – those are Simran's difficult choices that she must make. At the end of the book, Simran is not the same young woman she was when she arrived in Calgary.
How big a role, if any, do friends and family play in this story?
As a writer, I am a keen observer of life. I watch people. I spy on them. I ask questions. Therefore, this novel has bits and pieces about many people I know or have heard about. I love the ability to weave stories and create characters out of what is real, imagined, and crafted.
What kinds of things do you like to read? Favorite authors? Favorite books?
Lately, I have been drawn to novels by my fellow Calgary writers. On my list are novels by Aritha van Herk (Restlessness), Lisa Murphy Lamb (Jesus on the Dashboard), Lori Hahnel (Vermin), Robin van Eck (Rough), Barb Howard (Happy Sands), Ali Bryan (The Hill), and Lee Kvern (The Matter of Sylvie) and a long list of more. Other favorite authors are V.S. Naipaul, Chinua Achebe, Nadine Gordimer, just to mention a few.
What are you currently working on?
I am currently working on a collection of short stories set in Calgary and Singapore called Stories in the Sky. Another novel in the works, set in Calgary, Singapore, and Bali, is the Collector of Secrets. Also, I am writing a children's book for Red Barn Books about the first Sikh immigrant who came to Calgary.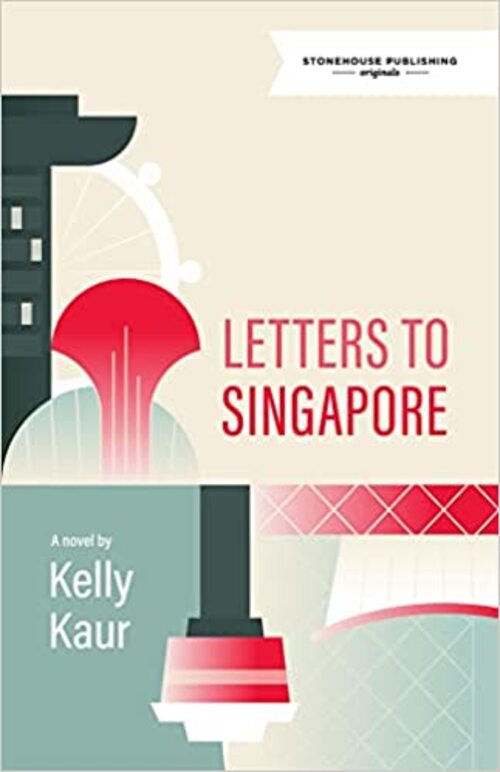 Growing up in Singapore, Simran always knew what was expected of her: to learn how to be a good mother and wife. The only problem? Simran has no interest in any of this. After a close escape (almost at the altar!), Simran earns a reprieve to attend the University of Calgary in Canada. Letters exchanged back home to her mother, sister and friends reveal that no matter which path women take, traditional or independent, life is fraught with conflict, hilarity and peril. Simran's experience as a brave and hopeful young woman and a new Canadian will touch your heart; her thoughtful determination to chart her own course will inspire you.
Women's Fiction [Stonehouse Press, On Sale: May 1, 2022, Paperback, ISBN: 9781988754390 / ]
Kelly grew up in Singapore, came to Calgary to get her degrees at the University of Calgary, and stayed longer than she thought she would. Universities appear to be her playground; as a university educator today, she must have taught over 10,000 students and graded over 60,000 essays. To take a break from marking, she decided to write her own novel. Kelly lives in Calgary, Alberta.
No comments posted.