I love stories in which a main character "comes back from the dead". What inspired you to create a story with this plot?
THE DUKE IS BACK is book 6 (and the final book) in my Footmen's Club series. The series was based on the idea of three noblemen betting each other they couldn't pull off pretending to be servants at a house party. Whoever makes it the longest, wins! That is the premise of the first three books, and I'd only planned to write the trilogy. But readers asked for more (yay!). So I wrote the book about how the couple who hosted the house party met (Book 4, Save a Horse, Ride a Viscount). In that book, there was a mysterious house guest who was hidden away. His name is Phillip. Save a Horse ended on a cliffhanger for Phillip (it was sort of a surprise for me, too!) THE DUKE IS BACK picks up the story of what happened to Phillip and how he reclaims his life.
Phillip's brother was murdered. I suspect there's a mystery thrown into this romance. If that's so, would you say you have an even balance of mystery in romance? Or is there more of one than the other?
I never start out trying to write a mystery at all, but some of my books end up with mysteries in there just because the story calls for it. THE DUKE IS BACK is one of those books. The cliffhanger at the end of book 4 is resolved in book 6 and it involves the mystery of Phillip's brother's murder. So, to answer the question, I'd say there's more romance than mystery in most of my books, but there's a bit of mystery thrown into some of them to keep things fun.
In the description for THE DUKE IS BACK, it says that Phillip feels betrayed by Sophie. Can you say how long these feelings continue in the book? Is it a short duration and then they team up to find out the identity of the murderer? Or is it something he's conflicted about for most of the book?
THE DUKE IS BACK is the story of a man who was gravely injured at war only to return home to find his older brother (the duke) has been murdered. As the new duke, Phillip must solve his brother's murder and reclaim the woman he loves. There's a lot going on and I don't want to give too much away, but they definitely end up teaming up.
What else should readers know about THE DUKE IS BACK?
I dedicated this book to (and named the heroine after) my stepdaughter, who is finally old enough to read my books (if she wants to!). I always had in mind that I'd write a book with a heroine named Sophie and an evil stepmother. Of course, I do hope it's only ironic and that I'm the opposite of evil, but it even (sort of) named the evil stepmother after myself. One of my editors wrote, "LOL. You gave Sophie an evil stepmother." Sort of a fun inside joke for us.
How much, if any, research do you do for your books? Are you a history buff?
I'm a huge history buff and I absolutely learning everything I can (specifically about the English Regency and WWII eras), but I never let historical research stop me from writing my story. I'll just type something like, "Look up to make sure this could have happened," and I'll keep typing. I'm always more interested in a good, rollicking story than getting all the facts 100% accurate because I'm a storyteller setting my books in the Regency period, not a historical writer writing history books for educational purposes. That's an important distinction for me and it lets me get away with things like house parties where the heroes are pretending to be servants and Regency-set bachelor auctions. Of course it's unlikely these things would have actually happened in the Regency, but in my imagination, they do! That's what I find fun. I write the books I'd want to read.
Other authors have told me that they don't read the same type of books that they read. What do you enjoy reading? Favorite books? Favorite authors?
I truly do enjoy reading historical romance and was a fan for years before I tried my hand at it, but what I REALLY love to read are books about true crime, psychology, and organizational improvement and minimalism. I'm a big fan of the book Lightly by Francine Jay. As for historical romance, my favorite author is Lisa Kleypas.
If you could only recommend one of your books to romance fans unfamiliar with your work, which one would you pick? And why?
I'd pick THE FOOTMAN AND I, the first book in my Footmen's Club series. It's just a really fun, rompy book where the hero is trying to find a lady who loves him for himself (not his title) so he pretends to be a footman at a house party after making a bet with his three best friends. Hijinx ensue, of course.
What are you currently working on?
Right now, I'm writing a novella called The Duke Deal for a Christmas anthology called DUKE IN A BOX. There are twelve terrific historical romance authors contributing to it and I'm lucky to be one of them. It'll be out on November 1st. Readers can find out more (and sign-up for month free books all year long!) at https://www.dukeofthemonth.com/. My story can be summed up like this: When a young duchess asks her estranged husband to pretend they're happy during a Christmastide house party to fulfill her grandfather's dying wish of seeing the entire family together at the holidays, the duke agrees...with one condition.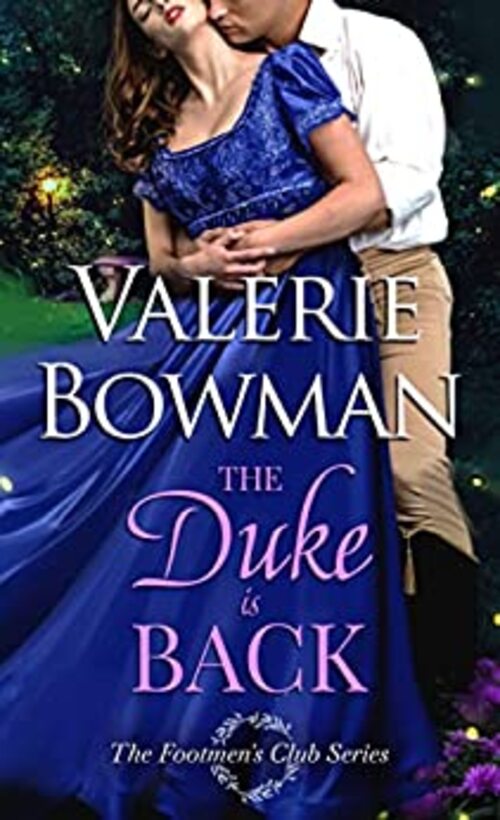 A wedding is in her future
Miss Sophie Payton might be engaged, but she's not in love. The only man who ever captured her heart was Phillip Grayson—a soldier who was slain a year ago. But when her stepmother decrees that Sophie will marry Phillip's cousin, the new Duke of Harlowe, Sophie's in no position to refuse.
A funeral is in his past
The ton thinks Phillip Grayson died a hero on the battlefields of Europe, but he's very much alive. While he spent the last year recuperating from his grave injuries in secret at his friend's estate, his brother was murdered, his cousin took over the title of duke, and the woman he loved—the one he dreamed of every night—apparently moved on without him.
But the duke is back
Phillip has returned to London intent on reclaiming his brother's title and making the people who killed him pay. He doesn't understand how Sophie could have betrayed him; she can't forgive him for letting her believe he was dead. And yet neither can deny that the attraction between them burns hotter than ever. Nothing is as it seems, but perhaps the truth can save them…if it doesn't kill them first.
Romance Historical [June Third Enterprises, LLC, On Sale: April 25, 2022, e-Book, ISBN: 9781736841754 / ]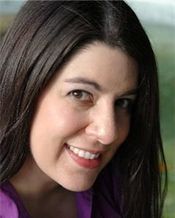 Valerie Bowman is an award-winning author who writes Regency-set historical romance novels aka Racy Regency Romps!
Valerie's debut novel was published in 2012. Since then, her books have received starred reviews from Publisher's Weekly, Booklist, and Kirkus. She's been an RT Reviewers' Choice nominee for Best First Historical Romance and Best Historical Romance Love and Laughter. Two of her books have been nominated for the Kirkus Prize for fiction.
Valerie grew up in Illinois with six sisters (she's number seven) and a huge supply of historical romance novels. After a cold and snowy stint earning a degree in English Language and Literature with a minor in history at Smith College, she moved to Florida the first chance she got. Valerie now lives in Jacksonville with her family including her rascally dogs. When she's not writing, she keeps busy reading, traveling, or vacillating between watching crazy reality TV and PBS.
No comments posted.