1--What is the title of your latest release?
A SCOT OF HER OWN – Book One – Once Upon a Scot Series
2--What's the "elevator pitch" for your new book?
When mighty Thorburn MacDougall fells the canniest Norwegian he's ever battled in close combat, he discovers the adept warrior isn't a man at all. She's a blue-eyed beauty with fire in her eyes, fury in her soul, and the determination to escape from her cruel brother no matter the cost—even if it means becoming the prisoner of the most notorious Scottish warlord the isles have ever known.
3--How did you decide where your book was going to take place?
I didn't. Adellis and Thorburn came to me and demanded their story be told.
4--Would you hang out with your heroine in real life?
Absolutely. Even though Adellis is a wounded warrior in her own right, her loyalty is steadfast—unless you cross her, of course. She loves as fiercely as she fights and never turns her back on those she cares about. You'd never get mean girl cattiness from Adellis. She might tell you what you don't want to hear, but she would only do it because you needed to hear it.
5--What are three words that describe your hero?
Unyielding. Protective. Passionate.
6--What's something you learned while writing this book?
I learned more about armor and battle axes than I ever thought possible.
7--Do you edit as you draft or wait until you are totally done?
I edit as I draft. At the start of each writing day, I read back over what I wrote the day before and polish it a bit. Not only does that make the final read through cleaner, but it also keeps me fully immersed in the story and less likely to create plot holes.
8--What's your favorite foodie indulgence?
Pastries! Oh my gosh, I love pastries. Especially HUGE cinnamon buns warm and dripping with that nummy white sugary drizzle.
9--Describe your writing space/office!
It's kind of like a dragon's lair filled with all my treasures such as books, my dragon collection, journals, planners, and
10--Who is an author you admire?
Robert Jordan, Edgar Rice Burroughs, and J.R.R. Tolkien for their worldbuilding. And I admire so many others for the way they weave a story. Romance authors touch my heart. It's hard to narrow it down to just one. I admire too many authors to list!
11--Is there a book that changed your life?
Every book I read changes my life in some small way because it's forever in my memories.
12--Tell us about when you got "the call." (when you found out your book was going to be published)
I've published with one of "the big five", another not so small New York publisher, a boutique publisher, and a small press. I've also self-published. The very first time was with a small press who gave me a chance when no one else would and assigned me to an extraordinarily patient editor. When they accepted my manuscript, I felt like I had "arrived". I was finally "real". But a writer's validation was different all those years ago. I'm glad so many avenues now exist to get our stories into the world. Now, release days are "the call".
13--What's your favorite genre to read?
Science Fiction/High Fantasy
14--What's your favorite movie?
How to Train Your Dragon
15--What is your favorite season?
Fall
16--How do you like to celebrate your birthday?
At home, surrounded by my family with a vanilla cake covered in EXTRA buttercream frosting! I suffer from a demonic sweet tooth.
17--What's a recent tv show/movie/book/podcast you highly recommend?
Wheel of Time and of course, Bridgerton.
18--What's your favorite type of cuisine?
I like all types and will try anything—well, almost anything—once.
19--What do you do when you have free time?
If the weather's warm, I garden. If it's cold out, I read.
20--What can readers expect from you next?
Next up will be A Scot TO HAVE AND TO HOLD, the second book in the Once Upon a Scot Series and also CAPTURING HER HIGHLAND KEEPER, the fourth book in my Time to Love a Highlander Series. I don't think the preorder links are up yet, but they should be soon.
Once Upon a Scot #1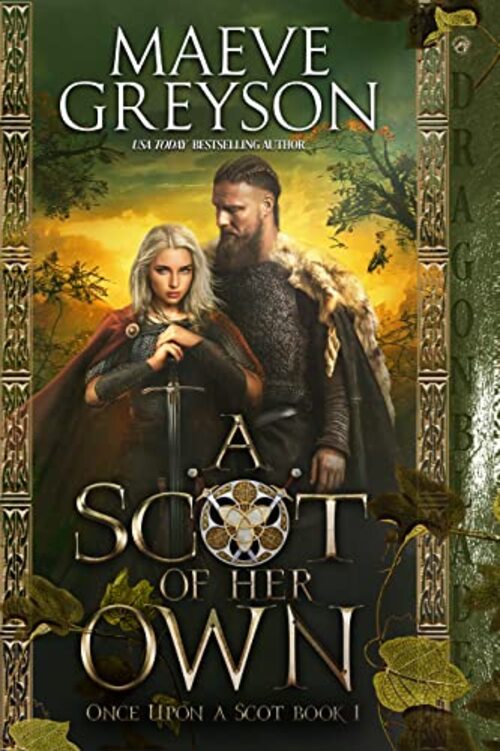 Fire and ice. Powerful forces on their own. Combined? Invincible passion.
When mighty Thorburn MacDougall, commander of the Lord of Argyll's warriors, overpowers the canniest Norwegian he's ever battled, he rips off the man's helm to savor the look of horror right before delivering the killing blow. But the canny Norwegian isn't a man at all. She's a blue-eyed beauty with fire in her eyes and fury in her soul.
Adellis Bjørnsdóttir weighed the risks and found them worth it. Freedom. At any cost. The only other escape is death, and she's not ready to give up yet. But the Gallóglaigh warrior, the fearsome Scottish bear she allows to capture her, isn't the cruel tyrant she thought to endure long enough to secure safe passage to Scotland. He's protective. Considerate. Stubborn as an ox. And entirely too tempting.
Honor. Chivalry. Outwitting traitors, murderers, and old enemies? All easy enough. But trusting? Finding the courage to love? Therein lies the challenge.
Note: This series is part of Dragonblade's Flame line, so this is a sexy, steamy, and scorching-hot read with multiple sex scenes. Be advised.
Romance Historical [Dragonblade Publishing, Inc, On Sale: April 22, 2022, e-Book, / ]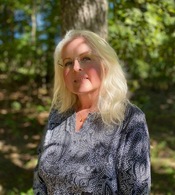 No one has the power to shatter your dreams unless you give it to them. That's Maeve Greyson's mantra. She and her hubby of nearly thirty-eight years traveled around the world while in the U.S. Air Force before returning to their five-acre wood in rural Kentucky where she writes about her beloved Highlanders and the sassy women who tame them.
No comments posted.