Years ago, when my dad was still living, my folks and I always took a yearly ride from their Massachusetts home to visit friends in Vermont. As we traveled through southern Vermont, we passed through a quaint little town I thought would make a perfect setting for a cozy mystery. I tucked the idea in the back of my mind.
Back then, I'd been juggling two ideas for a new cozy series—popovers and grilled cheese. When my niece Ashley paid me a visit, and I posed the question to her: "If you were going to write a culinary cozy mystery set in Vermont, would you choose popovers or grilled cheese?" Her answer came instantly: "Grilled cheese!" Luckily, my wonderful agent agreed and asked me to write a proposal.
Ah, I can do that. Easy cheesy! Or so I thought. I wrote what I believed were three enticing chapters, along with a synopsis. The main character was Marnie, a woman who gets fired from her job on her 40th birthday. As chapter one opens, Marnie stops at the local sandwich shop where her dear friend, a character I dubbed Dumpy (a childhood nickname he embraces!) presents her with a birthday cupcake. But Marnie realizes something is wrong. Almost no one is eating there! The new sub shop in town has "stolen" most of Dumpy's customers, leaving his sandwich shop to flounder. Marnie wonders: Is that why Dumpy's sandwiches have been tasting a bit off? Is he using expired cold cuts? And who's the young man Dumpy recently hired—the one he claims is his long-lost son? Where does that guy fit into the picture? These questions swirl in Marnie's mind until the following morning, when she finds Dumpy's body in the parking lot. When the police deem it to be foul play, Marnie launches her own investigation into the deadly crime. Eventually she solves the murder, takes over the sandwich shop, and transforms it into the grilled cheese eatery she's always longed to own.
Okay, this works! I told myself. But my agent didn't agree. She felt the name "Dumpy" was unappetizing. The sandwich shop was unappealing, and she pointed out that nary a single grilled cheese appears in the opening chapters. She also wasn't keen on a "good guy" like Dumpy ending up as the victim.
Oh boy. Duly humbled, I went back to the drawing board, er…keyboard. It wasn't until my fourth set of revisions that my agent felt I'd hit the mark. For starters, I ditched the name "Marnie" for "Carly." Carly is a widow in her early thirties who returns to her Vermont hometown to open a grilled cheese eatery. She has two wonderful employees—Grant and Suzanne—and her business is gaining traction. That is, until her new landlord hands her an eviction notice and orders her eatery to vacate. When Carly finds her landlord's body behind her restaurant the following morning, she's forced to squeeze herself into the investigation before one of her employees get grilled for the crime…
UP TO NO GOUDA is Carly's first (but not her last!) venture into solving murders. Join her at her eatery in Balsam Dell, Vermont for a scrumptious grilled cheese, a bowl of tomato soup, and a few tidbits of gossip about murder.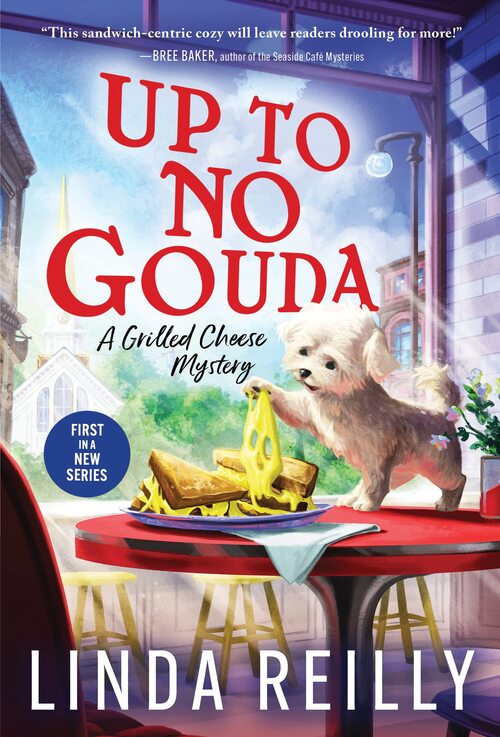 The first in a delicious new culinary cozy series featuring a grilled cheese eatery owner who must solve murders in her small town before she is put under lock and brie
Back in Balsam Dell to heal after the death of her husband, Carly Hale is finally pursuing her lifelong dream—opening Carly's Grilled Cheese Eatery. After only five months, business is booming as Vermont vacationers and townspeople alike flock to lunch on her Party Havartis and other grilled cheese concoctions. All but Lyle Bagley, Carly's one-time high school boyfriend and now town bully who just bought the building that houses her eatery and wants Carly out. After a muenster of a fight, Carly's forced to put her nose to the rind and find a solution to keep her business afloat.
That is...until Lyle is discovered dead behind the dumpster of Carly's shop, and one of her employees becomes the prime suspect. In order to save her eatery and prove her friend's innocence, Carly must sleuth out the killer before she's the one who gets grilled.
With a delightful cast of characters, an inventive amateur sleuth, and a whole host of cheesy hijinks, Up to No Gouda is the perfect cozy murder mystery to melt into.
Mystery Culinary | Mystery Cozy | Women's Fiction [Poisoned Pen Press, On Sale: January 25, 2022, Mass Market Paperback / e-Book, ISBN: 9781728238326 / eISBN: 9781728238333]
The First in The Grilled Cheese Cozy Mystery Series Serves Up a Seriously Gouda Mystery
Raised in a sleepy town in the Berkshires,
Linda Reilly
is the author of the Cat Lady Mysteries from Kensington Lyrical, and the Deep Fried Mysteries from Berkley Prime Crime. A dyed-in-the-wool New Englander, she is a member of Sisters in Crime and Mystery Writers of America. When she's not hunched over her keyboard dreaming up murder and mayhem, she's curled up in her favorite chair reading an enticing mystery.
1 comment posted.