Danielle Jackson: Welcome to Fresh Fiction, Alexandria! COUNT YOUR LUCKY STARS is a second chance romance (one of my favorite tropes). What were some of the challenges of writing this romance trope? What were your favorite parts of the process?
Alexandria Bellefleur: Striking the right balance between informing the reader of Margot and Olivia's past while not overwhelming them with backstory details proved a bit of a challenge! I didn't want to rely on flashbacks so I tried to incorporate small memories into conversations to show how close they once were while also giving them opportunities to get to know the people they've become after ten years.
I love the tension that's inherent to the second-chance trope—Margot and Olivia have chemistry, they think it might be mutual but they second-guess the situation since it didn't work out between them the first time around. They know how devastating it can be if it doesn't work. That combination of tension and stakes was a lot of fun to play around with.
Olivia is a wedding planner—what a wonderful occupation for a romance novel character! What kind of research did you do to get acclimated with the wedding industry?
I spent a lot of time on The Knot wedding website. Mostly, I needed to familiarize myself with the differences between wedding planners and wedding coordinators so I would know what Olivia's role and responsibilities would look like throughout the abbreviated wedding planning process since Annie and Brendon (the bride and groom) had an emergency venue change and had to start over from scratch. They have only a few short weeks to plan their entire wedding.
I spent a bit of time on local Seattle event planner sites to get an understanding of the services they offer and the most popular wedding venues in the Seattle area. Picking the perfect venue for Annie and Brendon's wedding was by far my favorite part of the wedding industry research I did.
Margot is a turning point in her life. Many of her friends are in relationships and starting to turn their attention to weddings and other long-term life goals. How do you think readers will relate to Margot and her internal struggles?
I think anyone who's experienced being the last single friend in a group can identify with the concern that those friendships might change and not know what that change is going to look like. I think it's even normal to fear losing friends and maybe no longer be the most important person in a friend's life, that they're still your person but maybe you are their person anymore. I think whether readers can relate to those exact struggles, the fear of change and the unknown is universal.
I love that we get to check in with characters from your first two books in this series, WRITTEN IN THE STARS and HANG THE MOON. Did you find it difficult to balance the main storyline with these fun updates for readers?
It definitely presented a challenge in that I didn't want to overwhelm new readers with details about characters they weren't as familiar with while still wanting to give readers of WRITTEN IN THE STARS and HANG THE MOON meaningful updates about the characters they've—hopefully—grown to love. The forced proximity aspect of the roommates trope helped by giving Margot and Olivia plenty of time to be alone and focus on their budding relationship, while the fact that Olivia's the wedding planner for Margot's friends' wedding allowed me to sprinkle in details about the other couples without distracting from the primary romance arc. I'm also lucky to have an amazing editor who helped me spot the points where Margot and Olivia were taking a bit of a backseat.
Astrology comes up in your books and is such a unique aspect of your storylines! Do you decide who has which sign ahead of time or do their traits reveal this to you while you're writing? Can you tell us a little about Margot and Olivia's astrological profiles.
I definitely decided ahead of time as part of my character brainstorming process. I actually wound up playing around with birth dates and times until I could get the exact charts I wanted for each character. Their various astrological placements then informed how they acted outwardly, how they viewed themselves and the world around them, how they processed emotions and to what degree they expressed them, communication styles, etc. I'm not an astrology expert, but it was fun to study up and learn more about the topic while writing this series.
Margot's an Aries sun, Scorpio moon, Scorpio rising and Olivia's a Libra sun, Cancer moon, Leo rising. Basically, Margot's the most loyal ride-or-die friend, a bit of a spitfire, and she knows how to hold a grudge. Olivia is a total sweetheart, extremely nurturing, charismatic, but struggles with indecision and putting herself first.
What's a recent book release that you've read and highly recommend?
I recently read and loved MISTAKES WERE MADE by Meryl Wilsner. It releases later this year in October.
What can readers expect from you next?
I'm currently drafting my next book, THE FIANCÉE FARCE, a sapphic marriage of convenience romance between a shy bookstore owner looking to save her indie bookstore and a newspaper heiress moonlighting as a romance novel cover model who finds herself in sudden need of a spouse. I've been describing it as WHEN A SCOT TIES THE KNOT meets THE BACHELOR (1999 film) with a dash of Cinderella. I'm having a blast writing it and I hope readers will love it, too.
Rapid Fire Random Questions
Favorite Romance Trope: Enemies to lovers and fauxmance (fake dating and marriage of convenience) are two of my very favorites. I love the tension inherent to those tropes!
Go to mani/pedi nail polish colors: I tend to gravitate to neutrals like ballet pink and black, but I also love glitter. The brand Morgan Taylor has a super sparkly silver polish called Fame Game that's amazing.
Do you dog-ear or use a bookmark in your books?: I know people have strong opinions on this, so don't hate me, but I dog-ear! I believe books are meant to be well-loved.
Pancakes or waffles?: Pancakes all the way. And maple syrup is a must!
Favorite book from childhood: I remember loving the SERENDIPITY series written by Stephen Cosgrove and illustrated by Robin James.
Morning person or night owl: A little bit of both. I used to be a night owl and have become a bit of a morning person in recent years. Whatever I am, I'm definitely not an afternoon person. I'm a zombie from 2-4 in the afternoon until I get another cup of coffee.
First thing you'd splurge on if you won the lottery: Ooh, if we're talking big splurge, it would be a pretty pastel house in Notting Hill, London. A smaller splurge would be a working antique typewriter.
A song that will always cheer you up: Tubthumping by Chumbawamba (Runner up is Call Me Maybe by Carly Rae Jepsen)
Favorite season: Without a doubt, fall. I love the changing leaves, cooler temps, wearing cozy sweaters, and of course, Halloween.
You have a totally free afternoon - no deadlines, no obligations, no Twitter notifications! What do you do?: Oh, good question. Ideally, I'd be beside a toasty fire, buried beneath my weighted blanket, with my TBR loaded onto my e-reader.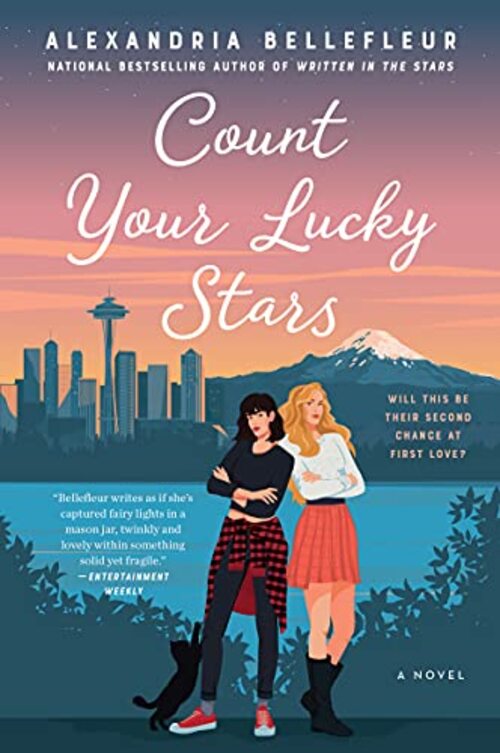 A Novel
Following Written in the Stars and Hang the Moon, Lambda Literary Award winner and national bestselling author Alexandria Bellefleur pens another steamy queer rom-com about former best friends who might be each other's second chance at love…
Margot Cooper doesn't do relationships. She tried and it blew up in her face, so she'll stick with casual hookups, thank you very much. But now her entire crew has found "the one" and she's beginning to feel like a fifth wheel. And then fate (the heartless bitch) intervenes. While touring a wedding venue with her engaged friends, Margot comes face-to-face with Olivia Grant—her childhood friend, her first love, her first… well, everything. It's been ten years, but the moment they lock eyes, Margot's cold, dead heart thumps in her chest.
Olivia must be hallucinating. In the decade since she last saw Margot, her life hasn't gone exactly as planned. At almost thirty, she's been married... and divorced. However, a wedding planner job in Seattle means a fresh start and a chance to follow her dreams. Never in a million years did she expect her important new client's Best Woman would be the one that got away.
When a series of unfortunate events leaves Olivia without a place to stay, Margot offers up her spare room because she's a Very Good Person. Obviously. It has nothing to do with the fact that Olivia is as beautiful as ever and the sparks between them still make Margot tingle. As they spend time in close quarters, Margot starts to question her no-strings stance. Olivia is everything she's ever wanted, but Margot let her in once and it ended in disaster. Will history repeat itself or should she count her lucky stars that she gets a second chance with her first love?
Romance Comedy [Avon, On Sale: February 1, 2022, Paperback / e-Book, ISBN: 9780063000889 / eISBN: 9780063000896]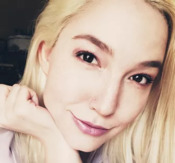 Alexandria Bellefleur is a bestselling and award-winning author of swoony contemporary romance often featuring loveable grumps and the sunshine characters who bring them to their knees. Her debut novel, Written in the Stars, was a 2021 Lambda Literary Award winner and a 2020 winner of The Ripped Bodice Awards for Excellence in Romantic Fiction.
No comments posted.