The corridor that led to the cellar came alive with memories as she crossed it.
The door was propped open. Emmitt must've forgotten to shut it when he left. Careful to leave it open, she stepped into the chill of the limestone floored room. The scent of cork and wine hung in the air. Stocked wooden racks and steel and glass coolers lined the walls. At the center of the room, under an abalone chandelier, stood a tasting table.
Her eyes landed on the lacquered mahogany surface, knots and nicks marking the single piece of wood. The height had been just right for—
"Ayesha?"
She stumbled back, hand pushing against the door as she caught her balance.
The click of the lock filled the silence that followed the sound of her name in his voice.
No, no, no! She spun around and rattled the handle. It didn't budge. He came up behind her, their hands meeting on the cool metal, the impact making her so lightheaded she pressed her head into the door.
His hand trembled over hers, his body looming beside her, his presence wrapping around her. They were locked inside.
She pulled away. From the door, from him, from the riot of feelings. How was this happening? How was it that seven years had changed everything, except this?
"What are you doing here?" she asked for the second time that day, hands gripping the polished tabletop she could still feel beneath her from when Emmitt had lifted her onto it.
Why had she come down here? Why had it felt so essential?
"Ayesha."
"Stop saying my name." It came out a scream. Or maybe it was a whisper. Her ears were ringing too loudly for her to know.
"Okay," he said, his voice too quiet, too soothing, too much.
They were close enough that if she stepped back, she'd be in his arms. The space between them vibrated with the possibility of it. A matching trembling started inside her.
"I forgot my cell phone and came down looking for it." His breath fell on her hair, dislodging her curls, scattering arousal across her skin. The mundaneness of his words twisted against the pull of their impossibly stubborn connection. "Why are you down here?"
I missed you, she wanted to say, but couldn't.
I miss us, she wanted to say.
I miss me, she wanted to scream.
"Say what you're thinking, Ayesha."
She stepped around the table, circling it until she was facing him across it. "I need to be upstairs." She looked at the phone she was clutching like a lifeline. No service. "Does your phone have service?"
He threw a quick look at it, his focus squarely on her. "No. Maybe your doctor will miss you and come looking for you."
Nope, she couldn't respond to that either.
"Ayesha!" He sounded livid. "What is this? What happened to you?" In quick steps he circled the table and reached for her, worry crinkling his forehead.
She shook her head so vehemently that curls spun and spilled around her face.
He drew back, but that didn't stop his gaze from grabbing her and digging up everything she couldn't say.
"You used to say everything. You were fearless." Regret spilled from him. So much regret that it rose around her like water, filling her lungs. He blamed himself, and she couldn't bear that. "Ayesha, answer me."
"Fine!" The anger in her voice felt good, a pressure valve releasing. "Is that why you locked that poor man in the bathroom? Because you thought he was mine?"
He opened his mouth to deny it. But then he smiled. Of all things. His almost-smile, the one she'd lived to turn into laughter.
Then, just as fast, he got serious again. "If I believed he was really yours, I wouldn't have done it."
Every ounce of her resistance shook on its foundation, cracks ripping open inside her.
"He had to crawl out of a window!" She felt a smile nudging at her lips too.
The sapphires of his eyes brightened as they caught it. The luminous blue pierced her relentless exhaustion. Need blossomed inside her, even as the numbness she'd embraced warred against it.
"Is that what you want? A limber doctor." He studied her reactions, missing nothing of the storm that twisted her.
"It's what Amma wants for me." As soon as she said it, she wanted to take it back. "Don't look at me like that. Don't pity me."
He stepped closer, and every molecule in her being lit with awareness. "What I'm feeling right now is not pity," he said roughly.
"What you're feeling is memories." He wanted her to say what she was thinking. Fine. Here it was. "What you're feeling is the past. If you hadn't come back here, it wouldn't exist. Two hours ago it didn't exist." He tipped her chin up, meeting her eyes. His first conscious touch after seven years. Just a fingertip, and she felt it with her entire treacherous body.
"Do you really believe that? That we didn't exist two hours ago. That this thing between us has ever not existed?"
The girl who'd always raced after what she wanted nudged back to life somewhere deep inside her. The girl on whose shoulders her mother's happiness rested pushed her away. "It's been seven years, Emmitt."
"I know." A breath. "In those seven years, has a single day gone by when you haven't thought about us?"
Pulling away from him, she went to the door and wiggled the doorknob so hard her fingers hurt. When it didn't budge, she turned and studied the room.
"How did we never notice that there is no place to sit in here?" Unless you counted Emmitt setting her on the table when they made out as sitting.
She lowered herself to the floor and leaned back on the door, struggling to reign in the restlessness inside her.
Stride deliberate, he crossed the room and dropped down next to her. Close enough that her body ignited with sensation. Not so close that she'd have an excuse to move away.
Hugging her knees, she watched his face. Kind eyes, generous mouth, determined jaw. She had missed the sight of him, missed being seen, missed what being near him did to her. So very much.
Suddenly she wanted to know everything.
She had to put words between them so she could breathe through the thick swirl of emotions that had once defined her. Slowly, one by one the words eased out of her. "Seven years," she said. A lifetime. A moment. "Tell me what you did for seven years."
(c) Sonali Dev, Amazin Publishing, 2022. Shared with permission from the publisher.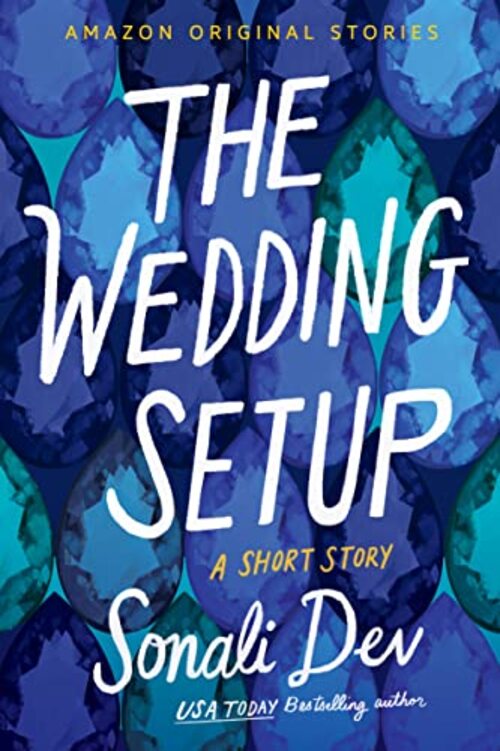 From USA Today bestselling author Sonali Dev comes a heartfelt short story about one woman's journey of self-discovery and what it means to be happy.
Ayesha Shetty lost her brother seven years ago, the same time she lost everything else important to her: her dreams, her fierce independence, and the man she loved. Not wanting to see her mother hurt anymore, she put her wild self away and became the dutiful daughter her mother needed and took on her brother's role in the family business.
Now her best friend's big, fat Indian wedding is a chance to get away from her endless duties at the restaurant and maybe even have some fun (if she remembers how). But a setup arranged by her mother, with a doctor no less, is the last thing she needs. The fact that he checks all her mother's boxes just makes everything better…and worse.
Then Emmitt Hughes shows up. Her brother's best friend. The love she once chose over family duties and her responsibilities. The one she asked to leave, and who did. The one who knows the real Ayesha. Torn between a love from the past that could cost her the only person she has left and her sense of obligation to her mother, will Ayesha find the strength to stop thinking about what everyone else wants and finally put herself first? Or is the old Ayesha truly gone for good?
Romance Contemporary | Novella / Short Story | Multicultural Indian [Amazon Publishing, On Sale: January 11, 2022, e-Book, / eISBN: 9781542036146]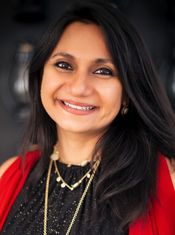 Sonali Dev's first literary work was a play about mistaken identities performed at her neighborhood Diwali extravaganza in Mumbai. She was eight years old. Despite this early success, Sonali spent the next few decades getting degrees in architecture and written communication, migrating across the globe, and starting a family while writing for magazines and websites. With the advent of her first gray hair her mad love for telling stories returned full force, and she now combines it with her insights into Indian culture to conjure up stories that make a mad tangle with her life as supermom, domestic goddess, and world traveler.
Sonali lives in the Chicago suburbs with her very patient and often amused husband and two teens who demand both patience and humor, and the world's most perfect dog.
2 comments posted.