1--What is the title of your latest release?
2--What is it about?
Audrey Oakes arrives in Wild Bluff County desperate to locate the Hallelujah Ranch legendary bootlegger gold so she can afford the medical treatment that could save her grandmother's life. But clues in the old family journal lead her straight into the path of rustlers stealing a herd of mustangs…and that sends her right into the arms of cowboy firefighter Cole Murphy. Talk about trouble. Cole has a big enough problem on his hands trying to save his mustangs from horse thieves. He hadn't counted on saving a damsel in distress or one that ups his heart rate. When she asks for help, how can he say no? But can he trust that she isn't part of the rustler gang? And can he trust his heart when their connection turns red-hot?
3--What do you love about the setting of your book?
Wildcat Bluff County, Texas, is all about a small town, wide-open countryside, and folks with big hearts.
4--How did your heroine surprise you?
Audrey Oakes persisted time and again through thick and thin to restore her family from mother to grandmother to great-grandfather.
5--Why will readers love your hero?
Like most cowboys, Cole Murphy is a caregiver and caretaker…not only for the land and animals that he watches over, but for the people that he loves as well.
6--What was one of your biggest challenges while writing this book (spoiler-free, of course!)?
I dug deep to create and balance a world in which four generations of family come together in love, harmony, and renewal.
7--Do you look forward to or do you dread the revision process?
I enjoy the revision process because I'm blessed with Sourcebooks excellent, sensitive, and supportive editors.
8--What's your favorite snack to have on hand while writing?
I like a snack of hot green tea and a variety of cookies while I'm writing my novels.
9--Where would you go for an ideal writer's retreat?
I love to create my books at Twin Oaks because my ranch is the perfect writer's retreat for me.
10--What's the best piece of writing advice you've received?
"Write from your heart" is the best piece of writing advice I've ever received.
11--Who is the fictional character you want to hang out with the most? (anyone in literature!)
It'd be a special treat to hang out with Anne of Green Gables because she is such an inspiring and fun character. (L.M. Montgomery wrote the eight-book series published from 1908-1921 and recreated as a TV series in 1985).
12--What's one of your earliest book memories?
The Count of Monte Cristo by Alexandre Dumas is one of my favorite earliest book memories.
13--If you had to write in a different genre, what would it be and why?
I've written in several genres and I read in all of them. Mystery/suspense and SF/fantasy are favorite genres for me.
14--What song will automatically put you in a good mood?
I Will Always Love You (composed by Dolly Parton and also recorded by Whitney Houston) always puts me in a good mood to write romantic fiction.
15--What is your favorite way to practice self-care?
Exercise is important for self-care, but I also like a mineral salt bath to relax my muscles.
16--What can you eat and never get sick of?
I like to eat a variety of healthful nuts.
17--Will you share a favorite, recent-ish book you recommend?
Warm Nights in Magnolia Bay by Babette de Jongh. I'm all in for this series about animal communication, rescue animals, and the folks who help abandoned animals.
18--Do you have any hobbies?
I like to get up and move when I'm not at my keyboard so I might go horseback riding, hiking on a trail, or exploring in the woods.
19--Are you an early bird or a night owl?
Night owl. I was born at midnight. Perhaps that's why I like to create in the quiet hours when I can totally focus on my books.
20--What can readers expect from you next?
I'm writing a new series set in Wildcat Bluff County, Texas, that combines romance, mystery, and small town charm.
Smokin' Hot Cowboys #9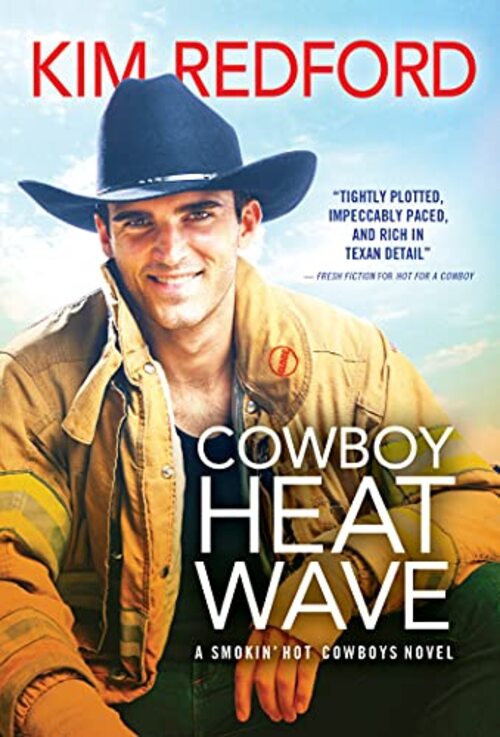 He drank her in, as if dying of thirst, but not touching her with anything more than his heated gaze.
She held out her hand.
He clasped it.
And they caught fire.
Audrey Oakes is in Wildcat Bluff County on a mission. She has a lead on the legendary Hallelujah Ranch bootlegger gold—money that would cover the cost of her grandmother's life-saving medical treatment—but she hadn't counted on following it straight into a group of wild horse rustlers. Audrey has no choice but to speed to the closest refuge and hide, only to be confronted by a gun-toting, hot-blooded cowboy.
It might only be a coincidence that Audrey appears on firefighter Cole Murphy's doorstep just as the rustlers race by his ranch. But Cole isn't about to let anything, or anyone, distract him from catching the wild mustang thieves—no matter how red-hot his connection to her is. And if she is part of the rustler ring, all the more reason to keep a very close eye on her.
This sexy cowboy romance is perfect for readers looking for:
A cowboy firefighter who isn't afraid of a little heat
A fearless woman who would do anything for her loved ones
A sassy small town that feels like home
Intense attraction that can't be denied
Praise for Kim Redford's Smokin' Hot Cowboys:
"This very hot and passionate love story has everything."—Fresh Fiction for A Cowboy Firefighter for Christmas
"Lots of humor, good food and hot sex."—Harlequin Junkie for Cowboy Firefighter Christmas Kiss
"These two endearing characters pulled me into their world and commanded my attention."—Red's Romance Reviews for Blazing Hot Cowboy
Romance | Western [Sourcebooks Casablanca, On Sale: January 1, 2022, Mass Market Paperback / e-Book, ISBN: 9781728216423 / eISBN: 9781728216430]
Kim Redford is the bestselling author of Western romance novels. She grew up in Texas with cowboys, cowgirls, horses, cattle, and rodeos for inspiration. She divides her time between homes in Texas and Oklahoma, where she's a rescue cat wrangler and horseback rider—when she takes a break from her keyboard.
1 comment posted.