Kari Lee Townsend | Signs You Have Cold Feet
GIVEAWAY: win Amazon Gift Card

September 20, 2021
Chaos and Cold Feet
Kari Lee Townsend
AVAILABLE
A Sunny Meadows Mystery #7

October 2021
On Sale: September 28, 2021
ISBN: 0005045576
EAN: 2940162372684
Kindle: B095V32DTG
e-Book
Add to Wish List

Also by Kari Lee Townsend:
Chaos and Cold Feet, October 2021
Naughty of Nice, June 2021
Hazard in the Horoscope, June 2021
Add to review list
Naughty or Nice, June 2021

COLD FEET – The feeling of uncertainty about moving forward with your wedding
In CHAOS AND COLD FEET, Sunny Meadows begins to have cold feet about her wedding. She knows she loves Detective Mitch Stone, but everything that can go wrong does go wrong in planning their wedding. It took forever to pick a wedding date in HAZARD IN THE HOROSCOPE, and Sunny's horoscope revealed the best time for her and Mitch to get married. When people mention maybe changing their date, Sunny is horrified. She can't possibly change her date. She starts to panic and begins to look at everything that's going wrong as signs that maybe she and Mitch weren't meant to get married. This time around, it's Mitch convincing Sunny that these mishaps aren't bad signs. They're sabotage. Someone is trying to sabotage their wedding, and he won't stop until he finds out who and why.
Saying "I Do" is the easy part. Planning a wedding can be a very stressful time. I have been with my husband since I was eighteen years old and we've been married now for thirty-two years. That's not to say everything was or is perfect, but we're happy and that's what matters. I think getting engaged is the exciting part, imagining this perfect life with your perfect partner. Then you start planning your wedding, stressing out over everything, and second-guessing all of your choices.
SIGNS OF COLD FEET
Up until you got engaged, you've had eyes only for your partner. Now you start to notice other people who are attractive and are horrified you even noticed them. You start getting worried that maybe your spouse isn't your soulmate. Maybe you're meant to be with someone else if you're noticing they're attractive. Relax. This is normal. Your subconscious simply knows marriage is the end of your single life for good. You won't mind at all after the wedding.
You and your partner seem to be bickering about everything. You suddenly worry if you will fight all the time after you get married. Maybe you won't be happy or learn to communicate. This too is normal. Your mind is simply overreacting because you're stressed out about planning this wedding. Stress can take its toll on the patience of even the calmest person you know. The bickering will ease after the wedding is over, and then you have a honeymoon to look forward to.
Suddenly everything your partner does seems annoying to you. These habits are getting on your nerves. Can you live with this? These annoyances have most likely always been there. People don't suddenly change. It's simply your brain's way of making you pay attention to them to make sure that nothing is a deal-breaker. If it wasn't a deal-breaker by now, then chances are these things won't bother you after the wedding.
You're suddenly having nightmares about your wedding. During the day, these fears are suppressed because you have too much to do. It's the lack of sleep that plays with your mind. Once you're finally asleep, all the pent-up fears come out exaggerated in the form of a nightmare. Nightmares always make things seem worse than they are. They should go away after the wedding.
You start to worry if you're getting married too quickly. Often times there are people in your life who question how well you know your partner and if you've thought marriage through. Don't listen to other people. Only you and your partner know each other fully and what your relationship is like. If you've pictured a life together, then chances are you know what your marriage will be like.
Finally, you're not feeling too frisky with your partner these days. Being tired, overwhelmed, and stressed wreaks havoc on one's libido. Not to mention high expectations for one's wedding night are also a common source of stress. No worries. You'll be back to normal by the honeymoon.
--
COMMENT TO WIN: To celebrate the release of CHAOS AND COLD FEET, comment with your advice on how to have a happy marriage for a chance to win a $15 Amazon gift card. Good luck and happy reading.
--
A Sunny Meadows Mystery #7
Psychic Sunshine Meadows can't predict just how tricky tying the knot can be…
After finally picking the perfect date, Sunny and her fiancé Detective Mitch Stone are about to get married, and even her mischievous cat Morty seems to be on board. This time her best friend and her friend's husband are the maid of honor and best man, but they have brand new baby twin boys who need to be baptized first. Just as soon as the ceremony for the babies is finished, Sunny and Mitch's wedding will take place. Except everything that can go wrong does go wrong, and Sunny develops cold feet, feeling it's an omen she can't ignore. Mitch convinces her to work with him in figuring out who is sabotaging their wedding and promises to warm her up until death do they part.
Mystery Cozy [Oliver-Heber Books, On Sale: September 28, 2021, e-Book, ISBN: 1230005045570 / eISBN: 1230005045570]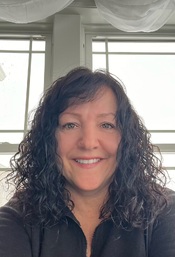 Kari Lee Townsend is a National Bestselling Author of mysteries & a tween superhero series. She also writes romance and women's fiction as Kari Lee Harmon. With a background in English education, she's now a full-time writer, wife to her own superhero, mom of 3 sons, 1 darling diva, 1 daughter-in-law & 2 lovable fur babies. These days you'll find her walking her dogs or hard at work on her next story, living a blessed life.
Comments
24 comments posted.
Re: Kari Lee Townsend | Signs You Have Cold Feet

For a happy marriage, realize neither one of you is perfect. We are human and
will make mistakes. Expect your interests and feelings to change over the years
as you mature, understand each other better, have children, change jobs, move,
have health issues, and age. As long as you love each other and give each
other the space to make mistakes, things will work out. A successful marriage
is work, but so very worth it.
(Patricia Barraclough 1:52am September 20)
Stay friends and always remember what made you fall in love!
(Linda Gawthrop 8:35am September 20)
Your book sounds amazing! Thank you for the opportunity to
enter a contest. Have a wonderful day and take care!
(Tracey Boehm 8:42am September 20)
I love this series and can't believe they are finally going
to do it. Thank you for the chance to win a copy.
(Brenda Ellis 9:57am September 20)
For happiness in marriage, BE HAPPY! Don't let things irritate you so much-there
is always a solution to a problem.
(Joy Isley 12:00pm September 20)
To have a happy marriage, you need trust and communication.
Don't keep secrets from your partner because they will find
out sooner or later.
(Tina Rucci 12:13pm September 20)
I had cold feet on my wedding day,,I was very young and
told my mom I didnt want to go thru with it,,she said its
too late now to change your mind,,,it was a horrible
marriage,,he was abusive for 30 yrs,,my daddy didnt know
that i tried to change my mind,,he and mom almost got
divorced over that,,he was so angry she didnt tell him
and made me go thru with the wedding and he didnt find
out until 23 yrs later and to find out that he had been
abusing me all that time too,,it was awful,,,but they
stayed to together but he was still upset with her,and
ask her how many other secrets he didnt know,,,there were
some but didnt seem the right time to tell him,,,he didnt
find out later and wasnt happy
(Vickie Couturier 12:40pm September 20)
Never go to bed angry.
(Kara Marks 12:45pm September 20)
Decide early on that divorce is not an option. Put God
first in all areas of your life!
(Caryl Kane 1:16pm September 20)
Being friends first and foremost. Remember, you're each your own person
and respect that fact. Your book looks like a fun read. Thanks for the
chance to win.
(Nancy Reynolds 1:45pm September 20)
Well, I may not be the right person to ask as I've been
divorced. It takes two to tangle and both to compromise when
possible. Keeping a line of communication open and not doing
a daily critique of flaws is key.
(Alyson Widen 5:30pm September 20)
Don't expect too much.
(Melanie Rosen 10:04pm September 20)
Realize that you are responsible for your own happiness.
Respect and communication are important. Don't expect your
partner to read your mind (unless they are a particular
kind of psychic!).
(Lyssa H 10:17pm September 20)
Be best friends with your husband. Open conversation with each other, and
make sure you can always turn to each other for solace. Pick your battles
and don't start problems just because. Ty for the chance! Sounds like a
great book!
(Andrea Drake 10:39pm September 20)
Be kind to each other. Try to be content with yourself. If you are happy with
who you are, it's easier to accept your partner as they are.
(Jeanna Massman 6:37am September 21)
My Dad swears the secret to his marriage to Mom is, "Happy
wife, happy life." They've been married 49 years.
(Kriss Judd 7:45am September 21)
communication and compromise
(Colleen Conklin 7:28pm September 21)
Communicate!
(Cheryl Castings 5:46pm September 22)
Loving the cover.
(Bill Norris 2:06am September 24)
Being able to laugh is so important.
(Rebecca Shields 6:54am September 24)
Open and honest communication.
(Catrina Pomerleau 9:52am September 24)
Honesty, devotion, respect, friendship, communication, compromise and
chemistry.....
(Tracy Urschler 9:56am September 24)
Always have a smile on yor face and humor in your mien
(Joy Isley 1:29pm September 24)
separate bathrooms....
(Martin Bodnar 10:11pm September 24)
Registered users may leave comments.
Log in or register now!