"Oh, you poor honey," Hailey said, scooping up the tiny bundle and examining him closely. "I was afraid of this."
"What is it? What's the matter with him?" Cole remained on the other side of the gate—mostly to keep Philip from barging in after him—but there was a sharp note of worry in his voice.
Hailey nestled Rufus closer to her neck so he could absorb some of her body warmth. His small body was so delicate, his skin so much like paper, that she could feel each of his bones. "He's not taking well to the family dynamic," she said. "He's always the last to eat and the first to wander away."
"Bess is rejecting him?"
Hailey nuzzled the puppy closer, fearful of him overhearing the words and taking them to heart. Which was ridiculous for a lot of reasons, but she couldn't help it. Rufus needed all the love he could get his tiny paws on.
"Not rejecting, exactly," she said. "She seems to like him just fine when he's around, but with so many other, stronger, more insistent puppies to look after, he kind of gets lost." Overlooked. Forgotten. It was no one's fault, but that didn't make it any less awful. Sometimes, puppies—even sweet, beautiful ones like Rufus—slipped through the cracks. There just weren't enough people in the world to care for them all.
Despite her determination not to cry, Hailey felt emotion thickening in her throat.
"What can I do to help?" Cole asked. It was the same thing he'd asked that day in her office, when he'd shown up uninvited and unannounced. There was the same matter-of-fact quality to it, but also the same authenticity. Unlike so many people, when Cole offered his help, he meant it. The fact that he was standing outside her kitchen, gently massaging Philip's ears, was clear proof of that.
"How are you at bottle feeding?" Hailey asked.
"Phenomenal," Cole said. When he saw her wide-eyed look of surprise, he laughed. "I mean it. I used to feed Mia all the time."
"You did?"
He gave Philip a command to sit—which the animal ignored in favor of whimpering anxiously—and stepped over the gate to join her in the kitchen. "Of course. I changed diapers, too, so you can stop looking at me like that. All evidence to the contrary, I'm not a complete waste of space."
Hailey doubted that anyone could accuse Cole Bennett of wasting space. Everything he touched and everything he did was extraordinary. Even this, pulling open her cupboards and searching for the puppy milk replacement and bottles she kept on hand, was like something out of a movie.
"I assume this stuff is similar to the human variety?" Cole read the label on the can of milk replacement and nodded. "Huh. It looks identical to baby formula, actually. Don't tell Reggie. She used to spend a fortune on the name-brand stuff."
Hailey watched as if in a dream as Cole efficiently and cheerfully went to work. He hadn't been kidding about being an old hand at this. There was something about the deft way he handled the bottle's nipple that indicated long experience.
"You never answered my question, by the way," Cole said as he tested the temperature on his wrist. He must have found it satisfactory, because he lifted the puppy from Hailey's arms and cradled him in his own.
"Which question?" she asked, the words on autopilot. She thought she'd already experienced every kind of physical and emotional reaction possible to having this man in her kitchen and in her life, but she was wrong.
So. Very. Wrong.
Cole Bennett was holding Rufus like a baby. He was holding Rufus like a baby and coaxing a bottle into his mouth. Every part of her body gave one heaving, yearning pang—for all the things she would never be and for all the things she could never have.
It's not fair. She might have been able to stand up to Cole's charms if he'd been a jerk or if his confidence was accompanied by cockiness, but it wasn't. His confidence had been ingrained in him since birth and was as much a part of him as his dimples. He was an exceptional athlete. He was genuinely kind to people. He had a large family who cared about him and who showed up whenever he needed them to.
Of course he acted like a man who had it all. He was a man who had it all.
(c) Lucy Gilmore, Sourcebooks Casablanca, 2021. Reprinted with permission from the publisher.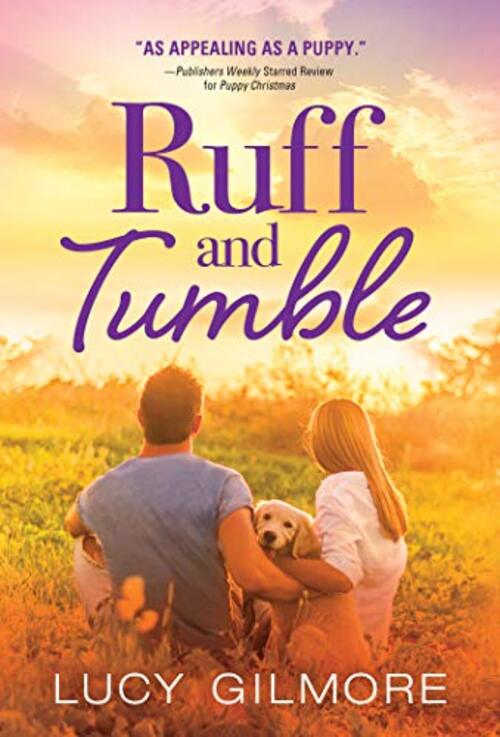 This sweet, funny, wonderfully escapist contemporary romance takes a winking view at the year's most anticipated sporting event: Puppy Football.
As a production assistant for the Puppy Cup, Hailey Lincoln knows all things puppies and football. She also knows all things Cole Bennett, star quarterback for the Seattle Lumberjacks and sexiest man alive. But years spent cheering for Cole from the sidelines never prepared her to meet his famous winning grin—or his unexpected plea for help.
Cole's entire life revolves around football, but that's not the future he wants. He's in a bind: if he leaves the spotlight, he risks disappointing his team, his fans, and his incredibly tight-knit family. He needs a bit of good PR to help him out, and Hailey (and her puppies) are perfect for the job.
But winning at puppy football is only the start. If Hailey really wants to win—the game, the man, and the family she never thought could be hers—she needs to pull out all the stops. And Cole, who's spent his entire life playing a game, has to realize that losing football isn't nearly as catastrophic as losing the woman he loves.
Romance Sports | Romance Contemporary [Sourcebooks Casablanca, On Sale: June 29, 2021, Mass Market Paperback / e-Book, ISBN: 9781728225975 / eISBN: 9781728225982]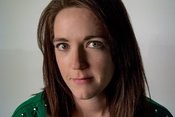 Lucy Gilmore is a contemporary romance author with a love of puppies, rainbows, and happily ever afters. She began her reading (and writing) career as an English literature major and ended as a die-hard fan of romance in all forms. When she's not rolling around with her two Akitas, she can be found hiking, biking, or with her nose buried in a book.
2 comments posted.