1--What's the name of your latest release?
2--What is it about?
This is a revenge plot with the hero out to get even for the people who hurt his family. The shero gets caught in the middle and he realizes he's going to have to make a decision between family loyalty and love.
3--What word best describes your heroine?
My shero, Haley, is strong-willed, determined, loyal, and has a soft spot for Chase. She's a kickass businesswoman and runs the office in a "man's world" role.
4--What makes your hero irresistible?
Even though he's out for revenge, you can't help but fall in love with him. He's hurt because his family fell apart, so he's going about his justice in the wrong way. A tough hero with a vulnerability is so sexy to me!
5--Who are the people your main characters turn to when they need help?
Oh, they definitely run to each other for help, but they don't realize how many lies they've gotten wrapped up in so they are definitely in this ordeal together.
6--What do you love about the setting of your book?
This is set in New York and the surrounding areas. I love the city life!
7--Are you a plotter (follow an outline) or a pantster (write by the seat of your pants)?
I'm definitely more of a plotter. I need a good road map to get through my story. Sometimes I take a detour, but at least I have a solid starting point.
8--What is an ideal writing day for you?
Wake up and snuggle with my dog, have coffee, get some writing done before my girls wake. Then spend some time with them doing lunch or running errands. When I come home, I work a few more hours, then make dinner and have family time when Mr. Bennett gets home from work. Once the girls head off to bed, I start writing again. I never can just get a solid xxx amount of hours in. It's hit and miss depending on my husband's and girls' schedules.
9--Do you listen to music while you write, need total silence, or do you have the TV on?
I really prefer silence. I've tried the TV or music thing and I end up typing what I hear. LOL!
10--How do you approach research?
I love research. Whenever possible, I do hands on! I love researching new areas and taking road trips. That is definitely my favorite part.
11--What is your publishing journey story?
I started writing in 2003. I had my first book published in 2005 and had my first baby then, too. I was told to stop writing because now that I was a mom, I wouldn't have the time. I thought that was terrible advice. I would never tell anyone to give up on a dream. Never, ever. So, I pushed on and was actually asked by my agent at the time if I would like to write for Harlequin Desire. I'd never read a Desire at that point, but I went and bought one from Leanne Banks (I forget the title) and read it in one night. I drew up a proposal and we sent it in and that one sold! My first book with Harlequin Desire was out in March of 2010 called SEDUCING THE ENEMY'S DAUGHTER, which was my working title so I was glad they kept it.
12--Do you have critique partners/writing groups you want to give a shout-out to?
Jessica Lemmon and I are always bouncing things off of each other. Texts, facetime, phone calls, we do it all. I couldn't do this without her.
13--What're the most frustrating things about being an author?
The most frustrating thing is people who realize you work from home and think you have all this free time. I work 12-14 hours most days and I rarely take a day off. . . that includes weekends and holidays. So, no, I really don't have a bunch of free time, but I make that time for my family.
14--What's your favorite scent?
I love anything fruity!
15--What movie will you watch no matter what if it's on TV?
Godfather (any of the three) or Tombstone
16--Do you like breakfast, lunch, or dinner best?
I love a good dinner with my family. We say grace before we eat and I'm always thankful at that time of the day when we can all come together and I realize how blessed I am to have them in my life.
17--What's one thing you wish you knew more about?
Hmmm. . . I'm not sure. I with I had finished my college degree, but I can pinpoint the one thing I wish I knew more about. Maybe history? I'm such a history nerd that I will watch any history documentary and I can turn any vacation into a history lesson…thanks, Dad :-)
18--What's the silliest thing you've recently done?
Does tripping over air count? Because I have a talent for that! LOL! Listen, I'm silly every single day. It's how I decompress…just ask my kids who are 12 and 14. I dance in the store, I sing out in public, I'm always laughing at the silliest things. I just like to enjoy life and be silly overall. Too many things are taken so seriously, but I only have a set time on this earth, so I plan on having fun!
19--What can readers expect from you next?
I have several Desire books in the works (including a series I'm writing with Jessica Lemmon that will be out Spring of 2021) and I have a fun Christmas novel from Carina this November called CHRISTMAS ON PEACH TREE LANE. I'm really excited about that one! And I just contracted 4 more Desires. Yay, job security! LOL!
20--How can readers reach you?
I love hearing from readers! My website is julesbennett.com and they can email me there, or they can like my Facebook Fan Page (authorjulesbennett) Catchy, huh? :-) Or I'm also on Twitter and Instagram! I'm all over and pretty easy to find!
Dynasties: Seven Sins #4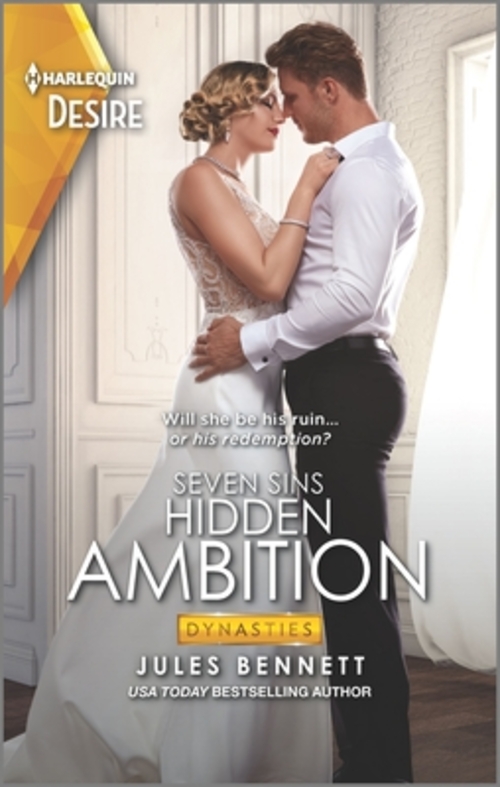 Will she be his ruin… or his redemption?
Revenge has never been hotter--until desire burns away their deceptions. . .
Chase Hargrove is on a mission to take down the company that destroyed his family. . . by becoming its CEO. Loyal Black Crescent employee Haley Shaw is his unwitting secret weapon. But when Chase is blindsided by passion for her, he gets careless. With his hidden motives exposed, will he lose everything--even Haley? Or will the tables turn when he learns she has hidden motives of her own. . .?
Romance Contemporary | Romance Billionaire | Romance Series [Harlequin Desire, On Sale: August 4, 2020, Mass Market Paperback / e-Book, ISBN: 9781335209269 / eISBN: 9781488063053]
A charming and enjoyable contemporary romance!
American romance author, Jules Bennett, has been touching the hearts of thousands of readers since 2005. A former beauty salon owner, Jules juggled the demands of owning her own business, raising two small children and attempting to get home in time to cook her husband (also her high school sweetheart) dinner all while plotting the next scene in her head.
After twelve years of juggling the roles of beautician, wife, mother and romance writer, on very little sleep; Jules decided to hang up her shears and turn her part-time, late-night craving into her full-time passion.
A member of the Central Ohio Fiction Writer's (COFW) a chapter of Romance Writers of America (RWA), Jules participates in many conferences throughout the year. Jules also attends book signings to promote her books.
No comments posted.