1--What's the name of your latest release?
Pirate's Persuasion
2--What is it about?
An immortal pirate is haunted by the loss of his nephew 200 years ago, but when the ghost of his nephew communicates with a local medium, Drake and Heather discover there is more than a ghost bringing them together.
3--What word best describes your heroine?
Unique
4--What makes your hero irresistible?
His loyalty and honor
5--Who are the people your main characters turn to when they need help?
Agent Bale at Dept. 13 and One-Eyed Bob the immortal pirate cook
6--What do you love about the setting of your book?
It takes place in modern-day Savannah Georgia. It's such a gorgeous, haunted city with so many stories! I love it there!
7--Are you a plotter (follow an outline) or a pantster (write by the seat of your pants)?
Pantser
8--What is an ideal writing day for you?
As long as I have my playlist and headphones I can write anywhere.
9--Do you listen to music while you write, need total silence, or do you have the TV on?
Playlist for every book.
10-- How do you approach research?
I usually do most of my research at the beginning of the book. I love to go on book research trips if possible. It's better if I can actually go there.
11--What is your publishing journey story?
I wrote for fun for years with no intention of publishing anything until I went on a trade show for work in New Orleans. I got a palm reading and at the end she asked, "Are you a writer?" I said no, and thought about it and added, "Well, I write for fun every night." She smiled and said I was going to be a famous author someday! I couldn't stop thinking about it and six months later my first book was finished. She changed my life that day!
12--Do you have critique partners/writing groups you want to give a shout-out to?
I never would have gotten published without first meeting Ray Bradbury who changed my life, and then joining RWA. Through my RWA connections, I met my publisher and signed my first book contract.
13--What're the most frustrating things about being an author?
Promoting a new book and getting the word out that it exists.
14--What's your favorite scent?
Lavender and evergreen.
15--What movie will you watch no matter what if it's on TV?
Rocky
16--Do you like breakfast, lunch, or dinner best?
Dinner
17--What's one thing you wish you knew more about?
Loch Ness
18--What's the silliest thing you've recently done?
My Boston terrier, Fiona, touched a lizard on her walk the other day and I cheered for her like she'd run a marathon. In my defense, she's been trying to find a lizard for weeks! LOL
19--What can readers expect from you next?
Sedona Scandal will be out in July!
20--How can readers reach you?
I'm on Facebook, Twitter, YouTube, Instagram, BookBub and my website: http://Lisa-Kessler.com
Sentinels of Savannah #4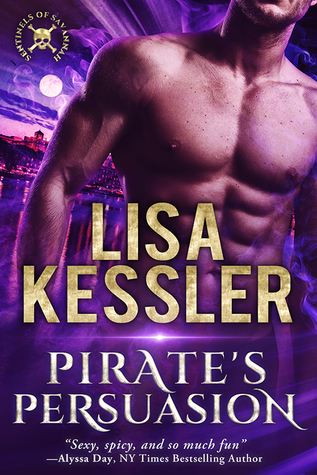 Immortal pirate Drake Cole has a reputation in Savannah for his custom woodworking and historical restorations, but his work has grown into an obsession. He's become a stranger to his crew since the Sea Dog sank in 1795. None of them know his painful secret. A young stowaway went down with the ship, one that Drake swore a blood oath to protect.
The ghost of a young boy, lost at sea over two hundred years ago, leads local medium, Heather Storrey right to Drake's door. He saved her life before, and now she has a chance to return the favor, but how can she protect him from a curse that no one can see?
A dark coven possesses the figurehead from the Flying Dutchman, and if Heather and the immortal Sea Dog crew don't locate the relic soon, Drake may be lost to them forever. Heather has seen the passionate man behind the veil of guilt, and she's determined to free him from his self-imposed prison, and persuade this pirate to love again.
Each book in the Sentinels of Savannah series is STANDALONE:
* Magnolia Mystic
* Pirate's Passion
* Pirate's Pleasure
* Pirate's Persuasion
Romance Paranormal [Entangled: Amara, On Sale: June 22, 2020, e-Book, ISBN: 9781640638068 / eISBN: 9781640638068]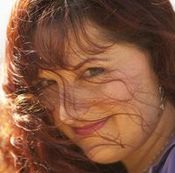 Lisa Kessler is a Best Selling author of dark paranormal fiction. She's a two-time San Diego Book Award winner for Best Published Fantasy-Sci-fi-Horror and Best Published Romance. Her books have also won the PRISM award, the Award of Excellence, the National Excellence in Romantic Fiction Award, the Award of Merit from the Holt Medallion, and an International Digital Award for Best Paranormal.
Her short stories have been published in print anthologies and magazines, and her vampire story, Immortal Beloved, was a finalist for a Bram Stoker award.
When she's not writing, Lisa is a professional vocalist, and has performed with San Diego Opera as well as other musical theater companies in San Diego.
1 comment posted.