In my Forgotten Empires trilogy, the heroine—Queen Euthalia of Calanthe—uses the dreamthink. Because she's magically sensitive, messages come to her in nightmares, when her mind is vulnerable. The world is a chaotic, broken, and wounded place—and it cries to her for help. When she wakes from these terrible dreams, she pretends to be asleep still, just to calm herself so she can face a day of politics.
In some ways, she isn't entirely faking it. She wakes, then goes into another stage of sleep: the dreamthink.
Lia, who lives in a world that celebrates science and knowledge, but is not technologically advanced, has given this state it's own name. It feels to her like a kind of light dreaming, where she can also guide where her mind goes. Those of you familiar with meditation or sleep stages, might recognize this as a trance state. Or it could be a Stage 1 sleep with theta waves (which are also present during meditation) or Stage 2 with sleep spindles in the brain activity. Magical or not, those are states of mind we all experience at some time or another.
I know I do! I made up the term "dreamthink" for myself. (Even though I do understand meditative trances and sleep states – lol.) Once I became a full-time writer, I gave myself the gift of waking according to my own natural rhythms. I don't set an alarm, so I emerge from sleep gradually. Often I'll lie in bed in that light sleep state a while longer, and mull over the story I'm writing. That's why I call it the dreamthink—because I can guide my mind to that particular story thread, and then dream about what might happen. It's a lovely, low-key way to puzzle over plot issues, and wonderful ideas present themselves to me.
In the first book of the Forgotten Empires, THE ORCHID THRONE, Lia uses the dreamthink to wrestle the nightmares. As the story progresses into the second book, THE FIERY CROWN, and as Lia begins to use her native magic in a more deliberate way, she summons the dreamthink to quiet her conscious mind and unruly emotions. The trance state of the dreamthink allows her to access the magic of the land, to expand her mind into other realms of reality.
If only we all had magic to heal the world in these troubled times! But we all can find a sort of dreamthink for ourselves. I think you'll find it's a great salve to worries of all kinds.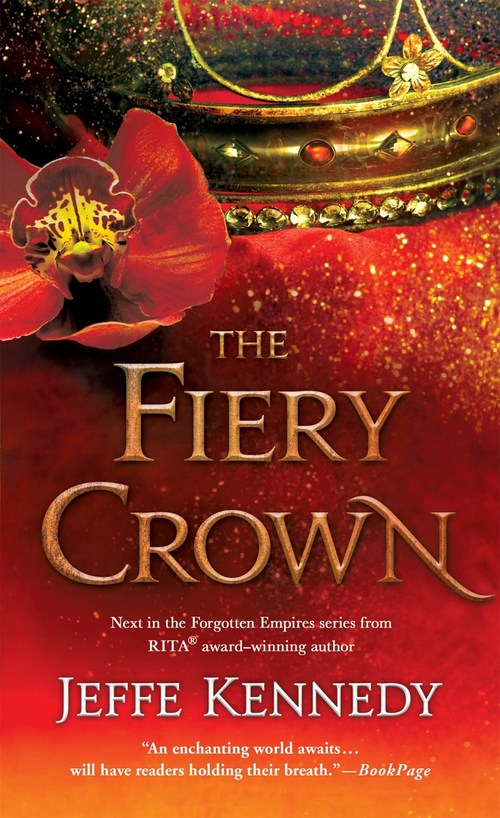 A desperate alliance. A struggle for survival. And a marriage of convenience with an epic twist of fate come together in Jeffe Kennedy's The Fiery Crown.
WILL THEIR LOVE STAND THE TEST OF TIME
Queen Euthalia has reigned over her island kingdom of Calanthe with determination, grace, and her magical, undying orchid ring. After she defied an empire to wed Conrí, the former Crown Prince of Oriel—a man of disgraced origins with vengeance in his heart—Lia expected the wizard's prophecy to come true: Claim the hand that wears the ring and the empire falls. But Lia's dangerous bid to save her realm doesn't lead to immediate victory. Instead, destiny hurls her and Conrí towards a future neither could predict…
OR TEAR THEIR WHOLE WORLD APART?
Con has never healed after the death of his family and destruction of his kingdom—he's been carefully plotting his revenge against his greatest enemy, Emperor Anure, waiting for the perfect opportunity to strike. When Lia's spies gather intelligence suggesting that Anure is planning an attack against Calanthe, Con faces an agonizing choice: Can he sacrifice Lia and all she holds dear to destroy the empire? Or does his true loyalty exist in the arms of his beguiling, passionate wife—'til death do they part?
Romance Paranormal | Fantasy [St. Martin's Paperbacks, On Sale: May 26, 2020, Mass Market Paperback / e-Book, ISBN: 9781250194336 / eISBN: 9781250194343]
Two headstrong rulers must learn to bend to battle a common enemy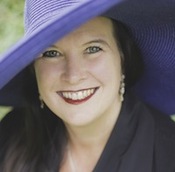 Jeffe Kennedy is an award-winning author whose works include novels, non-fiction, poetry, and short fiction. She has won the prestigious RITA® Award from Romance Writers of America (RWA), has been a finalist twice, been a Ucross Foundation Fellow, received the Wyoming Arts Council Fellowship for Poetry, and was awarded a Frank Nelson Doubleday Memorial Award. She serves on the Board of Directors for the Science Fiction and Fantasy Writers of America (SFWA) as a Director at Large.
Her award-winning fantasy romance trilogy The Twelve Kingdoms hit the shelves starting in May 2014. Book 1, The Mark of the Tala, received a starred Library Journal review and was nominated for the RT Book of the Year while the sequel, The Tears of the Rose received a Top Pick Gold and was nominated for the RT Reviewers' Choice Best Fantasy Romance of 2014. The third book, The Talon of the Hawk, won the RT Reviewers' Choice Best Fantasy Romance of 2015. Two more books followed in this world, beginning the spin-off series The Uncharted Realms. Book one in that series, The Pages of the Mind, was nominated for the RT Reviewer's Choice Best Fantasy Romance of 2016 and won RWA's 2017 RITA Award. The second book, The Edge of the Blade, released December 27, 2016, and was a PRISM finalist, along with The Pages of the Mind. The final book in the series, The Fate of the Tala, will be out in January 2020. A high fantasy trilogy, The Chronicles of Dasnaria, taking place in The Twelve Kingdoms world began releasing from Rebel Base books in 2018. The novella, The Dragons of Summer, first appearing in the Seasons of Sorcery anthology, finaled for the 2019 RITA Award.
She also introduced a new fantasy romance series, Sorcerous Moons, which includes Lonen's War, Oria's Gambit, The Tides of Bàra, The Forests of Dru, Oria's Enchantment, and Lonen's Reign. She's begun releasing a new contemporary erotic romance series, Missed Connections, which started with Last Dance and continues in With a Prince and Since Last Christmas.
In September 2019, St. Martins Press released The Orchid Throne, the first book in a new romantic fantasy series, The Forgotten Empires. The sequel, The Fiery Crown, will follow in May 2020.
Her other works include a number of fiction series: the fantasy romance novels of A Covenant of Thorns; the contemporary BDSM novellas of the Facets of Passion; an erotic contemporary serial novel, Master of the Opera; and the erotic romance trilogy, Falling Under, which includes Going Under, Under His Touch and Under Contract.
She lives in Santa Fe, New Mexico, with two Maine coon cats, plentiful free-range lizards and a very handsome Doctor of Oriental Medicine.
Jeffe can be found online at her website: JeffeKennedy.com, every Sunday at the popular SFF Seven blog, on Facebook, on Goodreads and pretty much constantly on Twitter @jeffekennedy. She is represented by Sarah Younger of Nancy Yost Literary Agency.
No comments posted.