"Two headstrong rulers must learn to bend to battle a common enemy"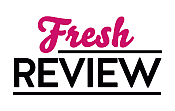 Reviewed by Make Kay
Posted May 7, 2020

THE FIERY CROWN is the second offering in the Forgotten Empires series by romantic fantasy author Jeffe Kennedy. This series is a new world from her other far-reaching fantasy books set in the world of the Twelve Kingdoms. It has a very similar feel, however. Magic and inter-kingdom warring drive this new series just as all her other books were fueled.
Following closely on the first story's heels, book one, THE ORCHID THRONE, we follow Euthalia, the icy queen on the island kingdom of Calanthe. In the previous book, she married Conri, also known as the Slave King, a barbarian rebel who was the former crown prince of Oriel. The kingdom of Oriel was captured years ago by the evil emperor Anure, and Anure now continues to stalk Euthalia and her kingdom of flowers to bring them under his subjugation as well. Anure is delightfully creepy and villainous--an excellent bad guy!
Euthalia is so tricky and haughty that she's very entertaining to watch. Her marriage of convenience is turning out to not be so convenient after all. She and her new husband Conri knock heads constantly as they pursue their often opposing goals of keeping Calanthe out of Anure's greedy mitts while providing for the capture and execution of the nasty Anure and his military. Much of the tension is generated from Euthalia and Conri's inability to work smoothly together, and that really makes the sparks fly! As well, their sexual chemistry creates a different kind of spark that lights up the pages.
We see more in THE FIERY CROWN of how Euthalia's magic is tied to her land. Both Euthalia and Conri thaw somewhat in this novel, becoming less rigid, but still driven by forces outside their control that they struggle mightily against. While they are both hard to root for in their romance given their intractability, it is easy to root against the forces of darkness arrayed against them. I can't wait to see how Jeffe wraps this up in what I assume will be the final book in a presumed trilogy as per Kennedy's usual publishing style. Kennedy's THE FIERY CROWN offers us two brash characters as they come to grips with their unexpected alliance against a wicked empire.
SUMMARY
A desperate alliance. A struggle for survival. And a marriage of convenience with an epic twist of fate come together in Jeffe Kennedy's The Fiery Crown.
WILL THEIR LOVE STAND THE TEST OF TIME
Queen Euthalia has reigned over her island kingdom of Calanthe with determination, grace, and her magical, undying orchid ring. After she defied an empire to wed Conrí, the former Crown Prince of Oriel—a man of disgraced origins with vengeance in his heart—Lia expected the wizard's prophecy to come true: Claim the hand that wears the ring and the empire falls. But Lia's dangerous bid to save her realm doesn't lead to immediate victory. Instead, destiny hurls her and Conrí towards a future neither could predict…
OR TEAR THEIR WHOLE WORLD APART?
Con has never healed after the death of his family and destruction of his kingdom—he's been carefully plotting his revenge against his greatest enemy, Emperor Anure, waiting for the perfect opportunity to strike. When Lia's spies gather intelligence suggesting that Anure is planning an attack against Calanthe, Con faces an agonizing choice: Can he sacrifice Lia and all she holds dear to destroy the empire? Or does his true loyalty exist in the arms of his beguiling, passionate wife—'til death do they part?
---
What do you think about this review?
Comments
No comments posted.

Registered users may leave comments.
Log in or register now!