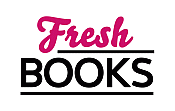 Fall into September books you'll love
Reviews
1 - 20 of 387 ( prev | next )
Darius
by J.R. Ward
"Long-awaited Black Dagger Brotherhood prequel does not disappoint"
Posted September 15, 2023


DARIUS
is the prequel to the blockbuster
Black Dagger Brotherhood
series by world-renowned author J.R. Ward. This novella came out one year ago as an audiobook exclusive
Read more...
Payback in Death
by J.D. Robb
"Homicide cop Eve Dallas stands for one of her own cops"
Posted September 5, 2023


Mega author JD Robb brings another solid futuristic romantic suspense entry in
PAYBACK IN DEATH
, book number fifty-seven in the long-running and well-beloved
In Death
Read more...
Knockout
by Sarah MacLean
"KNOCKOUT is a one-two punch of love and derring-do"
Posted August 22, 2023


KNOCKOUT
is book three in the awesome feminist girl gang
Hell's Belles
series by historical romance author Sarah Maclean. This
Read more...
Make Kay
Make works in Florida, and would love to have more time to get through her massive TBR pile! A lifelong avid reader, Make loves to read book blogs and hear from authors when she is not working or reading.
Features & Posts
2 comments posted.

Re: The MacGregor's Lady (12:44pm February 11, 2014):

Oh yes, I LOVE Scottish accents! That's why Sean Coonery is so beloved,
I think. nd Ewan McGregor totally does it for me too

Re: Everlasting Enchantment (9:26am December 11, 2013):

I'd want a cat shapeshifter, something sleek and sexy. Maybe a panther?