I live in Colorado, so I've done a lot of hiking in the woods.  The only dangers I have to deal with are black bears and panthers, neither of which will bother you if you're making plenty of noise and minding your own business.  Folks in Montana, where Sullivan's Promise is set, are facing something far more frightening—grizzly bears.
My heroine, Victoria Grayhawk, is committed to protecting endangered species, like the grizzly, while my hero, Ryan Sullivan, is a rancher who would just as soon not have the enormous bears making a meal of his newborn calves. You can imagine the conflict between them when Ryan's brother is attacked and mauled by a grizzly, which has to been hunted down and killed.
I learned a lot about grizzly attacks on humans while doing my research for this book, and I have to admit, I may have scared myself out of the woods, the way Jaws scared me out of the water.  Grizzly attacks are few and far between, but they're pretty horrific when they happen, which is a lot more often as humans encroach on areas previously left to the bears in Montana.  So hike with bear spray, stay on the path, walk with a friend, make noise, and if you encounter a grizzly, don't make eye contact, stay calm, and don't run. Hopefully, that's advice you'll never need!
Sullivan's Promise asks you to think about what you would do if you made a decision that you believed at the time was the right one but discovered not long afterward was dead wrong.  My heroine makes the choice to give up her child to its father (they had a one-night stand and are otherwise strangers) but soon realizes she's made a big, big mistake.  However, the child's father isn't so willing to let her back into her child's life. Their evolution from adversaries to lovers is an agonizing and adventurous journey.    
Sullivan's Promise is the final book in my contemporary King's Brats series of Bitter Creek novels, which also includes Sinful, Shameless, and Surrender.  The final book ties up all the "leftover" storylines from the previous novels, so you're guaranteed a satisfying conclusion to this quartet of books.
I love hearing from readers, who can reach me through my website www.joanjohnston.com, at Facebook.com/joanjohnstonauthor, or tweet me @joanjohnston. Â Watch for the next book in my Benedict Brothers series, Irresistible , coming soon.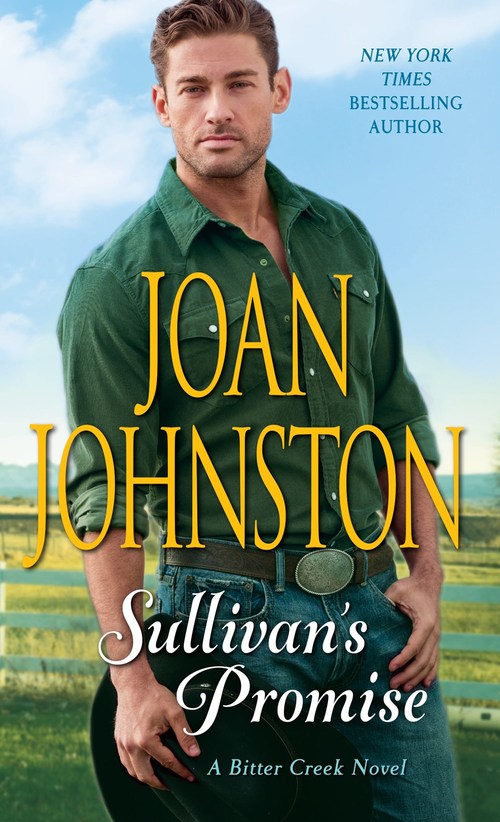 Two unforgiving lovers reunite for the sake of their child in this fiery contemporary romance from the New York Times bestselling author of Surrender.
Facing the unexpected consequences of a life-altering night of passion with a cowboy she met in a Jackson Hole bar, and with her life committed to protecting endangered species, Victoria Grayhawk does what she believes is the right thing. She hunts down the cowboy, seeking his agreement that their baby should be adopted by a loving family.
Montana rancher Ryan Sullivan has no intention of giving away his own flesh and blood, and takes their son to raise himself. When Vick realizes what a horrible mistake she's made, and wants back into their child's life, Rye remains inflexible—because once trust is lost there are no second chances—until an attack by one of the grizzlies Vick has spent her life protecting changes everything and Rye learns that sometimes love can heal all wounds.
Romance Western [Loveswept, On Sale: April 30, 2019, Mass Market Paperback / e-Book, ISBN: 9780399177781 / eISBN: 9780399177798]

A riveting story of love, passion, and forgiveness...

The saga of the Flynn boys and Grayhawk girls comes to a lovely conclusion...
Joan Johnston
is the top-ten New York Times and USA TODAY bestselling author of 54 historical and contemporary novels and novellas with more than 15 million copies of her books in print in 19 languages in 25 countries. Joan has won numerous writing awards including Colorado Romance Writers Writer of the Year, best novel (twice) from the Georgia Romance Writers and a RITA nomination for best short contemporary novel.
Joan has written for Simon & Schuster, HarperCollins, Harlequin and her current publisher Random House, and worked with agents Irene Goodman, Richard Curtis, Denise Marcil, Al Zuckerman, and Robert Gottlieb.
Joan quit her job as an Associate Professor at the University of Miami to write full-time. In order to make ends meet, she wrote five books a year for the next five years. Her hard work eventually culminated in a multi-million dollar deal to write for Simon & Schuster.
Joan has a B.A. in Theater Arts from Jacksonville University, Jacksonville, Florida, an M.A. in Theatre from the University of Illinois in Urbana, and a J.D. from the University of Texas at Austin School of Law. She worked as a director of theatre, drama critic, newspaper editor, college professor, and attorney on her way to becoming a full-time writer—and also raised two fairly normal children.
In order to research her novels, Joan spent six weeks at a cattle station in Australia, traveled to Tahiti, Moorea & Bora Bora, spent three weeks in Viet Nam, two summers in London, and the fall in Rome, took a course in tracking (humans and animals) from a Deputy Sheriff in the Big Bend, and had lunch with a lot of Texas Rangers and FBI guys.
Joan has had season tickets for the Denver Broncos the past two years, even while she lived in Florida — and made 7 out of 10 games last year. She now lives near Boulder, CO where she plays a lot of tennis and hikes when the weather's good.
1 comment posted.