The Rise and Fall of Florence Lawrence, the World's First Movie Star
What makes a movie star? Today we've got the general recipe down: mix bankable films with broad popularity. Add a healthy social media following and sauté in critical acclaim. Garnish with head-turning red carpet appearances. And if you're very, very lucky, pair with a performance of your blockbuster movie's Oscar-winning theme song …
But in 1909 no one knew.
The concept of stardom didn't exist because early movie studios didn't want anyone to know. The thinking went like this: the more popular and "known" actors became, the more money they would demand. Studios kept their performers anonymous—no acting credits were listed—so that if a particular actor became too demanding or difficult, he or she was more easily replaced. Disposability served the bottom line.
Then Florence Lawrence came along, and all hell broke loose.
She was attractive, but no more so than many other actresses of her day, such as Mary Pickford and Lillian Gish, both of whom would go on to be far more successful and well-remembered. What Florence was, besides anonymously popular, was prolific. From 1908 through the middle of 1909, she was featured in over 100 films produced by Biograph, one of the world's top studios at the time. Lawrence was soon dubbed "The Biograph Girl" by the fans who wrote to the studio about her. They were desperate to know her real name because through her films, they felt they knew her.
Unlike stage actors whose faces were obscured by the distance between the seats and the stage, movie actors seemed as if they were only inches away. For the first time, fans could see every shy smile, every tear trickling down a cheek. Through the magic of the close-up, mastered by Flo's director, the famous D.W. Griffith, they'd seen her emotions in intimate detail. She was a regular woman with regular feelings, just like them. They felt she could be one of them, a friend.
This delicious sense of familiarity with someone they had never—and would never—meet, was entirely brand new, and it stoked the flames of fandom like nothing before. They wanted to know everything about her … starting with her name.
She was born Florence Annie Bridgwood in 1886 to a vaudeville performer mother with the stage name Lotta Lawrence. Florence grew up backstage and, inevitably, onstage. At 20, she made her way to New York and found work in the fledgling film industry. In a few short years, she'd become one of Griffith's favorite actresses, with roles in most of the 60 films he directed in 1908. 1909 was stacking up to be no different. Except for the significant increase in her fan mail.
Caught trying to cut a more lucrative deal with rival Essanay Studios, Lawrence suddenly found herself unemployed. Within a few months, she was working for Carl Laemmle's Independent Moving Pictures Company (IMP). "Uncle Carl" as he was called, had the remarkable foresight to understand that while a "star" might command better wages, the public would more than compensate for that loss by paying to see her far more often.
The publicity stunt he concocted was bold and unprecedented. He began innocently enough with an ad in Moving Picture World magazine: her photo with the caption "She's an IMP!" No name, just her new association with his film studio. In February 1910, an obituary mysteriously appeared, no doubt submitted by Laemmle, claiming that she had been fatally run down by a streetcar. In March, he took out a full-page ad with the headline "WE NAIL A LIE," insinuating that the false obituary was a ploy by competitors to ruin her career.
To amp up the drama even more, the St. Louis Post-Dispatch then ran a front-page article on the hoax and notified the public that the very-much- alive Florence Lawrence would soon be making a personal appearance in St. Louis. The public could finally see their darling of the silver screen in the flesh.
The public, as it turns out, was ecstatic about this. The mob that awaited her train was whipped into such a frenzy that buttons were torn from her clothing and she was barely able to make it to the car. Uncle Carl's gamble—that naming Florence Lawrence and increasing her wage was a small price compared to the money he'd make—had paid off exponentially.
It worked out quite well for Flo, too … at first. She was a household name. She became one of the first women to start her own studio, the Victor Company, and her salary soared to $500 per week, a vast sum at the time. By 1912, her small studio was pumping out a "one-reeler" (about 15 minutes in length) each week.
Before long, however, her luck began to turn and her life slowly morphed into a cautionary tale on the price of fame. The Victor Company ran aground with difficulties getting its films distributed to theatres. With Hollywood- worthy histrionics, Flo "retired." Her marriage failed. She had plastic surgery on her nose and tried to reclaim her former glory, but had trouble landing starring roles. She started a Hollywood cosmetics company with husband number two. That marriage failed. A third husband beat her and she divorced him with five months. By 1936 the former star—the original star—was earning $75 a week as an uncredited extra with MGM.
Just after Christmas 1938, Florence Lawrence, age 52, decided she was done. "I'm tired," she wrote in her final note, and then consumed enough ant paste to end her life. Her name—once so sought after by countless adoring fans —is all but lost to history.
Flo's legacy, however, is incalculable. She taught us star worship, and we practice it to this day. The morning after this year's Oscars, I went for a walk with a friend—a sensible and happily married friend.
Her first words to me were, "I'm in love with Bradley Cooper."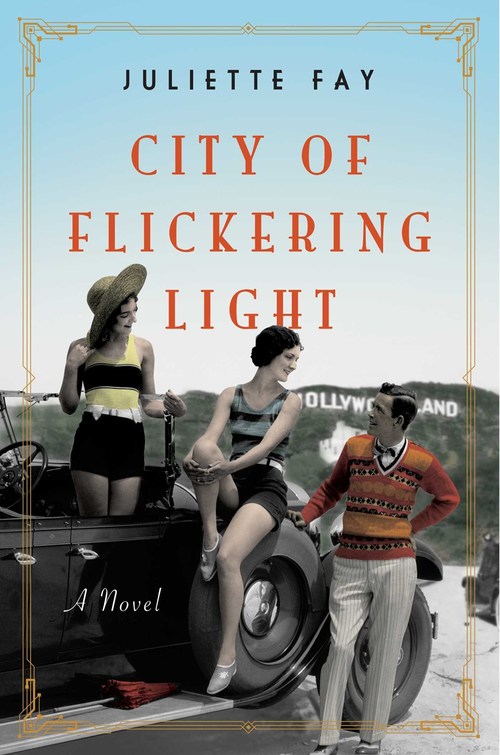 Juliette Fay—"one of the best authors of women's fiction" (Library Journal)— transports us back to the Golden Age of Hollywood and the raucous Roaring Twenties, as three friends struggle to earn their places among the stars of the silent screen—perfect for fans of La La Land and Rules of Civility.
It's July 1921, "flickers" are all the rage, and Irene Van Beck has just declared her own independence by jumping off a moving train to escape her fate in a traveling burlesque show. When her friends, fellow dancer Millie Martin and comedian Henry Weiss, leap after her, the trio finds their way to the bright lights of Hollywood with hopes of making it big in the burgeoning silent film industry.
At first glance, Hollywood in the 1920s is like no other place on earth— iridescent, scandalous, and utterly exhilarating—and the three friends yearn for a life they could only have dreamed of before. But despite the glamour and seduction of Tinseltown, success doesn't come easy, and nothing can prepare Irene, Millie, and Henry for the poverty, temptation, and heartbreak that lie ahead. With their ambitions challenged by both the men above them and the prejudice surrounding them, their friendship is the only constant through desperate times, as each struggles to find their true calling in an uncertain world. What begins as a quest for fame and fortune soon becomes a collective search for love, acceptance, and fulfillment as they navigate the backlots and stage sets where the illusions of the silver screen are brought to life.
With her "trademark wit and grace" (Randy Susan Meyers, author of The Murderer's Daughters), Juliette Fay crafts another radiant and fascinating historical novel as thrilling as the bygone era of Hollywood itself.
Women's Fiction Historical [Gallery Books, On Sale: April 16, 2019, Trade Size / e-Book, ISBN: 9781501192937 / eISBN: 9781501192951]
Three friends dream of finding fame in Hollywood
No comments posted.