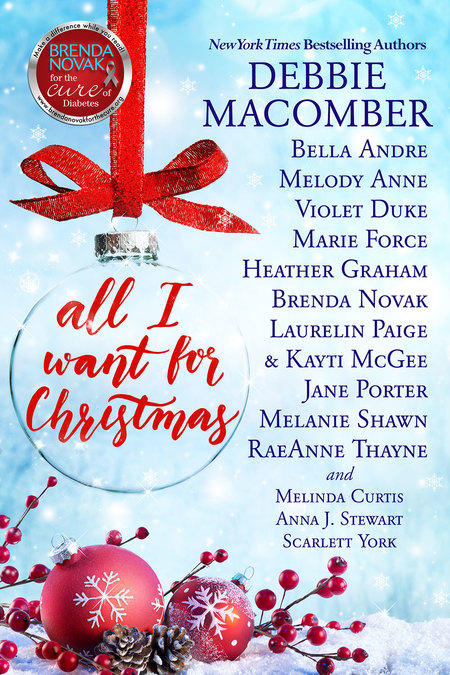 Purchase
Self Published
November 2016
On Sale: November 1, 2016
1750 pages
ISBN: 015685435X
EAN: 2940156854356
Kindle: B01I5UJZKM
e-Book
Add to Wish List

Novella / Short Story | Romance Anthology | Holiday
"5-B POPPY LANE" by Debbie Macomber
Come visit with Helen Shelton, her granddaughter Ruth and Ruth's husband, Paul. They'll offer you a cup of mulled cider and the story of how they met—and they'll share Helen's breathtaking adventures during the Second World War.
"KISSING UNDER THE MISTLETOE" by Bella Andre
For Mary Sullivan Christmas has always been about family. As she hangs her ornaments, she's swept back to the first days of her whirlwind romance with her husband--and the love that would be the foundation on which they built their family.
"FINDING EACH OTHER" by Melody Anne
Brayden Steele gave up his love of Christmas many years ago when he lost his mother and father in a car wreck. But just because he no longer believes in Santa Clause, doesn't mean the magic has given up on him.
"BEFORE THAT PROMISE" by Violet Duke
If anyone can make Drew Lawson believe in the magic of Christmas, it's the mind-wreckingly beautiful Skylar Sullivan. She's the girl-next-door he'd classified as completely off-limits two years ago--and she's standing on his doorstep on Christmas Eve.
"CELEBRATION AFTER DARK" by Marie Force
On the occasion of their 40th wedding anniversary, Big Mac and Linda McCarthy take a look back at how they came to be, while each of their children confront a new challenge in their own lives. Come to Gansett Island to celebrate the holidays and the anniversary of the island's most loved couple!
"A DUNDEE CHRISTMAS" by Brenda Novak
Welcome to Dundee, Idaho, where the town is small but the hearts of the people living in it are large. A woman seeking refuge in an unfamiliar town during a snowstorm is taken in by a man who helps her discover a new sense of home. But Ken Holbrook provides more than safety and comfort because with him, she also finds love.
"UNMATCHABLE" by Laurelin Paige and Kayti McGee
After Jane Osborne is unceremoniously dumped by a rich man, and then invited to his wedding, on (Christmas Eve no less), she decides to hire a date from Craigslist and pass him off as an upgrade.
"CHRISTMAS MIRACLE FOR DAISY" by Jane Porter
When his goddaughter, Daisy, is orphaned, confirmed bachelor Cormac Sheenan adopts her. All goes well until Marietta's seasonal Santa Claus promises his daughter a mommy for Christmas. Cormac is livid, until his old flame Whitney Alder comes back to town.…
"CHRISTMAS WISH: A HOPE FALLS HOLIDAY NOVELLA" by Melanie Shawn
For the movie star and the single mom, will a Christmas Wish become their new reality?
"A COWBOY'S CHRISTMAS MIRACLE" by RaeAnne Thayne
Widow and caterer Jenna Wheeler is determined to spin Christmas into the stuff of magic for her four children, even if that means helping out her new landlord, sexy billionaire Carson McRaven. At first, Carson wants nothing to do with Jenna, children or the holidays, but he has a little to learn about the spirit of Christmas.
"THE NIGHT BEFORE CHRISTMAS" by Melinda Curtis
Simon Castle' s on his way to a make-or-break meeting unseasonably scheduled for December 25--until the gorgeous redhead subbing for his limo driver takes him on a detour.
"GINGERBREAD DREAMS" by Anna J. Stewart
Can carpenter Hamish MacFadden show free-spirit Essie Goodman how magical family--and Christmas--can be?
"VANISH" by Scarlett York
A desperate beauty and an immoral beast… art historian Penny North is desperately searching for the Rosa, a priceless Christmas ornament that went down with her great-great grandfather in World War Two. The heirloom, once belonging to the Russian royal family, is worth enough money to save her father's life… but is roguish sea captain Will Scott friend or foe?
ONLY AVAILABLE UNTIL DECEMBER 31ST, 2017!
Comments
No comments posted.

Registered users may leave comments.
Log in or register now!