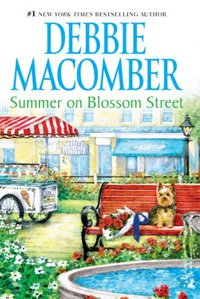 Purchase
Blossom Street #5
MIRA
May 2009
On Sale: May 1, 2009
352 pages
ISBN: 0778326438
EAN: 9780778326434
Hardcover
Add to Wish List

Romance Contemporary | Women's Fiction
Knitting and life. They're both about beginnings — and endings. That's why it makes sense for Lydia Goetz, owner of A Good Yarn on Seattle's Blossom Street, to offer a class called Knit to Quit. It's for people who want to quit something — or someone! — and start a new phase of their lives.

First to join is Phoebe Rylander. She recently ended her engagement to a man who doesn't know the meaning of faithful, and she's trying to get over him. Then there's Alix Turner. She and her husband, Jordan, want a baby, which means she has to quit smoking. And Bryan Hutchinson joins the class because he needs a way to deal with the stress of running his family's business — not to mention the lawsuit brought against him by an unscrupulous lawyer.

Life can be as complicated as a knitting pattern. Just ask Anne Marie Roche. She and her adopted daughter, Ellen, finally have the happiness they wished for. And then a stranger comes to her bookstore asking questions.

Or ask Lydia herself. Not only is she coping with her increasingly frail mother, but she and Brad have unexpectedly become foster parents to an angry, defiant twelve-year-old.

But as Lydia already knows, when life gets difficult and your stitches are snarled, your friends can always help!
Comments
21 comments posted.
Great question! Usually it is a non-fiction person I really connect to and wish I knew. As for fiction, I think it might be fun to be Stephanie Plum's friend. She has the hottest guys hanging around her, a very funny family and hey her job is never dull!
(Sari Nichols 11:56am March 8, 2009)
I get personally involved with all well written characters. If I can't I don't enjoy the book.

Ray
(Ray Getzinger 12:17pm March 8, 2009)
I have been reading Robyn Carr's Virgin River series and I would love to live in Virgin River and eat at Jack's Bar. I love all the characters in this series.
(Judy Anderson 12:38pm March 8, 2009)
I would love to be a character in Jan Karon's Mitford series. I'm not really sure which one, but I love the whole concept of that town and the people in it.
(LuAnn Morgan 12:42pm March 8, 2009)
Good topic Sandi! I do become involved with characters in many of the books I've read but usually move on and forget them after a few days. The Outlander books by Diana Gabaldon are an exception. I still remember so many of the characters and wish I could be part of their story and time. It has been a while since I finished the last book but a new one is coming in Sept. and I find myself wondering what Jamie and Claire, etc. will be up to. I also always enjoy returning to the J. D. Robb books and my favorite characters.
(Mary Perry 12:46pm March 8, 2009)
Since I read mainly historical I find myself wondering about what it would be like to escape to that place and time. I've read many American historicals and thought wouldn't it be nice to escape to that small town in that simpler time, or to escape to London during the Regency period and be all decked out in a ball gown dancing till dawn. I have many characters and places I'd love to be a part of, so many I can't name. That is the sign of a good book, being able to escape reality for a period and become part of another time and place.
(Shauna George 1:40pm March 8, 2009)
I love those Blossom street books and I'm looking forward to this one coming out. My fav is the historical books.
Penney
(Penney Wilfort 2:22pm March 8, 2009)
I would like rather to be in a true historical setting-perhaps Florence during the Ranaissance, I of course, would be Catherine D'Medici with all the attendant splendor and intrigue.
(Dawn Raymer 3:20pm March 8, 2009)
Yes, I do get involved in the characters in a book. Like Judy L. I'd love to be in Virgin River! Not sure I want to live in a town that small but the concept of it & the people are wonderful. I can't wait to read the next book. Catherine Anderson also writes about a small town with caring people, mostly of two families in the area. That is a part of Oregon I'm quite familiar with so maybe that is what draws me in more knowing a place or an area. I like those characters in a book that you would like to know. Yes, I also like Debbie Macomber.
Sandi, I've tried knitting, I wasn't a success!!!
(Donna McClure 6:33pm March 8, 2009)
If anything, I think I would like to be able to go forward in time. Maybe 100 to 200 hundred years from now if we haven't totally destroyed our planet. Just as a watcher, mind you, not to live in that era. (wouldn't want to mess up the timeline *g*). And I love books about the United Kingdom regardless of the time frame. Some characters in books seem to remain with me more than others, and some I would like to have known.
(Ruby Davis 7:57pm March 8, 2009)
What an interesting topic, Sandi - and not something I've really thought about before. Now I'll be thinking . . .
(Laurie Damron 9:38pm March 8, 2009)
I get involved in most of the books I
read, and usually relate to one
character. Just finished Dakota Born,
by Debbie Macomber. I can relate to
the town and several of the characters.
I usually relate to historical characters
more than contemporary ones. Our
whole family seems to have been born
in the wrong century.
(Patricia Barraclough 10:00pm March 8, 2009)
Sometimes I can find myself relating to a herione. Just depends on how her life has been and what she's gone through. I tend to really involved in a book at times. So involved that when I go to sleep I will dream that I am the heroine in the story.
(Debbie Beverley 10:29pm March 8, 2009)
Interesting question-I feel that if I can remember the story after I put down the book then I've been involved and that's the sign of a good book IMHO off hand only one character comes to mind--Eve Dallas and Roarke LOL
(Barbs Ferris 11:23pm March 8, 2009)
First of all Sandi good question. My answer is like Sari It would be Stephanie Plum life. There are times I would like to knock Stephanie's cousin on his butt, also I would like to meet LuLu Grandma Mazur, or Connie because I think I would get along with them perfectly. In other words be another troublemaker for Joe to go oh boy now what.
(Maggie Roso 4:35am March 9, 2009)
Sandi, I think I started living with the characters in a book with the "Little House on the Prairie" books in 4th grade. I think any woman in her right mind would want to be Eve Dallas in the J.D.Robb books and be married to Roark. I wouldn't mind those auto-chefs either!
(Ilene Pedersen 9:39am March 9, 2009)
I prefer series over stand-alone simply because I start feeling as if these people are my friends and I don't want to leave them.
(Kelli Jo Calvert 11:01am March 9, 2009)
Some of my favorite stories are with big families. For that reason I love Catherine Anderson's "Coulter" family series. On a different track, I absolutely put myself in place of Eve in the "In Death" series. I love how she's developed such strong friendships and even sibling like bonds with her coworkers and others she's met over the course of a couple years.
(Tina Sporer 10:45pm March 9, 2009)
I feel the same way, if I am not wrapped up in a series so that I can see, feel and desire to go to this store or that eatery... then they haven't writtenn a book that really pulls on my senses. I love Francis Ray's Grayson family series and would love to visit Alberquie (sp) and visit Casa de Hospitality, but of course that hotel is not there, as the restuaruant that is owned by the middle brother. Both sound like great places to go and hang out with great people.
(Melissa Tackett 9:53am March 15, 2009)
I like to imagine the books I read as if it were a movie and I was the director...and cast the roles....then I read it as if it were a script....once I relate the character to the actor/actress that should play the role....it is more fun to read it
(Susan Bryant 11:00pm April 13, 2009)
Because T.V. did not come to our small town until I was in college, I had developed an imagination when I read, which was every chance I got. I still prefer a good book to a T.V. show. My imagination is alive and well when I read. If the setting is not mentioned at the beginning, I stop until I can find out where the story is set. I have to fix that in my imagination...works for me.
(Louise Jacobson 1:20am October 11, 2009)
Registered users may leave comments.
Log in or register now!