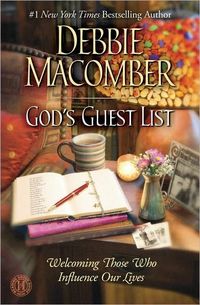 Purchase
Welcoming Those Who Influence Our Lives
Howard
November 2010
On Sale: November 2, 2010
208 pages
ISBN: 143910896X
EAN: 9781439108963
Hardcover
Add to Wish List

Who is on God's "guest list" for your life . . . and why?
The answers may surprise you.Through touching true stories and inspiring insight Debbie Macomber takes readers on a journey to discover the shaping influence others have on us and the power we have to shape and influence those whose paths cross ours.Each of us have "influencers" that have affected our lives--some from a distance, some through word or deed, some through example, be it good or bad.
Often we don't even recognize the deep impact others have had and how God has used them to shape us into who we are. By pausing to recognize these influences we begin to grasp how God's guest list had a purpose far beyond what we imagined. We begin to see the seeds of influence that grew into our personal values and character.In some people God invites into our lives, we see only what appears to be painful or negative influence. We bear the scars of disappointment, hurt, betrayal, and pain.
Here Macomber redirects our attention, opening our eyes to how those experiences prompted strength, resilience, resolve, decisions, and choices about how we would change and who we would become. In other instances, God has surprised us with just the people at just the right time to support, teach, lead, or love us, but perhaps we haven't quite recognized God's timing and work through these "guests."But perhaps the greatest treasure this book holds is the power to grasp our own power to influence others, and even to anticipate what lives we have yet to touch. In the tradition ofHow to Win Friends and Influence People, Macomber casts a vision to seize every opportunity to be a positive and faithful influence on others. With this realization comes the willingness and anticipation to live with the door of our lives wide open to greet each new life God brings across the threshold.God's Guest Listis filled with true stories and rich insight that will forever change how you see the people in your life.
Comments
No comments posted.

Registered users may leave comments.
Log in or register now!