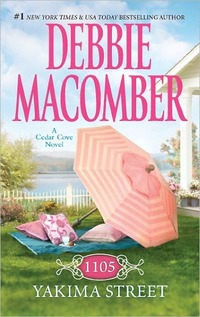 Purchase
MIRA
September 2011
On Sale: August 30, 2011
400 pages
ISBN: 0778312518
EAN: 9780778312512
Paperback
Add to Wish List

1105 Yakima Street, Cedar Cove, Washington
Dear Listener, You've probably heard that my wife has left me. Rachel's pregnant, and she says that she can't handle the stress in our household anymore. My thirteen-year-old daughter, Jolene, is jealous of her. Maybe it's my fault. As a widower I spoiled her – Jolene was reading over my shoulder just now and says that's not true. She claims Rachel ruined everything. But that's not true. The real question is: How can I get my wife back? I don't even know where she is.
She's not with Teri Polgar or any of her other friends from the salon. The other question is…when will Jolene grow up and stop acting like such a brat? Of course, I'm not the only one in town with problems. Linc Wyse's father- in-law is trying to destroy his business. And you know Charlotte Rhodes? Seems she's becoming forgetful, and the family's worried about her and Ben. Lots of other stuff going on – but Rachel is better at keeping up with it than I am. If you have any idea where my wife is, please give me a call. Please.
Comments
1 comment posted.
The Cedar Cove series from Macomber was and is in my opinion the grandparent of small town series. No one who writes continuing series set in small towns does it quite the way that Debbie Macomber does.

1105 Yakima Street is no exception to the long established pattern of the Cedar Cove Series. You get one complete story about a family, but also get to revisit other residents and catch up on their lives, without their issues clouding the main character's story.

I can only imagine how hard it is to write a story and have such a vast variety of characters to keep up with, and have totally enjoyed visiting Cedar Cove over the years. As I turned the last page of 1105 Yakima Street it was with mixed emotions as I was totally satisfied with the conclusion of Rachel and Bruce's story, but knew that with the publishing of 1225 Christmas Tree Lane a long running favorite series would be ending.
(Sandi Shilhanek 2:16pm August 18, 2011)
Registered users may leave comments.
Log in or register now!