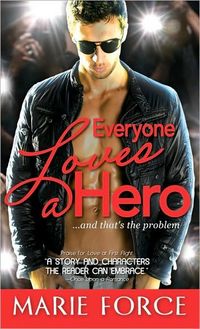 Purchase
and that's the problem...
Sourcebooks
February 2011
On Sale: February 1, 2011
Featuring: Olivia Robison; Cole Langston
416 pages
ISBN: 1402245742
EAN: 9781402245749
Mass Market Paperback
Add to Wish List

Everyone loves a hero. That's the problem.
Hero pilot Cole Langston is learning to live with—and enjoy—his newfound fame and the rabid female attention that comes with it until a lucky punch knocks some sense into him and opens his eyes to true love.
When his copilot suffers a heart attack in flight, Cole lands the jetliner in a blizzard and revives the stricken captain. Catapulted to national hero status, Cole has more women vying for his attention than he knows what to do with. They all have one thing in common: they try without success to bring this happy-go-lucky pilot down to earth.
Then comes an airport altercation, a punch to the face, and the lovely Olivia—a shy, timid artist who does what no other woman has ever managed to do: steal Cole's well-protected heart. With women coming on to him everywhere they go, Olivia struggles to believe that Cole is ready for a committed relationship. His biggest problem is getting rid of all his extra ladies before the only one he wants figures out that she's one of many.
Comments
70 comments posted.
I haven't had my moment yet but if I did, I would like to think I would act in the right manner - but then a part of me thinks that I might freeze in the moment as well.
(Kasey Armstrong 1:24am February 2, 2011)
My moment hasn't come. I'm still a work in progress so hopefully by the time the
moment comes I'll have evolved into a person of action.
(Sue Ahn 1:53am February 2, 2011)
I have not been a hero yet. But on January 9, 2011 I lost my biggest Hero, my father to liver cancer. He was 84 years old and was a World War II and Korean War Veteran. He served our country so we all could be free. There are many other heroes who have served this country and are still serving this country. Take time to give them the honor, they so much deserve. We are Free because of their sacrifices. Thank You.
(Cheryl English 5:17am February 2, 2011)
I'd like to think that everyone has many moments when they make a difference. I think that the moments we think matter the most pale beside the ones that actually rocked someone's world...in an encouraging word or a small action that seemed quite unimportant at the time.
(Pamela Stewart 5:42am February 2, 2011)
I had a moment with my nephew jumping into a pool at about the age of 3 or 4 and I jumped in after him. Just an instinct. I guess you never know until the situation arises.
(Joanne Reynolds 6:12am February 2, 2011)
I haven't had my moment yet but I'd like to think I would act instinctively
and honorably. Hubby had his moment back in 2003. We were out for an
evening walk when a dog started barking, growling, and lunging at us.
Although hubby is afraid of even the smallest dog, he protectively shielded
me with his body. Luckily, the dog's bark was worse than his bite.
(Mona Garg 6:49am February 2, 2011)
I rescued my little Spaniel from a very angry German Shepard, and got a few bites myself. I guess that I was a hero to the spaniel.
Blessings,
Marjorie
(Marjorie Carmony 8:17am February 2, 2011)
When I was walking my toy poodle a large dog came charging across the field at us. He hid behind me, I made myself look as big as possible and growled at him to 'BACK OFF'.(My throat hurt for days!) He was so surprised he stopped and just looked at me. Eventually the owner came and got him - no apology for scaring me though. I'd like to think I would walk over hot coals to save my children too.
(Barbara Hanson 9:04am February 2, 2011)
I have not had a moment like that yet but I would hope to do the honorable thing. Thanks for the chance to win a book!
(Aleksandra Nearing 9:20am February 2, 2011)
I've had a few moments, but they mostly involve my nursing career, and I can't say that any of the lifesaving I've done has brought me fame. It's just part of the job. I did, however, get a kiss from a man who couldn't pee after I got a catheter in him when no one else could!
(Cheryl Brooks 9:30am February 2, 2011)
Oh, this one I WANT. Just the cover alone calls to me...what was the question. The hero thing.

Yes, I've had a few moments. One my hubs likes to talk about, but I never gave it a second thought; I just acted. Long story -- short. We were in a parking lot of a fast food restaurant one evening, young mother not paying attention to her toddler (she was talking on her cell phone), child ran out into the parking lot, I grabbed the kid, returned to mother with a dose of My Motherly Advice. Yes, I ran out into traffic, but the child was safe. Mother could have used a good thrashing though.
(Cynthia Netherton 9:42am February 2, 2011)
I'd like to think I"d be heroic, but oftentimes one would
freeze in thought or action. Still, I'd like to think I'd the
right thing!
Great interview..
(Leanna Morris 9:45am February 2, 2011)
Duck and Cover SHOULD be the safer method. It reminds me of my elementary school days when we practiced the duck and cover method to protect us from an atomic bomb attack. Wouldn't have worked then either. But, the word to remember is practice. I attended a self defence course for women and we were taught to anticipate and react. Constantly be award of your surroundings (ballgame) and anticipate what might happen (incoming ball). It prepares you for when it actually happens because by then you have thought of many alternatives (hide behind a BIG man - not a little grandma).
(Karin Tillotson 9:54am February 2, 2011)
Wow, so many stories of heroism. Cheryl--yours made me LOL! I have no doubt
that you prevailed where others failed!

Thanks for all the great stories! I love hearing how you all have stepped up for
children and pets.
(Marie Force 10:28am February 2, 2011)
I have not had my moment yet, I do not always keep a cool head so I would hope that I would be able to do what I could and should do. I have recently lost my mother way too soon although she was 85 and battling Alzheimer's, I was the one who made decisions because another family member just had a difficult time, so maybe I have had a little of my time. Thanks!
(Deana Connelly 10:30am February 2, 2011)
I can't think of any moment, yet. I hope when it comes, I can "catch the ball." Enjoyed your column; thanks.
(G S Moch 10:35am February 2, 2011)
We should all have" A the moment" Good Luck, i think your books are great
(Doris Stewart 10:39am February 2, 2011)
Thank you for sharing your baseball hero story.. I couldn't help but smile while thinking back to my son's baseball days.
I haven't had my big heroic moment yet. I would like to think that if it ever does come, I will act heroically and honorably. My luck everything would happen so quickly..and I'll be thinking should have, would have & could have afterwards...
Everyone Loves a Hero sounds like a great story I definately don't want to miss.
(Christine Stack 10:46am February 2, 2011)
The older I got the more assured I was that I could be heroic and courageous in a stressful time. I didn't find out how wrong I was until my best friend faced ovarian cancer and was told she had only a few years to live.

Sheilah was the most heroic woman I have ever known. She taught not only me but so many people in our community who is true hero is. She fought not only to live life for her sons but also for her grandchildren and taught us all how to be joyfull during adversity. Even when setting up her chemo appointments she would say I'm very busy living so let me check my calendar first! She lived far longer than any docter predicted but she will live forever in our hearts and prayers.
(Jeanne Miro 10:48am February 2, 2011)
I too have wondered if I could be a real hero. There have been two occasions when I helped--or tried to help--my much younger sister. The first time she was about 2 years old and had walked out onto our balcony where she began to scream. I couldn't figure out why until I realized that the balcony was covered in some sort of roofing material with a base of tar, which had begun to melt in the summer heat, and she was out there in bare feet. I yanked her inside as fast as I could and my mother took her to the hospital by taxi. Poor baby. It was a while before she was able to walk again. About 4 years later, she again walked out into a dangerous place. We lived backed onto a river then, and she decided to go for a walk in it. Unfortunately, she found something that cut her foot this time. When we got her inside, it was my job to hold up her bleeding foot above the bathroom sink in an attempt to get the bleeding to stop. I was an ignominious failure: I started to feel very queasy and passed the job off on one of her little friends, so that I could lie down before I brought up. At least my sister has a strong stomach; she became a nurse--the last job I ever wanted.
(Sigrun Schulz 11:10am February 2, 2011)
As a nurse I have had my share of saving people thru CPR, administring drugs and just providing good nursing care. I worked psychiatric for quite awhile and was able to assist many people thru live altering problems. So I guess I have had some heroic moments. Now my heroics are devoted to raising my twin granddaughters.
(Carol Donnermeyer 11:35am February 2, 2011)
We will never know how we will react until we are faced with a crucial situation.
(Anna Speed 11:49am February 2, 2011)
My hero is my son Julian, 14 yrs. old, he is in the 8th grade
and just completed his 2nd year in Cross Country. He is #1 in
his school and they will have him working in the summer for
the high school level. I have pick-up running and hope to do
a 5K run in November. What your kids can teach you.
(Cynthia Plaza-Harney 12:08pm February 2, 2011)
A small hero moment shared with my son. We rescued 4 feral kitties from outside through many, many attempts. Since, have invited them to stay in our house, now over run with cats! :)
(Susan Davco 12:13pm February 2, 2011)
sounds like sumeone I'd like to meet
(Sherlene Stanley 12:18pm February 2, 2011)
I did have my moment and was a complete failure. At a
store parking lot a mother was really screaming at her
kid. It was something that made me think I needed to say
something for that child. But, being in a state with
legally conceled guns, I was cowardly and said nothing.
Had she hit her, I would have said something. People
here have been shot for someone thinking they were
disrespected, so I failed out of fear. Should the chance
come again, I think I will do better.
(Linda Howell 12:32pm February 2, 2011)
Twice I have had a moment where instinct kicked in... handled things and then when everything was over had the shakes... at least I know I can handle emergencies... later decompress...
Sounds like another great book to add to my list!
(Colleen Conklin 12:33pm February 2, 2011)
I haven't had my moment yet...but I would like to think that I
would step up to the plate and do the right thing.

Can't wait to add this one to my shelf!!! I love all your
books and I know this one will be a winner too.
(Kara Tulanko 1:34pm February 2, 2011)
I don't guess my moment has come - but I sure hope I'm able to step up! :)
(Kelli Jo Calvert 1:38pm February 2, 2011)
I used to teach children that were severely disabled. I came back into my room, after my break. A child that was non-mobile had somehow managed to wrap a cord to a toy around his finger, which was turning black. The aide didn't see it. I very calmly asked her to get a pair of scissors, she had completely lost it and was panicking. I got the string off and he was fine. My aide felt awful, but she shouldn't have, she watched those children, like they were her own. She told me, that if there was ever a fire, she wanted me with her.
twoofakind12@yahoo.com
(Debbie Penny 1:41pm February 2, 2011)
I have rescued more stray pets who have accidentally strayed and returned them
to their owners. They seem to gravitate to me and prefer to stay with me until
they are returned home. I may not have been chosen to help humans but have
been there for our four-footed friends who are innocent of what they do not
understand.
(Sandra Spilecki 2:10pm February 2, 2011)
Please enter me in your fantastic contest to Win Everyone Loves a Hero. I love entering and winning contests on freshfiction.com
Thanks and God bless everyone, Cecilia
(Cecilia Dunbar Hernandez 2:14pm February 2, 2011)
I don't think of it as heroism but my friends and family are constantly seeking my support and advice when handling challenges because I stay calm and positive. I like to think I'm doing something right and maybe someone's everyday hero. Sounds like a great read.
Good luck and happy writing!
(Tracie Travis 2:19pm February 2, 2011)
I love books of all gene, I read about 3 -4 books per week, Barnes and Noble love me.......lol
(Joanne Bozik 2:38pm February 2, 2011)
My moment was when I met my husband at 35 and we decided to have a child which happen 3 yrs later- under a very strenuous and difficult labor- y beautiful daughter came into the world, followed 2 years later by another one. The decision to have a child later in life and the moment I met my husband and knew that he was the man for the job. That was my moment.
(Clicia Tremblay 2:42pm February 2, 2011)
Hi, Marie! Everyone Loves A Hero sounds like my cup of tea. I look forward to reading it.

Thanks for your story about the elderly lady and you. I had a good laugh over that one. Don't worry though because next time you will come through with flying colors.

I haven't had my heroic moment yet, but hope that when I do, I will be cool, calm, collected, and helpful.

My real heroes are our military in Iraq and Afghanistan and the ones that came before them. I also recently lost my dad who was in World War II. Also, firemen and policemen are my heroes. They put their lives on the line every day.
(Cathy Phillips 2:49pm February 2, 2011)
I haven't had my moment unless you count this moment. My mom
picked up three of us after school each day. We were all
neighbors so she drops of Susan, then stops to drop of Pam
and then precedes home to drop me off. We live on the street
in front of Susan and Pam, with Pam's house being directly
behind ours. By the time we had turned the corner and pulled
into our driveway, there stands Pam with blood pouring out
of her arm. We put her in the back seat where luckily I have
my gym clothes, so I dig out a towel and wrap it around her
gushing arm. Her younger brother had slammed the door in her
face as she ran up on her porch and she had put her hand up,
missing the wood and running her arm through the glass.
Luckily, we only lived 5 minutes from the hospital. I held
the towel on her arm and went with her into the emergency
room while my mom called her mom. They let me stay and hold
her hand till her mom got there, which only took another 5
to 10 minutes as she worked very close. They put over 200
stitches in her arm, most of which I witnessed. Finally,her
mom arrived and they let me go out into the hall where I
promptly passed out. I woke up on a stretcher next to her.
We still laugh about it today!
(Lisa Richards 3:26pm February 2, 2011)
No moment yet for me--and I'm getting up there in age so maybe I'm just not recognizing my moments or expecting them to be too momentous!
(Sue Farrell 3:50pm February 2, 2011)
I have enjoyed your books; and would love to win this one. Best wishes with it.
(Helen Livermore 4:05pm February 2, 2011)
I am soooooo loving all the stories! OMG, I am such a WIMP compared to some
of you ladies! The blood, the animals, the tar! Y'all are warriors. I am going back
to hang my head lower in shame. LOL! Thank you all so much for sharing such
great stories!
(Marie Force 4:21pm February 2, 2011)
I've gone thru times when my friends have had only months to live and they died, and have gone through eight surgery's myself, and may have another. Also had to fight bacterial spinal meningitis. I think I've had my moments by sucking it up and saying I was doing fine and bein there for my two friends that did die of cancer.
(Brenda Rupp 4:25pm February 2, 2011)
I have not yet had a 'hero' moment - I do hope I get the opportunity to be one! I've enjoyed reading Marie's story as well as all the comments - some definite heroes there. And I agree that all our men and women in the military, in the police and fire departments are true heroes - I stand in awe of their courage. I also think there are many heroes in the medical profession, too. Marie, thanks for bringing them to life for us.
(Karen Cherubino 5:06pm February 2, 2011)
This one I am so looking forward to reading, sounds like a very good read!!
(Joyce Bruner 6:11pm February 2, 2011)
I think it's a natural human reaction to want to be heroic when put in a certain situation. But there is just no telling until your in that moment of what you will do.
(Leni Kaye 6:20pm February 2, 2011)
I don't think most of will ever have the opportunity of a big hero moment like your hero, but sometimes just getting thru a particularly hard day is the best we can do. My thoughts are with those in our armed forces overseas who get thru their days with quiet courage.
(Diane Sallans 6:31pm February 2, 2011)
He sounds like the guy I want in charge of my flight!
(Margay Roberge 6:38pm February 2, 2011)
Deciding to end of begin a relationship is also a remarkable time. Great cover!! Where do you get these guys??:)
(Maria Antunes 7:11pm February 2, 2011)
I haven't had a big heroic moment but maybe a small one. Our neighbor's 4-year old was in the lake and I saw a snake swimming near her. I was afraid it was a poisonous water moccasin. My mind just went blank. Then I waded in, picked her up & got us to shore. The snake was probably as scared as I was but I couldn't risk it.
(r w 8:19pm February 2, 2011)
My hero is not so big and famous as your hero but is everything to me. Mine is my best friend,and lover. I would trust him with anything. But I really want to read your book..just love romance.
(Kathleen Bianchi 8:21pm February 2, 2011)
I don't think that I have had one but I do help people as much as I can, Doing things from helping a women who is out of gas to volenteering for all kinds of things
(Vickie Hightower 8:22pm February 2, 2011)
I hope that I would act heroically but fear I would freeze or duck for cover instead...
(Robin Daily 9:01pm February 2, 2011)
Maybe we all have a moment but just don't recognize it but someone might.
(Mary Kelly 9:53pm February 2, 2011)
Have been waiting for this book to come out. I havent had a heroic moment either. But will be enjoying this book I am sure. Maybe sometime in the future, my heroic thing will happen, but no biggie if it doesn't.
(Pat Lieberman 9:56pm February 2, 2011)
I haven't had my hero moment, but I was lucky enough to be the mother of an amazing hero. Ben battled cancer from the age of 4 until it took his life 5 1/2 years later. Throughout all that time, he never once complained. He never let his illness interfere with the business of being a little boy. Through it all, he attended school, played baseball, was a cub scout and inspired all who knew him, children and adults alike. He had so many "hero moments." One that comes to mind now (possibly inspired by your baseball story, Marie) is when he comforted a little girl on his team after she was hit by a baseball. Ben went to her in the dugout and told her to think happy thoughts because then it wouldn't hurt so much. Her mother came to us after to tell us how much Ben's thoughtfulness had meant to her daughter. He still continues to inspire me and many others, 7 years after his death, by the way he lived his life with such courage and heart.
(Nancy Haight 9:56pm February 2, 2011)
I would have to say that I've had my moment, or at least I think I have. My Mother had Alzheimer's, and not only did I have to help my Dad take care of her, I had to prepare my Dad for her passing, when I knew the time was coming near. At the funeral home, I don't know how many times I heart my Dad telling people he didn't know how he could have gotten through things without my help. I really wasn't up to the task at the time, but my Sisters weren't there, and I did it out of love.
(Peggy Roberson 10:03pm February 2, 2011)
Love this review. Thank you so much!
(Marie Force 10:29pm February 2, 2011)
I have never had the opportunity to be a hero but if given the chance I hope I do what is right (hopefully my Mom is not there with me when I have to step up). Not to be disrespectfully, my Mom has a habit of telling everyone in the family it is too dangerous to take that risk. I'm just a rebel. What is life if it doesn't have a bit of excitement and adventure.
(Kai Wong 10:33pm February 2, 2011)
Thank you all so much for sharing your heroic stories today. Smaller acts of
kindness are every bit as heroic to me as the grander moments. To Nancy and
others who have suffered unimaginable losses, you have my sympathy and
respect. Nancy, I'm so glad you have such a wonderful memories of Ben. I
hope they bring you comfort.
Hugs to all of you!
Marie
(Marie Force 10:36pm February 2, 2011)
Nancy, so sorry for your loss and Ben sounds like he was a woncerful little boy.

I am sorry to say I have not had any hero moments myself. My husand is my hero. He is a wonderful father and person.

Marie, I cannot wait to read this book.
(Karen Triolo 10:54pm February 2, 2011)
lucky stuff is the book here in las vegas.
(Sarah Colbert 10:55pm February 2, 2011)
I love your baseball story (I'm glad neither of you were seriously injured)!! I don't think I would do any better (besides, it's instinct to duck and cover, and difficult to go against instinct!).
(Michele Lawrence 10:59pm February 2, 2011)
As a nurse, there's plenty of heroic moments in the hospital and beyond. There was a patron at the library who had an episode where I gave first aid until the paramedics arrived. The library tech person did the right thing by immediately calling 911. He was so grateful that I helped, yet to me, this is what I'd expect someone in the medical field to do.
(Alyson Widen 11:13pm February 2, 2011)
I haven't had my moment yet, but if it was to happen I would like to think I'd be able to handle it properly.
(Athena Da Rosa 11:30pm February 2, 2011)
Great story.
(Ginger Hinson 11:58pm February 2, 2011)
I would love to win and review this book. I entered to win it on goodread just a moment ago too. It sounds very interesting.
(Jane Squires 2:40am February 3, 2011)
I haven't had my moment, but I hope that I handle it well when and if it comes!
(Cheryl Castings 3:52pm February 3, 2011)
I haven't had my "hero" moment, but I hope I'd prove worthy.
Your books sounds very interesting.
(Ann Garland 12:13pm February 4, 2011)
I have not had a personal hero moment yet, but would think I would be able to react -- esp if it concerns my children one of which has a peanut allergy. We don't often think about how these moments really do change peoples lives forever, sounds like a good read.
(Kelly Holt 12:54pm February 6, 2011)
Hi Marie, I can't wait to get ahold of your books!! They all sound amazing. I just downloaded At First Flight to my kindle and am super excited to finally have one of your books. I would say that yes, I did have my moment when I was 19. I met my husband a few months before graduating highschool. We had a whirlwind romance and was engaged one month after meeting. We just knew. We fought my family and friends for respect and understanding, but never asked for permission. Where once, everyone thought we would fail, we have thrived and have earned that respect. We have been together for 10 years and have an amazing relationship. We've grown and we've hit rough patches. We met in April, were engaged by the end of May and I found out I was pregnant towards the end of August. It was scary. I just turned 19, right out of highschool and just moved out from my mom's. I was planning on going to college at some point, but I was enjoying my fiance and enjoying being on my own. All of a sudden I find out I am going to be a mom. It was an intense moment for me. My first thoughts were to get an abortion. I wasn't ready for this. I already dissapointed my entire family be getting engaged, I couldn't imagine the reaction I would get when I told them I was expecting. They already had doubts about me and my fiance actually being able to make this work, thinking it was just lust. I was determined not to tell my family and end it and even went so far as to make an appointment. When I first went in and had my exam and heard the heartbeat for the first time, things became real. I couldn't believe that I was carrying a life. I was almost three months along so I had a few weeks to decide. Thinking about this baby in my stomach made me realize I was carrying Jason's baby, the man I love. This was a product of our love. Jason and I sat down and he amazed me by being so happy that this was happening to us. He told me that this was all meant to be, we were mea
(Jolene Allcock 10:53am February 7, 2011)
ahhhh, it cut the rest of it off!!

meant to be together and we were meant to have this baby. Having Jason give me all his support and love helped me to realize how much I already loved this baby. It was ours, a product of "us" I quit thinking of myself and what everyone would think and started thinking of this baby. When I finally quit thinking of myself, is the moment I grew up. I knew it would be hard, I was young, inexperienced and didn't know what I was doing. But, I also knew I had Jason and his faith in me. When I think back now to those few days when I almost made the biggest mistake of my life, it sickens me that I was thinking so selfishly. My little man is almost 10 now, and I am thankful every day that I have him in my life. He taught me how to be a mom, he helped me grow up and he created this family I love so much. He now has a younger brother and sister and there are days where I swear I am still learning how to be a mom :) but when I look at my oldest and I think of how much this family means to me and realize that if I never had him, this family I love so much would never be. It breaks my heart. Yes, Jason was right. We were meant to meet, fall in love and create this life and I am so happy that in those few moments, I made the right decesion
(Jolene Allcock 11:10am February 7, 2011)
Registered users may leave comments.
Log in or register now!