Purchase
It's never too late for love in Hope's Crossing...
Hope's Crossing #2
HQN
April 2012
On Sale: March 27, 2012
Featuring: Brodie Thorne; Evie Blanchard
384 pages
ISBN: 0373776373
EAN: 9780373776375
Kindle: B006YADDNG
Paperback / e-Book
Add to Wish List

Evie Blanchard was at the top of her field in the city of angels. But when an emotional year forces her to walk away from her job as an occupational therapist, she moves from Los Angeles to Hope's Crossing, seeking a quieter life. So the last thing she needs is to get involved with the handsome, arrogant Brodie Thorne and his injured daughter, Taryn.
A self-made man and single dad, Brodie will do anything to get Taryn the rehabilitation she needs...even if it means convincing Evie to move in with them. And despite her vow to keep an emotional distance, Evie can't help but be moved the Taryn's spirit, or Brodie's determination to win Evie's help -- and her heart. With laughter, courage and more than a little help from the kindhearted people of Hope's Crossing, Taryn may be the healing she deserves--and Evie and Brodie might just find a love they hadn't know could exist.
Hope's Crossing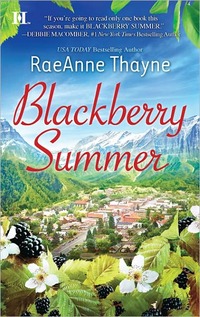 Blackberry Summer
#1.0
Amazon.com | BN.com | | |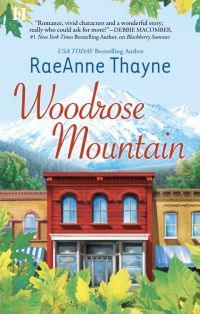 Woodrose Mountain
#2.0
Amazon.com | BN.com | | |
Comments
68 comments posted.
Very interesting - I always find stories where someone comes out ahead of their struggles uplifting.
(Miranda Wood 3:59am April 4, 2012)
By the way I'm working on entries for another give away as well so - Have you read The King's Mistress by Sandy Blair yet?
(Miranda Wood 4:02am April 4, 2012)
I understand what you mean by people that have had differcult times because i have a servere autistic daughter she is nonverbal and mentaly i am told a 2 year old in a 8 year old body who has self injury behaviors and major tantrums i have also had major problems with the school in our area . everyday is a challenge i am her caregiver most of the time over the years we have not had alot of help with others coming to take her to relieve us for a while . as you can imagine ihave to fight the school ,doctors,,other people that dont understand and sometimes family members. Im really excited to read your book thank you for the oppertunity to win your book
(Denise Smith 8:09am April 4, 2012)
Your book sounds awesome. I love reading stories of people over coming the odds. Books like that give me such an uplife and leave me with a feeling of hope for better tomorrows.

bettysunflower at hotmail dot com
(Betty Hamilton 8:20am April 4, 2012)
I would love to read your book...it sounds very inspiring. Thank you...
(Bonnie Capuano 8:58am April 4, 2012)
Wow...sounds like a very moving and touching story. A few tears too I bet!!
(Dawn Staniszeski 9:08am April 4, 2012)
ACK! I left off the question at the end of my blog. Here it is :)

What about you? Is it tough for you to read about people surviving difficult
challenges, especially if you're in the middle of hardships of your own, or do you
find it empowering?
(RaeAnne Thayne 9:44am April 4, 2012)
Denise, my heart goes out to you. Have you looked into the online support
networks? After our son was born with special needs, I've found some great
information and help from email lists.

Hugs to you!
(RaeAnne Thayne 9:46am April 4, 2012)
Betty, thank you! Sometimes if the people I'm reading about have problems
similar to my own, it can be emotionally draining to read their stories but most
of the time I find it uplifting.
(RaeAnne Thayne 9:47am April 4, 2012)
Your newest books sounds wonderful - and I'd love to win a copy to read. However, win or lose, I'll get the book to read because I always love your stories. Best of luck with it. N
(Nancy Reynolds 10:17am April 4, 2012)
Sounds really good, would love to win a copy.
(Liesl Lane 11:21am April 4, 2012)
Sounds wonderful - I've always been on the side of the "underdog" so to speak. It's heartwarming when someone overcomes difficulties and become stronger because of it.
(Karen Gervasi 11:27am April 4, 2012)
I think our hearts yearn for that rainbow after the storm - for joy for those who have suffered, healing after pain. Maybe we call it 'hope' so as not to give up - a better day in the future if today is not so good.
(Beth Fuller 11:43am April 4, 2012)
It is sometimes difficult to read about a characters
suffering, but then, as a reader, I look forward to finding
out how they come back to happiness. Also, even tho the books
are fiction, I know that there are real people that suffer in
similar ways, and in a way it makes me appreciate what I have.
(Diane Sallans 11:49am April 4, 2012)
This sounds like a good book, I'd love to win it.
(Wilma Frana 11:54am April 4, 2012)
Thank you Nancy! I appreciate your kind words :)
(RaeAnne Thayne 12:04pm April 4, 2012)
Karen, it's hard not to cheer for an underdog. Do you think it's because we all
sort of feel like underdogs in some aspect of our life?
(RaeAnne Thayne 12:08pm April 4, 2012)
This month's ALL YOU magazine had three articles of women who had serious illness. The articles were all uplifting because they talked about how they cope and overcome there illness in there day to day life. I like the fact that you do that in your books also.
(Kathleen Bianchi 12:08pm April 4, 2012)
Beth, you're so right! It's all about hope, isn't it? I've had readers tell me the
reason they love romance novels is that HEA and it gives them hope that they
can work through their own troubles to find a better place. Thanks for your
comments :)
(RaeAnne Thayne 12:09pm April 4, 2012)
Diane, great point! I think there's definite truth to that. You read about
something having a really tough time and even if you're struggling in your own,
you can think, "Well, I'm sure glad I don't have *their* problems!"

Thanks for your comment!
(RaeAnne Thayne 12:10pm April 4, 2012)
Kathleen, I'll definitely have to check that out. Thanks for letting me know!
(RaeAnne Thayne 12:11pm April 4, 2012)
I enjoy the articles as I too have a handicapped daughter and my life has
changed and revolves around her.
(Shelly Itkin 12:15pm April 4, 2012)
Wow...your books sound great. We all will have struggles. That is part of life and learning. Though when we are going through it, it doesn't sound that logical!
(Angie Adair 12:20pm April 4, 2012)
When I read about people that have survived difficult challenges my heart goes out to them. In the first place to have those challenges changes a persons outlook on life, second to survive them makes you look at life in awe and appreciate it all the more. My daughter went through those challenges and gave them a fight that was unbelievable. She taught many people that life was worth living. For four years (they told us six months) she challenged that challenge and helped other people with the same. A few years later my husband went through the same and wasn't so lucky to have as long. When I see or hear someone survive a challenge of such, I get Happy Tears and I know they will appreciate life to the fullest. Any challenge people survive should be celebrated and not taken lightly. Learn from it and Live better or the best you can because you DID survive and many people are having those Happy Tears for You. Yes I get uplifted to hear of survival from any challenges. My heart goes out to all people with challenges, there are too many to list but know there are people cheering for you.
ReaAnne, this book sounds wonderful.
Thank you.
(Margie Gagarin 12:29pm April 4, 2012)
I think most of the characters of books tht i've read have suffered something horrible. In historical or contemporary romances, even in paranormal genre i found it. I think thts interesting. Cause readers also can learn about physicology here. N i like it!
Robyn Carr is one of the expert. I read almost of his books. N i think most of her characters have suffered something horrible. I'd love to read yours too, RaeAnne. It'd be my pleasure. Thank u and sweet greeting from indonesia
(Rina Darmayanti 12:42pm April 4, 2012)
I work with children who have disabilities. I see "little miracles" all the time! Children who have daily challenges will find their way into your heart!
(Sandy Fielder 12:52pm April 4, 2012)
I find it interesting to read about people who have been thru difficult times because when I hit 'bumps in the road' I remember what I've read and life is not always easy. And when the road is not 'bumpy' I know how fortunate I am my family are.
(Shirley Younger 1:06pm April 4, 2012)
It is a rare person who hasn't had to cope with difficulties of one kind or another.
Blessings,
Marjorie
(Marjorie Carmony 1:14pm April 4, 2012)
I enjoy reading a book that I can relate to! I have never
known someone that has not suffered some sort of troubling
time in his/her own life. So with that being said keep on
writing about the troubling times and I will keep reading!
(Patricia Stallard 1:22pm April 4, 2012)
Oh your book sounds wonderful... I want to see people overcome whatever problems or issues they have... I want them to have their HEA.
(Colleen Conklin 1:39pm April 4, 2012)
Hi

I love this type of story. Someone finding happiness after
heartache.
Thanks for the post.
(Pam Brewer 2:06pm April 4, 2012)
I have always liked this type of books with a happy ending, finding love and happiness is not as easy as some may think. I look forward to this read
(Joyce Bruner 2:37pm April 4, 2012)
I love stories about hope and second chances. Thanks for the opportunity to enter giveaway.
(Brenda Hill 2:38pm April 4, 2012)
This sounds like a very uplifting story of hope and getting a new out look on life its self. Would love to read this book.
(Diane Castiglione 2:40pm April 4, 2012)
Overcoming obstacles always makes a person interesting.
(MaryEllen Hanneman 2:57pm April 4, 2012)
sounds like a great book. thanks for the draw:)
(Barbara Studer 3:05pm April 4, 2012)
I like the concept and the character development. It sounds really great
(Carla Carlson 3:47pm April 4, 2012)
sounds like my type of book
(Pam Scott 4:02pm April 4, 2012)
Thank you for your post and question, RaeAnne.

Do I find it difficult or empowering to read about people struggling through hard times? Actually, the word that most precisely describes my response would be inspiring. And if the story involves tragedy, cathartic.

There are some bad things happening to good people---or bad people, whatever---that I simply can't read about. At least, not for a whole book. Most of these themes relate to my own experience, literally or figuratively. Reading about them would be too painful. I don't mention them on the Internet, for obvious reasons.

But that still leaves a great many hardships and obstacles that I can and will read about. And though sometimes I'm in the mood for a light story, at other times I'm more receptive to one dealing with heavy issues.

Characters struggling against fate with the odds not in their favor can and often do fascinate me. Identifying with them helps me in my real life on a profound level.

Your new book sounds like a winner. Good luck with "Woodrose Mountain".
(Mary Anne Landers 4:28pm April 4, 2012)
Hi RaeAnne, I just picked up A Cold Creek Reunion yesterday and I am looking forward to it. It will be my first book by you :)

Woodrose Mountain sounds like a great, heartwarming read. I like that the hero is focused on helping his daughter.
(Na S 4:47pm April 4, 2012)
Reading about people surviving difficult challenges or tragedy is inspiring to me and uplifting, with what they've been dealt with. This is a part of life facing and struggling and dealing with hardships, and I think everyone encounters this more than once in their lifetimes, themselves or in their family. Their courage to get through it makes them a stronger person, overcoming obtacles and finding new outlets for happiness. This book sounds good, and I'm sure many will enjoy it, as they can relate in some way with the story. I want to read BLACKBERRY SUMMER-Book 1 and would love to win WOODROSE MOUNTAIN-Book 2. Thanks for the giveaway and much success with your new book!
(Linda Luinstra 5:23pm April 4, 2012)
I like to read about people and their challenges--as long as I'm not going through the same ones at the time.
(Cheryl McEwen 6:00pm April 4, 2012)
I believe that the deeper the tragedy, the higher the rebound.
(Robin McKay 6:39pm April 4, 2012)
Characters that have struggled or have issues, are deeper and I care more about
them. I have loved your books for many years now. Really looking forward to
this series.
(Tammy Yenalavitch 6:52pm April 4, 2012)
Sounds like an amazing read.I would love to win this and I
thank you for this wonderful chance!
(April Kirkland 6:57pm April 4, 2012)
Considering the fact that I've gone through bad times, losing my house and belongings after my Husband lost his job, and am in the progress of getting on my feet again, I'm anxious to read your latest book. It's always good to read another person's angle on how they deal with adversity. Even though our problems aren't the same, the hurt still remains. A reading diversion is always welcome. The cover to your book is beautiful as well.
(Peggy Roberson 7:16pm April 4, 2012)
It can go either way. Sometimes when I am hurting, I don't want to read about others. And sometimes I will. And be very weepy.
(Christy Comstock 8:40pm April 4, 2012)
It sounds like what's in the news nowadays. I like stories where there's conflict and bouncing back to a new kind of daily living. Looks to be a good read with a big hook at the beginning that gets the reader's attention.
(Alyson Widen 8:51pm April 4, 2012)
I am loving all your comments! Thank you all so much :)
(RaeAnne Thayne 8:57pm April 4, 2012)
It's not so much the fact that your characters have suffered something horrible. It's the fact that they recovered from it. That's the challenge. It then becomes a story of healing and renewal and not destruction.
(Maria Mohan 8:58pm April 4, 2012)
Absolutely, Maria. That's the key point and I hope readers take away that no
matter how grim their own situation might feel, they can still come through it
stronger and happier.
(RaeAnne Thayne 9:01pm April 4, 2012)
thank you Raeanne i have looked and joined network groups on the internet . there isnt alot around our area. ive had to fight for everything for my daughter Leanna. there isnt much help for speach so i travel about 60 miles both ways each time a couple days aweek for OT,PT, AND SPEECH she is nonverbal.
(Denise Smith 10:42pm April 4, 2012)
Your book sounds wonderful,would love to win it. Thanks for a chance to read it.
(Linda Hall 11:57pm April 4, 2012)
I think it's important for us to have books that don't always have a wonderful, happy story. We need those too, but our lives aren't always happy and we need to know that people can overcome bad obstacles of any kind. Thanks for writing such books. I too would love to read your book. If I don't win one I'll try to find one at the library. All the best to you and grace and love for the bad times.
(Sigrun Schulz 12:37pm April 5, 2012)
This books really good and I know what you mean about finding characters who have had to overcome difficulties and obstacles to be stronger, interesting, and more complex than other characters sometimes are.
(Chelsea Knestrick 5:57am April 5, 2012)
I've never read this author, but reading what this book is about, it's exactly the type of story I like to read!
(Stephanie Strausberger 9:23am April 5, 2012)
Thanks for giving us a chance to win. It sounds like a tender, loving story.
(Anna Speed 12:46pm April 5, 2012)
i would love to win a copy. thank-you for the opportunity!!!
(Kelly Knapp 12:59pm April 5, 2012)
Sounds interesting, although I think I prefer happy books or at least ones with a happy ending.
(Michelle Fidler 5:07pm April 5, 2012)
I always find those types of stories so inspiring, and they give the story more depth. Without it, the people don't seem real. Everyone has trials and tragedies in their lives, so why shouldn't a character in a book? Keep up the great work! And thank you for the inspiration!
(Stephanie Briggs 5:49pm April 5, 2012)
This book sounds very good...not every book has to have an all-over happy story. Characters experiencing something traumatic and going through it with them, gives insight to how they deal with their problems for their road to recovery, and may have a HEA ending. Would enjoy winning a copy of this one just to find out! Thank-You for the chance!!!
(Rich Cook 6:04pm April 5, 2012)
I would love to meet the folks of Hope's Crossing. Thank you for sharing with us today and for the awesome giveaway opportunity.
(Denise Zaky 7:49pm April 5, 2012)
WOODROSE MOUNTAIN looks like a wonderful read. I have added it to my wish list.
(Mary Preston 8:46pm April 5, 2012)
I love reading about people over coming obstacles or bad events that happened to them, it gives me hope ♥
(MaDonna Lemmen 8:49pm April 5, 2012)
I love reading about people over coming obstacles or bad events that happened to them, it gives me hope
(MaDonna Lemmen 8:51pm April 5, 2012)
I really enjoy these small town character driven series - I
love to visit with the characters from the earlier books & see
how they are doing.
(Diane Sallans 9:18pm April 5, 2012)
I appreciate the underdog and coming up in a positive way despite what life has thrown at you!
(Darci Paice 11:18pm April 5, 2012)
Sounds like the book will be a winner. I always like stories that have a problem that needs to be solved. That's what is so interesting to me! Although, there are books that make you cry for a character. I love getting into books to escape sometimes.
(Theresa Smith 9:45pm April 9, 2012)
Registered users may leave comments.
Log in or register now!