Now in paperback, the first in a new series from Deanna Raybourn, A CURIOUS BEGINNING sets the stage for the adventures. The next book in the series, A PERILOUS UNDERTAKING, is available for pre-order, so get ready!
A CURIOUS BEGINNING is book one in the new Veronica Speedwell Victorian historical mystery series by the fabulous Deanna Raybourn. Raybourn is a favorite author of mine, and I've been mourning the end of her Lady Julia Grey series with her old publisher. I'm happy to say that Raybourn's magic is still very much in evidence with her new publisher NAL/Penguin. Veronica Speedwell and her surrounding cast have much the same slapdash charm as Lady Julia and her nutty family. Fans of the redoubtable Amelia Peabody from the late lamented Elizabeth Peters will eagerly lap up this story. Fans of Alan Bradley's Flavia de Luce will enjoy Veronica as well -- she feels to me like a grown-up but still somehow precocious Flavia.

Orphaned and illegitimate Veronica is raised by her two peripatetic "aunts," moving from village to village as she grows up. She is quite the independent thinker, and as an adult becomes an avid explorer, capturing butterflies for other collectors and traveling to many exotic locales where she indulges in torrid but emotionally restrained affairs with foreign lovers. When the last of her guardians dies, Veronica is cut free from her ties to England and plans to leave on another expedition. However, she returns home one last time where she foils an abduction attempt with the help of a stranger, Baron von Stauffenbach (I dare you to read his name out loud without chuckling). The elderly Baron takes her to London, informing her along the way that he knew her mother and is in possession of a dangerous secret about Veronica's past. The Baron deposits Veronica with a friend for safe-keeping, the reclusive natural historian Revelstoke "Stoker" Templeton-Vane. The Baron is murdered before he can inform Veronica about the mortal danger she is in.

Veronica and Stoker then embark on a beautifully convoluted journey to discover who murdered the Baron, and who is threatening Veronica's existence. The mystery is intricate and utterly compelling, the characters fantastical, and the banter and sexual tension between Veronica and Stoker all but leap from the page. This highly entertaining book keeps me captivated from charming start to exuberant finish. The unwittingly dryly witty Veronica and the grumblingly broody Stoker keep me in stitches. I adore Raybourn's new series, and A CURIOUS BEGINNING lives up to its name, leaving me anxiously awaiting book two to see what hijinks will next ensue.
Veronica Speedwell Mystery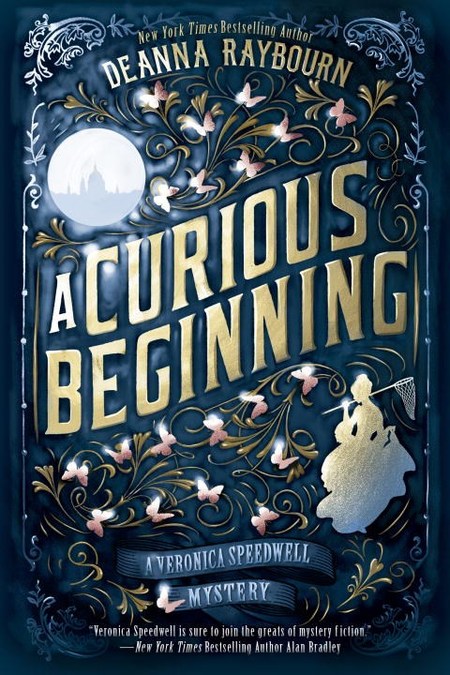 In her thrilling new series, Deanna Raybourn, the New York Times bestselling author of the Lady Julia Grey mysteries, returns once more to Victorian England...and introduces intrepid adventuress Veronica Speedwell.
London, 1887. After burying her spinster aunt, orphaned Veronica Speedwell is free to resume her world travels in pursuit of scientific inquiry—and the occasional romantic dalliance. As familiar with hunting butterflies as with fending off admirers, Veronica intends to embark upon the journey of a lifetime.
But fate has other plans when Veronica thwarts her own attempted abduction with the help of an enigmatic German baron, who offers her sanctuary in the care of his friend Stoker, a reclusive and bad-tempered natural historian. But before the baron can reveal what he knows of the plot against her, he is found murdered—leaving Veronica and Stoker on the run from an elusive assailant as wary partners in search of the villainous truth.
Mystery Historical [NAL, On Sale: July 12, 2016, Paperback / e-Book (reprint), ISBN: 9780451476029 / eISBN: 9780698198203]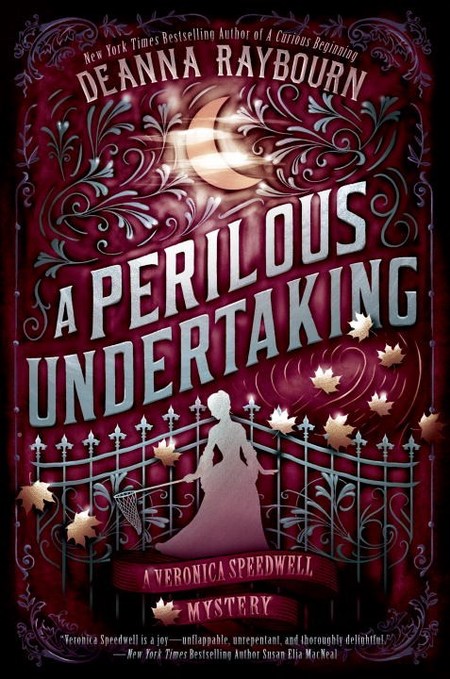 Veronica Speedwell returns in a brand new adventure from Deanna Raybourn, the New York Times bestselling author of the Lady Julia Grey mysteries...
London, 1887. Victorian adventuress and butterfly hunter Veronica Speedwell receives an invitation to visit the Curiosity Club, a ladies-only establishment for daring and intrepid women. There she meets the mysterious Lady Sundridge, who begs her to take on an impossible task—saving society art patron Miles Ramsforth from execution. Accused of the brutal murder of his artist mistress Artemisia, Ramsforth will face the hangman's noose in a week's time if Veronica cannot find the real killer.
But Lady Sundridge is not all that she seems, and unmasking her true identity is only the first of the many secrets Veronica must uncover. Together with her natural historian colleague Stoker, Veronica races against time to find the true murderer—a ruthless villain who not only took Artemisia's life in cold blood but is happy to see Ramsforth hang for the crime. From a Bohemian artists' colony to a royal palace to a subterranean grotto with a decadent history, the investigation proves to be a very perilous undertaking indeed....
Mystery Historical [Berkley, On Sale: January 10, 2017, Hardcover / e-Book, ISBN: 9780451476159 / eISBN: 9780698198456]
No comments posted.