Have you ever read a book that contained a main character whose name changed part way through? Well, if you haven't and you're a big reader there's a chance you'll still come upon this phenomenon. Other things too, eye color, hair length, etc. It's one of the bizarre things that happens when you're writing a story. A detail will change on its own – yes, on its own. Wait. The writer is in control, isn't she? There's typically only one person at the keyboard when the characters and chapters are being born, so it must be the author's fault, right? Or what about the editor's fault? Shouldn't we blame them? A character made up of only words on a screen can't possibly have a shape shifting superpower that blinds everyone to its changes.
Well, that's technically correct, however . . .
That thing that takes over and makes the changes isn't any sort of fantastical creature, but there's something mystical – or at least mystifying – about the spontaneous evolutions, and sometimes it feels like magic is at work.
Characters change. Maybe there's a revelation, or a turning point, and suddenly they become different. However solid they might have been in the writer's mind, something in the story or setting changes them so profoundly that there's no going back to seeing them how they used to be. It's a vague explanation but that's why writers miss the difference. Even though they go back and edit the book again and again, there's no way for them to see the person or the detail they created any other way than the most recent way they exist – their true from, in the writer's mind. That's what happens to some editors too – they get in the middle of the transforming moment and they can't go back either.
So, why doesn't that happen with readers? Why can reader catch even the smallest differences when all the previous read-throughs didn't? I think it's a couple things. One, readers are smart. It's a pretty general statement, but I happen to believe that if you read you're smart. Not saying non-readers aren't smart, but just a being a reader is one of those indicators that is pretty reliable most of the time.
The other reason is because readers are reading with fresh and eager eyes that don't want to be critical; they just want to enjoy. It's always interesting what you discover when you aren't looking.
And, of course most editors do catch these errors, but even the best of the best aren't perfect. So far, I've yet to have one of these blunders published in my books, but that's only because the problem was caught before it got too far. I'm up to five catches, or maybe we should call them interceptions. That tallies up to five gigantic 'thank-yous' to editors and five moments of 'oh, that would have been bad.'
But, mostly, it's five exuberant and relieved 'phews.'
Thanks for letting me stop by today. See you in the bookstores.
Paige Shelton was born in Nevada, Missouri, but wasn't there long.
After a childhood full of many moves, and high school and college in Des Moines, Iowa, she landed in Salt Lake City, Utah. There she met and married her husband, had a son, and worked at a variety of advertising-like jobs. She can't remember a time when she didn't want to be a writer and loves every moment she spends with her characters and their mysterious ways.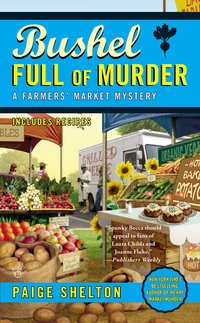 The New York Times bestselling author of MERRY MARKET MURDER returns to Bailey's Farmers' Market where Becca Robins must get her cousin out of a jam…
This summer, Becca is looking forward to selling her delicious jams and preserves, but things are changing fast at the farmers' market. A fleet of food trucks has arrived for a two week visit, peddling cupcakes, tacos, chicken wings, and more—including a gourmet hot dog truck operated by Becca's own cousin, Peyton.
Tensions between truck operators and market vendors over their required licenses reach a crescendo when the town's business manager is murdered. With Peyton already under suspicion of stealing money and a secret recipe from the restaurant where she worked in Arizona, the cops start grilling her as their prime suspect. Now it's up to Becca to clear her cousin and find out who at the market gave themselves a license to kill…
No comments posted.