Devan Sipher | Men Are Also From Venus

May 14, 2012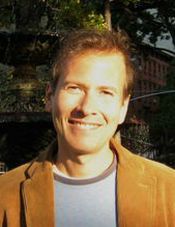 As a guy writing a contemporary romance, I've been met with skepticism and sometimes downright disbelief. The assumption seems to be that romance is something specifically associated with women. Which doesn't make a lot of sense to me. When I think of a grand romantic gesture like getting down on one knee on a white sand beach, there's usually a guy involved. Putting it another way, in order for a woman to get whisked away on a weekend in Waikiki, someone has to be doing the whisking.
I have a somewhat unique perspective, because for the last six years I've been writing for the Vows wedding column at The New York Times. My novel, THE WEDDING BEAT, is loosely based on my experience as a single guy writing about weddings. (Only the painful parts are true.) I've interviewed thousands of brides and grooms, and what I've learned is that beneath the stubble and SportsCenter addiction, most men are as confused, vulnerable and romantic as women when it comes to falling in love.
That doesn't mean I haven't noticed differences between the sexes: Women seem to view romance as a state of being, while men tend to look at it more as a set of specific actions. Women share their emotions with greater ease. And a BIG difference is that women get much more excited about planning their wedding (even before they have a particular bridegroom in mind).
But when it comes to deliberating what to say, when to call and whether your feelings are reciprocated, women don't have a monopoly on amorous daydreams or nervous butterflies. They just talk about them more. Or more publicly. So it's harder to know what's going on inside a guy's mind. But that's precisely what a book is good for - or at least this particular book.
Tell us about your wedding dreams or best vows and win a copy of THE WEDDING BEAT
Comments
18 comments posted.
Re: Devan Sipher | Men Are Also From Venus

I'm too much of a cynic to have any wedding dreams which is one of the biggest reasons I love to lose myself in the written word. The Wedding Beat sounds like an entertaining read.
Good luck and happy writing!
(Tracie Travis 1:21am May 14, 2012)
THE WEDDING BEAT sounds like it will be an enjoyable read. Perfect for
Spring and Summer.
I don't know that I ever really had any wedding dreams. I was too busy
working my way through college for that. Then I went overseas for 3 years
and pushed it to the back of my mind. My husband took me by surprise when
he proposed. We discussed our wedding and planned it the way we
wanted.Everythng wame off a z
(Patricia Barraclough 1:43am May 14, 2012)
This sounds like a wonderful read... guys are shy about sharing their feelings so this will be interesting..
(Cate Sparks 10:45am May 14, 2012)
perfect sounding story for us
(Debbi Shaw 11:30am May 14, 2012)
I wanted my wedding to be a small one and it was. It sounds like an interesting perspective.
(Maureen Emmons 11:55am May 14, 2012)
i love the story would be very interesting
(Denise Smith 2:03pm May 14, 2012)
Now this sounds like a book I'd love to read...thanks for the chance to win it!!!
(Bonnie Capuano 4:16pm May 14, 2012)
How cool - it's great to read these books from different perspectives - I know that this book is great!
(Felicia Ciaudelli 5:35pm May 14, 2012)
I'd like to get married in a very low-key ceremony - maybe
someplace far away. And then have a big BBQ in my backyard to
celebrate with everyone. This book sounds great! Thanks for
the giveaway!
(Laura Garofalo 7:16pm May 14, 2012)
Your book sounds very interesting. I've never read a book totally from the man's point of view and I'd love to read this one. Thanks for having the contest!
(Melodie Paul 7:59pm May 14, 2012)
I didn't have any "wedding dreams" when I wed at 22, some 31 years ago now. All these years later, though, if, God forbid, anything happened to my husband and I fell in love again, I would have some definite ideas/wedding dreams to investigate with my spouse-to-be. Maturity can be a wonderful thing....
(Elaine Seymour 9:59pm May 14, 2012)
I have to say that my wedding dreams were fulfilled when I married the man of my dreams 29 years ago. Although it wasn't a big church affair, the ceremony meant just as much to me, and I was bursting at the seams with pride just to be standing at his side that day!! We had a small, private ceremony with just our witnesses, and a party afterwards with our immediate family and close friends. A bride can dream about having something elaborate like Princess Diana had, with all of the pomp and circumstance, but sometimes things don't work out that way. I was still a Princess that day, and my Prince was there with me. That's all that mattered, and he's still here by my side, living out the next phase of our lives, and enjoying the peacefulness of country living. It hasn't been perfect, but I couldn't see anyone else standing here by my side. He was always meant to be here, and fate brought us together. I loved your blog entry today, I think the cover of your book is tastefully done, and would love to read your book. I don't discriminate on sex when it comes to romance books. I go by the story line. Congratulations on your new book!!
(Peggy Roberson 10:31pm May 14, 2012)
I love the sounds of your book. As far as my weding dreams, I always knew I couldn't afford a large wedding, so I never had many dreams. Maybe it was a good thing, since I never married.
(Carol Woodruff 12:01pm May 15, 2012)
Everyone's wedding is different and we knew we wanted some atmosphere, not just a large hotel room. We were married in Dublin in the morning and went to the Botanic Gardens for photos in the rose garden and coffee. Then we headed to our chosen hotel, which used to be a castle. It has turret rooms, suits of armour, artworks and swords around which gave the guests plenty to converse about! This is also in Dublin and close to main transport routes for practicality. Our cake had been made by a local lady and was decorated with icing flowers and Celtic knot designs. We cut the first slice with a sword.
As I think is typical my husband let me do most of the arranging, though was fully consulted, but the main thing was that we did not go over the top in cost or ostentation, which neither of us wanted, and we both enjoyed the day very much, as did our guests. Romantic? Yes!
(Clare O'Beara 7:01am May 15, 2012)
I had dreams, but the reality was better.
(Mary Preston 9:05am May 15, 2012)
My wedding was a small intimate private wedding and I loved it, I felt so special that day. Loved my honeymoon and time
spent with my husband, even after many years we still slip away to have time to ourselves. He's still romantic even after 42 years.
(Ann Thaxton 10:46am May 15, 2012)
I believe the best vows come from personalizing the standard vows and including the heartfelt parts and the ones you can agree to uphold. I like variations on the standard because they shake things up a bit.
(Alyson Widen 5:39pm May 15, 2012)
I knew my husband to be from the age of about fourteen, but, of course, had no idea that we would some day be wed; but I feel like I hit the jackpot.

I agree with you that there is a guy involved in every romance, but I find it surprising that you are around so many couples, yet are single. It looks like the love bug would bite you, too. Maybe it will some day soon.
(Gladys Paradowski 7:02pm May 15, 2012)
Registered users may leave comments.
Log in or register now!