April always starts my favorite time of the year. Spring weather, usually is in the air, early flowers are blooming, like my beautiful Tulips and my Dogwood Trees. But most importantly some of my favorite books seem to be released during Spring. It's the season of rebirth and finding new love. Therefore, I find many of Harlequin's books to be full of first kisses that makes your toes curl, romances that make your heart sizzle, and babies that make you giddy with joy. Here is a sneak peek of what Harlequin has to offer their readers this Spring.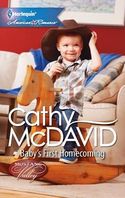 One series I always turn to for a sweet romantic read is Harlequin American Romance and boy do they have a special treat for you. BABY'S FIRST HOMECOMING by Cathy McDavid. It's a story of a woman giving her baby up for adoption. Sierra later realizes it was the biggest mistake of her life. Due to a series of events Sierra is later reunited with her toddler son. She returns to Arizona hopping to move on with her life and enjoy her baby when she comes face-to-face with her first mistake, Clay Duvall. At one time he was the love of her life, but now he's just another cowboy with too much charm for his own good.
Clay wants to be part of his son's life, so he suggests co-parenting. Which means Sierra and his son must move closer to him, as in on his property. Sierra isn't having it, Clay walked out on their relationship, therefore, giving him no say in her son's life.
But will Sierra come around and allow Clay to have a say in the way her son is raised? Will sparks fly between them? Or will an old feud come to life again?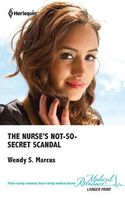 I'm especially excited about new books coming from Harlequin's Medical Romance line. They seldom have new books and for the month of April they are offering four great reads. I cannot wait to read THE NURSE'S NOT-SO-SECRET SCANDAL by Wendy S. Marcus. Wendy is a new author to me, which is exciting in itself. Nurse Roxie Morano's life is a disaster zone, really whose isn't? Ryan "Fig" Figelstein is ignoring all the warnings. He is bound and determine to see where this attraction will lead. Roxie has family nightmares going on and a series of lousy men, because of this her heart is bulletproof, or so she thought. Will Fig want to stick around after learning all of her dirty secrets? Or will he run away like everyone else?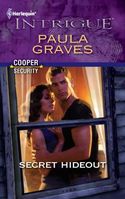 This year one of my New Year's Resolutions was to read more Harlequin Intrigue. I love romantic suspense novels, but hardly pick up one of these exciting books from this line. SECRET HIDEOUT by Paula Graves will definitely be one of the many books I read this month. Former FBI agent, Isabel Cooper finds herself in danger when drugged in her own hotel room. Now she's face-to-face with a dead man. Ben Scanlon was alive, maybe his face was rougher, his hair was longer, it was him, Isabel was certain of it. The true test in this mission is whether or not Ben can save her life without revisiting their past together.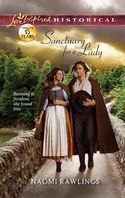 Another line from Harlequin I don't read enough of is Harlequin's Loved Inspired Historical books. SANCTUARY OF A LADY by Naomi Rawlings is one of those books you don't want to miss this month. Michel Belanger finds a young injured woman in the woods, Michel knows she is an aristocrat, therefore, forbidden to go into his home, but it's the only way he can heal her. Isabelle de La Rouchecauld was attacked by soldiers and left for dead, now she has lost everything. France was no place for a duke's daughter, so she fled to England in hopes of survival. Now for the first time she will learn how noble a heart can be in the man saving her life and the man she is falling in love with.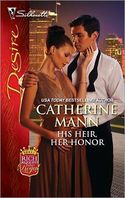 And lastly HIS HEIR, HER HONOR by Catherine Mann coming from one of my favorite lines, Silhouette Desire and one of my favorite author's. Catherine Mann never ceases to amaze me with her stories. I love getting lost in the wonderful world's she creates. Carlos Medina knew he couldn't have children, so when Lilah Anderson insists that this baby is his and refuses to back down, his princely honor demanded he acknowledge his heir. Lilah didn't give a hoot about Carlos's royal pedigree! She has never cheated on her lover, she just wanted him to be part of this special occasion. But now he wants her to marry him after accusing her of cheating! She wanted his love not is duty, was that too much to ask?
I hope you enjoy these books and be sure to check out other great books from these lines and more from Harlequin.
Happy Reading,
Tonya
1 comment posted.