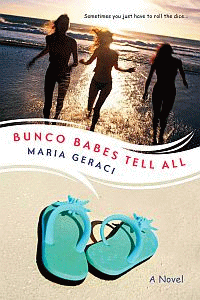 Women who like to get together for some fun girl time, frozen drinks and gossip will love playing Bunco! One lucky grand prize winner in Maria Geraci's April contest will receive a Bunco set complete with dice, case, game ball, pads, pencils and instructions-everything you need to host your own Bunco Bash! The winner will also receive a signed copy of Maria's May debut single title, BUNCO BABES TELL ALL, featuring some fun recipes to use at the party. The drawing will take place April 30.
Woman cannot live by Bunco alone.
Meet the Bunco Babes of Whispering Bay in BUNCO BABES TELL ALL. Every Thursday night they roll dice, drink frozen margaritas, and catch up on all the gossip in their small north Florida town. Kitty Burke is the only Bunco Babe who is still single—which is okay—but she's thirty-five and may need to face the fact that her image of Mr. Right is all wrong.
Take Steve (the "handyman"). Very sexy—but on paper, with three failed marriages and a shady career, maybe not great husband material. And, yes, his ring tone is "Freebird." Certainly fellow Babes Shea and Pilar vote thumbs down. But maybe there's more to Steve than meets the eye (which is considerable). Is it time for Kitty to take a chance and hope that she can be as lucky in love as she is at Bunco?
Visit www.MariaGeraci.com to learn more about BUNCO BABES TELL ALL and check out Maria's blog while you're there! Also, be on the look out for BUNCO BABES GONE WILD coming out in November of this year!
Contest ends: April 30, 2009